Run to do good 2019
140 runners ran 6km to help their local community in Southwark.
Tuesday, 4th of June 2019

Led by Paul Bown
Back for the fourth year running, GoodGym once again partnered up with Team London, the Mayor's Programme for volunteering and social action, to run and do good all over London!
In just a couple of hours 11 different charities and community organisations were helped by over 130 people who wanted to get fit and do good.
That's over 100 hours worth of volunteering in just one morning!
Team Bermondsey Community Kitchen - Led by Southwark Run Leader, Dom Tooze
This is why volunteering matte-ers!
On Tuesday morning, 6 GoodGym runners headed off from City Hall and ran a gentle 2km away to Bermondsey Community Kitchen. This is a marvellous organisation which offers a community cafe and free training facility providing food preparation and cooking qualifications to Southwark residents. Over time, they have had to fill in lots of holes in the walls around their kitchen upstairs; we were asked to paint over where these had been filled in, to make the room look nicer for those using it. The group got stuck in right away - there was some great roller technique used to tackle the bigger gaps, while others took brushes to the the smaller bits around wall fixtures and signs. Once we had tackled this, we checked in with the team at the Kitchen before running back to City Hall, stopping off briefly to enjoy some gentle fitness games including Squat Squat Goose.
Team Poppy for The Royal British Legion - Led by Greenwich Trainer, Sarah Place
Packing boxes with pop-ease!
The annual poppy packing parade was underway again as GoodGym headed off to support The Royal British Legion. After a little warm up on the city hall grounds we set off on our 2km run and arrived shortly after at St Anne's Church in Bermondsey where we were greeted by the wonderful RBL team who had everything set up ready for us. Their instructions this year were simple... everyone pack 22 boxes each and we will hit our 1000 target... so without much hesitation everyone got cracking and the frenzy began. I know there were a few project managers in the group who usually wouldn't be able to deal with such chaos but well done for embracing it and getting the job done! 30 minutes later and WE HAD DONE IT! We even managed to dismantle all the old boxes and the tables! Nice one! A little jog back to city hall and a stretch to finish off... just in time for the rain to arrive! Great work everyone!
Team Spitalfields City Farm - Led by Camden Trainer, Paul Bown
Goat to get moving
13 GoodGymers ran up to help Spitalfields City Farm. Nestled behind Whitechapel station this fantastic farm is an oasis of all things growing - some new lambs, plenty of veg/flowers and some big pigs called Watson and Holmes! Upon our arrival we met the wonderful Jenny and Michelle who were our contacts for the day. They split it us into three groups doing the following:
Harvesting nettles in the sheep enclosure into bunting sized snacks for the goats #stingy #recycle
Another group cleared some weeds and long grass at the front, particularly focused on clearing the area around the tree's.
The final team were woodchip deliverers, they shovelled and wheelbarrowed woodchip to feed the palm trees in the sheep enclosure and the tree's at the front which the other team had just weeded.
Everyone did a great job - nice one! We then headed back to base for a group stretch and lots of cheers!
Team Get Kids Going - Led by Brent Run Leader, Danny Cane
You'd better beleaflet
15 volunteers traversed Tower Bridge to help-out at the offices of Get Kids Going in Whitechapel. Get Kids Going help provide the equipment needed for disabled children to participate in sports. Part of their fundraising is race sponsorship, so our volunteers were preparing post to go out to promote that.
With three teams and three tables, they circled them round and round sequencing leaflets for 40 minutes, til they'd nearly worn a groove in the carpet. Meanwhile, the kind staff at Kids Get Going filled everyone in on the nature of their work, and how important the fundraising is.
With stacks of boxes of post now ready to go out, our hosts presented everyone with a certificate to show their gratitude, and we set off back to City Hall for a stretch.
Team Look Ahead - Led by Hackney Run Leader, Ed Field
Miles ahead
11 runners headed South to Look Ahead, an amazing charity which offers support and accomodation services to thousands of people across London. After a quick warm up of jog around the concrete block, high knees around the concrete block, butt kicks around the concrete block and side skips, yep, around the concrete block we were off into the cool air. Big special mention to the guys from Onfido joining in for their first ever GoodGym run. First of many we hope!
Upon arrival we were quickly split into groups and given our orders. A small group worked in the garden cutting back trees, sweeping leaves and preparing some potted plants ready for planting. The rest of us were up flights of stairs clearing out what seemed like an endless number of cupboards full to the brim with clutter. I've never seen so many CRT televisions and had definitely forgotten how heavy those things were. 40 minutes later we all had a serious sweat on and that amazing feeling that comes from knowing we achieved something which would have taken the staff all day. As we ran back to City Hall I've never been more grateful for some cooling drizzle!
Team BOST - Led by Wandsworth & Hounslow Trainer, Ana Hancock
'No ifs, no butts'
Team BOST (Bankside Open Spaces Trust) kicked off the session with a dynamic warm up which saw us test our coordination as well as raise our heart rates and featured some pretty impressive airborn star jumps! Nicely warmed up for our run we set off for Millennium Green, weaving in and out of the people on the pavements, and discussing some of the great running you guys have been doing. Don't forget, you're always welcome at any of the GoodGym group runs taking place throughout the week all over the country - not only do you get a good workout and a run in, but a chance to support the community you live in too. Bonus! After 2.7km and thanks to some of the Experian Team who helped out with the route and so rescued the rest of us from any dodgy map reading, we arrived at our destination to find Joe and Laura from the Trust, an environmental charity working with people in London to transform open spaces, waiting for us with litter pickers and gloves. We set straight to work, focusing on those terrible cig butts that are, it turns out, just about EVERYWHERE. These grim little filters are a form of plastic called cellulose acetate, and can take 18 months to 10 years to decompose. They are full of toxins, which enter the ground and waterways and damage organisms. The good news is, that after half an hour of hard work in the park, there were considerably fewer of the little pests, so after a quick photo, we celebrated with a short but intense core blast which focused on strengthening those abs. Great to run with all of you - hope to see you on a run soon!
Team AGE UK - Lef by Barnet Trainer, Damian Mitchell
"...and that's the tea"
Ten GoodGymers made up team Age UK to run to their Southwark branch. On arrival, our contact Brenda explained the tasks and we got to work: Steve and Tim trimmed the garden with lawnmower and strimmer; John and Shawi helped make and serve tea for visitors in the lounge; and Ellie, Liv, Clair, Alana and Samantha got to work cleaning the vans. It was quick work with the team making a big impact in a really short space of time. After half an hour we left the lawn tidy, the vans clean, and the tea and toast all served. We said our goodbyes and set off back to base at City Hall, via a quick strength session, for stretches and high fives.
Team Hope UK - Led by Steve Lee
Cracking down on drugs (education packs)
11 Volunteers set off on one of the longer runs of the day to help Hope UK, with over 8km covered running across Tower Bridge (which always feels special) and winding along through the streets of Whitechapel and back again. For 160 years(!) Hope UK have been supporting young people in London and across the country with everything from establishing youth centres to drugs education. Today we were helping with the latter, packing dummy versions of various drugs into packs that will be used to help educate young people on drug misuse. Quickly forming into production lines, we managed to make short work of the task and after taking on juice, water, biscuits and chocolates that the lovely Hope UK team provided for us, we headed back for a stretch and a cool down. Well done everyone, and special thanks to GG Richmond's Jack for back-marking!
Team Mary's Living & Giving - Led by Ealing Trainer, Olivia Parker-Scott
Run, walk and be Mary!
A small but perfectly formed team of 4 GoodGymers ran and walked our way to Mary's Living & Giving charity shop for Save The Children. We took on a variety of tasks around the shop including cleaning the windows, steaming clothes, dusting the shop floor and organising the storage area. These are lots of little tasks that the volunteers at the shop struggle to get done otherwise so we were delighted to be able to offer some extra hands today. We were rewarded for our efforts with some lovely savoury muffins made by one of the regular volunteers at the shop, what a lovely way to spend the morning!
Team Bliss - Led by GoodGym CEO Ivo Gormley
Blissful running
8 runners left City Hall to run to help the premature baby Charity Bliss. Bliss do incredible work supporting babies who are born premature of sick. This year they have 190 people who are riding the Ride 100 event on August the 4th. The staff wanted to write to each of them wishing them good luck, but it would have taken two of them a whole day to complete. Bliss' headquarters are in Southwark - so we headed out from City Hall after a leisurely warmup and introductions. We were met by the Bliss volunteer manager who ushered us (up five flights of stairs) into their offices where are task awaited us. We were joined by Debbie Weekes-Bernard, the deputy Mayor for social integration who got stuck in helping us to complete the 190 cards in 45 minutes. Having got the job done, in just over the target time, we headed back out on the streets narrowly avoiding a downpour.
Great work from Mridula, Sheilly, Taylor, Sarah, Shona, Bryon and Sylvia and Debbie meant the run and the task were all done in 90 mins, including clocking 3km on the way.
Team Sense - Led by GoodGym Croydon Trainer, Conroy
The Six Sense
6 GoodGymers kicked off with a warm up on the green in front of City Hall, where the group did some jump squats, lunges and star jumps, all in the aim of getting them ready to embark on the 1.9 miles run to Walworth Road. The group was mixed with runners and non runners we all ran along together.
Although a few members of the group were familiar with Walworth Road none of us could figure out if the number started at the top or bottom so any hopes we had of taking a shortcut to our destination was out the window.
We arrived at the Sense Charity Shop where Carolyn had been awaiting our arrival, she had already prepared the the buckets with water and cleaning products for us to get stuck in, but not before she explained what she wanted us to do and also gave the group a small talk about the Charity Shop and they do with the proceeds made in the shop. The group paired up into two and each pair worked on a section of the shop front giving it a good clean. On completion the staff of the shop thank us for what we had done and bid us farewell.
They started out as strangers, however by the time the task had completed they were all laughing and chatting away with each other, for GoodGymers we know all too well that feeling, the GoodGym fairy dust had been sprinkled.
On the return journey back to City Hall we incorporated a few sprint drills to give the non GoodGymers a taste of what a GoodGym fitness session is. They all put on their game face and rise to the challenge, even when I asked for the pace to be upped by the lead runner.
We arrived back at City Hall in time for our Curfew did our cool down stretches, took one final group photo and said our goodbyes. GoodGym Southwark look out there may be two new sign ups coming your way!
Report written by Liv Parker-Scott
---
Discuss this report
Led by

Paul Bown
Previous Trainer for Camden and Islington, England Athletics Qualified Endurance Coach, 2h51 marathoner, & big sweet potato advocate
Runners helping out
Walk Leader

Lead a walking group to the task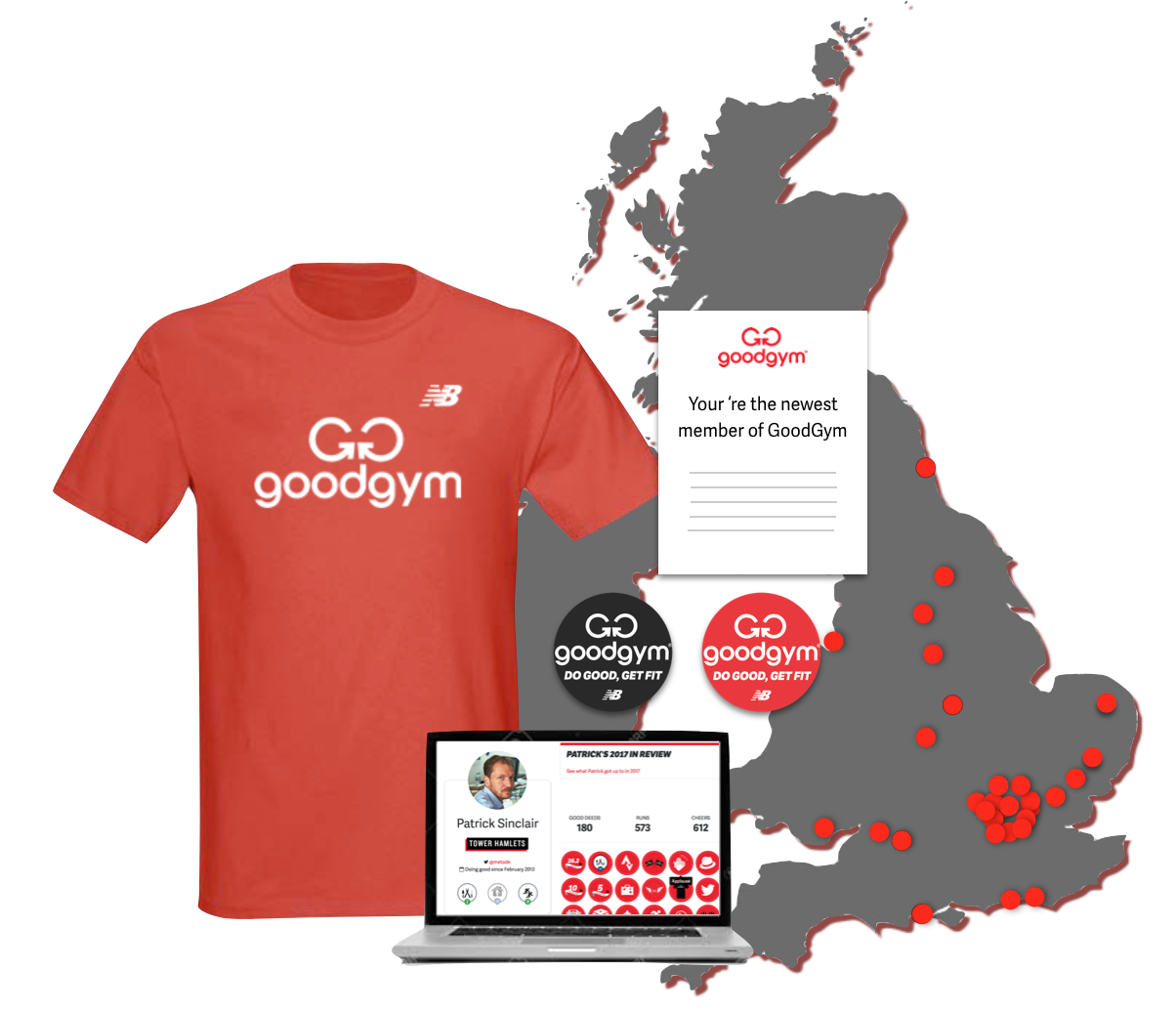 Become a member
Free!
Optional £9.95 monthly donation
Run to help older people
Access sessions across the country
Claim your GoodGym t-shirt from New Balance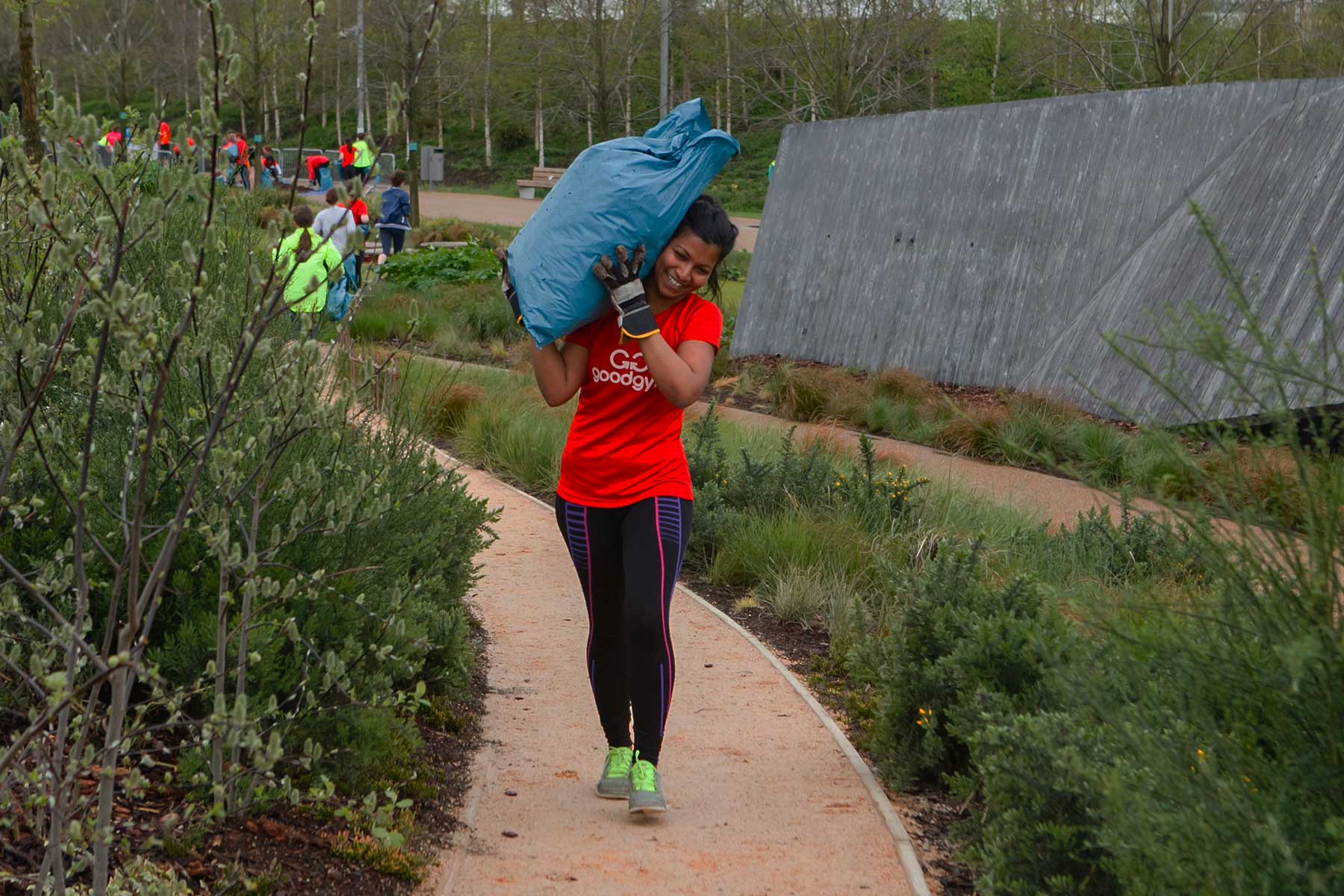 Need help with a community project?
If you're a community organisation and have a physical task then we'd like to help.
Request a task
---