The lengths we go to….to rule the day
24 runners ran 25.0km on a training session in Slough.
Sunday, 22nd of November 2020

Led by Manjit Birk
Another lockdown another challenge! With the tasks for this month being postponed, we wanted to keep the momentum of 'feeling good' going, so we had two fitness challenges for our members to get involved in. One was a daily, 28 day long fitness session and the other was….our 12 hour challenge, with a 'ruler' theme.
Rules and Regulations
Now we are not a team who flaunt the rules, in fact, I even made Harsha check that we would not be trespassing in certain areas before I agreed to her crazy route!
We know we can only be in two's, we know that we need to keep a good distance – the general rule of measure is 2 meters. We know that running/fitness takes us to our Happy Place
So with a 12 hour challenge from 6am till 5pm and an hour slot of your choice – the plan had been formulated and 24 Goodgymers were keen to go the distance!
She Rocks…I Rule (06:00)
First up on the ungodly hour of 6am were Harsha and I. This seemed like such a great idea until 5:15am on Sunday when the alarm went off! The last time either of us were up at this time was for a race (remember them?)..
Boy was it dark in Iver this morning! We started on Wood Lane which literally had no street lighting and headed towards Langley Park and then into Black Park.
Such an eerie awesome experience! One we definitely want to do again.
Our National Measure (07:00)
So Sutyee had requested the 7am slot around 2 weeks ago. Keen and eager to get a nice run in around Black Park. But our national measure had forgotten to check hubby's work schedule and can you believe it..he was on an early shift!
So Sut did 30 mins off indoor exercise and 30 mins of exercise in her front garden!
She was joined in the 7am slot by our good neighbour Sara from GG Windsor and Maidenhead who did her slot around Wargrave in Maidenhead.
Ricky has an inch or two on Nit (08:00)
Over to the likely lads now with Ricky and Nital taking on the 8am slot.
Just to ensure good measure, Ricky had an extra extra long ruler which ensured they kept the to minimum 2 meter distance! And not only did these guys run for an hour, they actually completed a half marathon distance by running for just over 2 hours! Nit's longest distance ever! Well done guys
I draw the line at… (09:00)
Out at 9 were Nisha and Brendar. Even though Nisha is part of two run groups, she actually draws the line at running….and did a long walk along the Long Walk in Windsor with Brendar.
Anna on the other hand, ran her hour and managed a super ruler video clip too.
Bend the Rules (10:00)
In Slough we do bend the rules every now and then! So when Keira and Chrissy asked if they could go out on Saturday instead at 10am, I wasn't going to say no to two teachers! I know the rules!
Another rule breaker Ciaran asked if he could do his over various days (actually he didn't…I volunteered him to do it over a few days due to his ankle injury…the things I do for you (bruv!)
Also getting fit at 10 were Gauri and Roisin with Devina . Well done to Team 10. Clearly a popular time of day.
That's the spirit (11:00)
Emily, our original ruler, who now lives in Ealing did her 1 hour stint there. Not having a ruler in the flat, Emily improvised with a spirit level (you don't have a ruler but you have a spirit level?)…you rule Emily.
Generuley (12:00)
Kam was up next with a lunch time eggstrava gansa… Kam can knock a good distance in an hour generally so we had high expectations today.
Cant measure up to…(13:00)
It was now Pam's turn and given Pam's daily activities on Strava, we really cant measure up to her. She can out walk us all.
The lengths we go to…(14:00)
Jen was getting her hour in whilst doing her walk to Sainsbury – Living well for less is always a great mission to have, so tying in two activities in one is a foot in the right direction.
Inching their way forward (15:00)
So close now! Jess and Naomi had this slot, each one covering a certain distance in their respective areas. They still had the light on their side in the Evening Golden Hour.
Can't measure up to you (16:00)
Our penultimate pair were Sandy and Ruth. They were going down memory lane and hit Salt Hill Park for their hour of run fun and chat. They officially fell into Evening Civil Twilight!
And the ruler of the day is…(17:00)
Sara did an 8 hour shift at work, before finishing off our 12 hours of fun with the 5pm slot! Well done Sara.
And that's a wrap! Thank you so much to everyone who got involved in this challenge and a special thank you for all our themed 'ruler' photos and videos… You guys really do RULE!
Watch this space for a December Santa Dash!
Signing off The Supreme Ruler Manjit
Report written by Manjit Birk
---
Discuss this report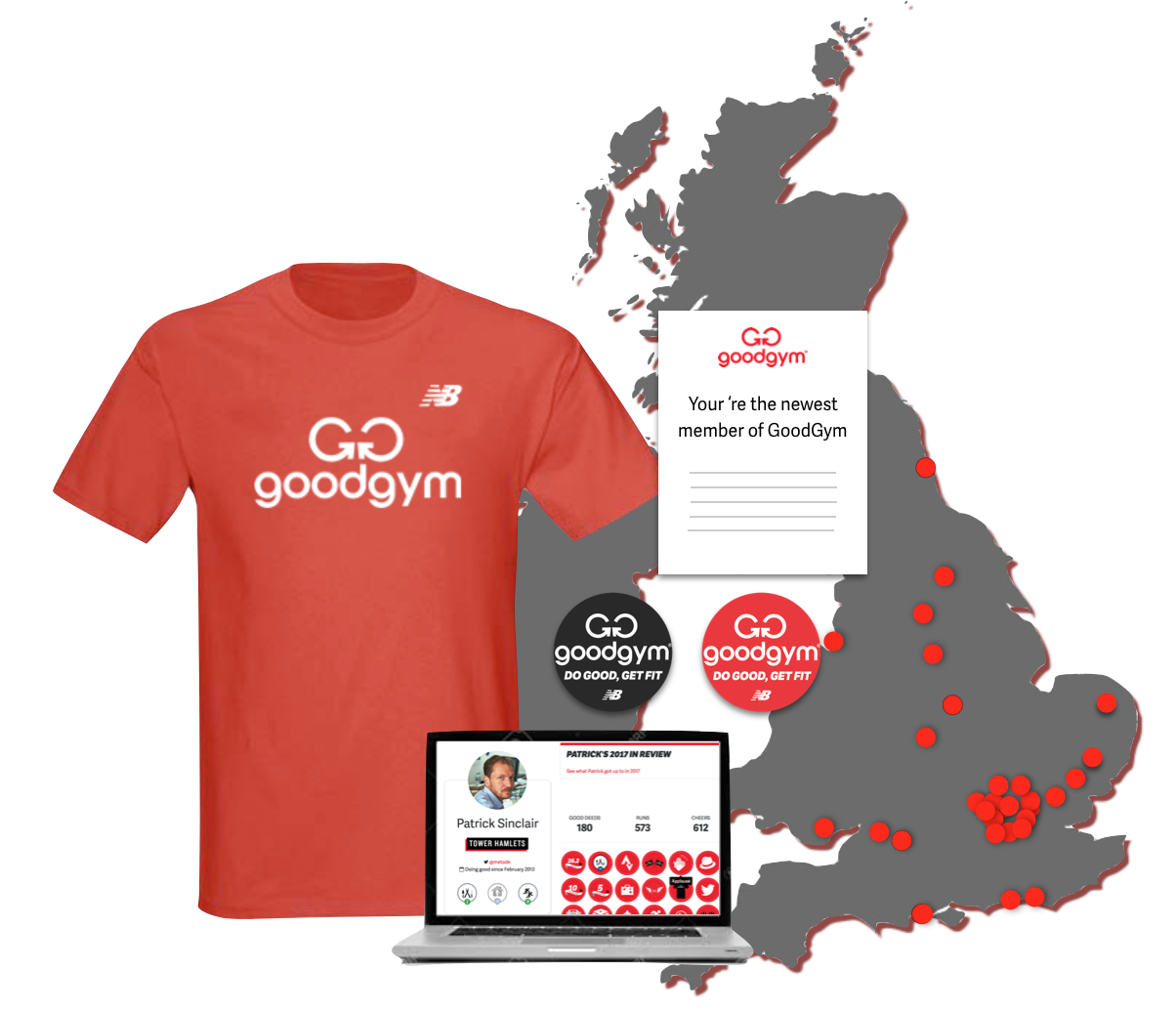 Become a member
with an optional £9.95 monthly donation
Run to help older people
Access sessions across the country
Claim your GoodGym t-shirt from New Balance
---