GoodGym Does More Good than GoodGym has ever done before
136 runners ran 3km to help their local community in Westminster.
Wednesday, 1st of June 2016

Led by Joel Wiles
Cor, that was a bit special. 134 GoodGymers ran a total of 32km to do good all over London. Meeting at the iconic City Hall runners were greeted by Team London and swiftly assigned to their teams to be given their mission for the morning. After a quick pause for photos and some dynamic warm ups it was up to Tower Bridge to be seen off by Paralympian Andy Barrow. What a fantastic way to mark the start of volunteers week and celebrate London's success of being named European Capital of Volunteering.
Let's hear from the trainers about what each team go up to....
Khan we do it?
Led by Hackney trainer Joel Wiles
Team Southwark had the privilege of leading the charge off of Tower bridge! A strong team of 30 runners were soon navigating our way through the back streets of central London on the 2k run to Age Uk Southwark.
We met John the manager of the centre who welcomed us and was amazed to see so many of us. Quickly splitting into 3 groups with the majority of the crew working hard in the back garden smaller groups went to talk to the service users and play games of pool with them while the 3rd group scythed their way into the wild front garden.
An explosive pace was maintained in the gardens with impressive amounts of grass cutting, huge weeding and some very artistic gardening animal on the hedges art all done with huge smiles and great positive energy.
We were then joined by the Mayor of London Sadiq Khan who gave us loads of encouragement to work up even more of a sweat and talked to the team about volunteering opportunities in London before going to talk to the service users and playing an impressive game of Pool.
After 40 minutes of great action we had interacted with all the service users at Age UK Southwark, filled 12 bags of gardening waste and got the gardens looking great especially with the hedges trimmed to look like a hippopotamus, red squirrel and a slug!
Before we set off on the run back to City Hall we smashed out an intense leg workout where we powered through a series of strength building and coordination testing exercises and really got to feel the burn with a few static squats to finish! With legs throbbing and after a lot of thanks from the service users and team at Age UK we ran the 2k back to City Hall before a few static stretches by the river to round off a top morning.
Paint the town white
Led by Tower Hamlets trainer Tom Craggs
Of the masses of runners who met at City Hall a team of 10, a mix of new and experienced goodgym runners, headed down to local charity Siblings Together.
The 2.5km run to the charity took in Tower Bridge and the docks and warehouses of Rotherhithe. When we arrived we were handed spin brushes and 40 minutes of rolling, brushing and masking later we had the office looking fantastic with a new lick of paint. As a small charity these are often the jobs which have to take a back seat to day to day operations so it was great to make such a difference so quickly. After a 2km run back we stretched and headed back to our homes and workplaces - fitness and good deeds in the bank.
Soiled beyond belief
Led by Southwark trainer Jo Swift
Speeches, pictures and warm ups done, 12 runners set off across Tower Bridge with a mix of new and familiar GoodGym faces and navigated more than a few tourist pictures as we headed towards Aldgate. I'd warned of traffic lights but there were almost as many of them as there'd been blue t-shirts at City Hall.
We arrived at Providence Row, a centre providing support to homeless in the East end area, and were met by Joe who had lots of work for us to get on with. Hidden away behind hipster Brick Lane and Shoreditch, the centre have created a roof garden growing plants and peace. Half of the group were shown a pile of soil and manure bags, 2 wheelbarrows, 3 floors of steps and a lift.
Some ran the stairs as the lift was a little slower. Big ups to our crew who weren't put off by the muck on the bags despite heading off to work after our run.
Whilst 6 strong volunteers carried on with this, the rest of us cleared a plot of land of rubbish, weeds and laughing gas pods to give a bit of a face lift.
Joe and his team weren't sure we'd get it all done in the 45minutes we had but we did it! Always so brilliant how much you can get done in a GoodGym session. We said our goodbyes and made our way back through the lunching city workers & across the bridge for a photo finish outside city hall.
See you for the next one!
Sugar-Rush
Led by Brent trainer Ellie Wood
A tribe called GoodGym teamed up with Team London for a morning of super running and super volunteering to celebrate volunteers week and London being named the European Capital of volunteering.
My lovely eleven made up the team for our nominated charity Bliss - a wonderful organisation, who provide support and services for families with premature babies in the UK. After intros and housekeeping, this awesome crew, bustled out into the cold for warm-ups and photo-calls amidst the glorious back drop of Tower Bridge and City Hall.
After a serious amount of posing and pouting and not letting the threat of rain kill any excitement, we head out on our mission, a fast and furious scoot over to our destination for the day. Upon arrival we were greeted by the fabulous Nicola and her girl power crew, gleefully waiting to present us with our task - The prepping of gift bags to be posted out to supporters of the charity.
Despite the temptation of stuffing envelopes, we managed to resist stuffing our faces with the contents - about 200 bags of SWEEETTTSSS. Spurred on by my fabulous mix of empowering tunes....Thank you Chaka Khan and a lot of laughs, we managed to finish the job with time to spare!! Hurrahs.
All the honest work paid off in the end and all of the runners were presented with their own goodies YAY. So freshly powered by the sweetie all-sorts delights, we 'Sugar-Rushed' down to Tower Bridge for some sprint drills and tempos, before heading back to City Hall. Finishing with some 'Core-Blimey these are hard' planks, a final stretch brought the session to a close.
A marvellous morning, a cracking crew and an absolutely terrific way to celebrate volunteering in our fair London Town!
Do Good. Feel Good. Inspire.
Garden Footprint
Led by Westminster trainer Cory Wharton-Malcolm
Post photo we were whisked away, carried by the ever present sound of our little feet as we headed South to Bermondsey Community Nursery to see a lovely lady about a garden.
15 strong we were greeted by a group of small people who will one day become adults and their ever so lovely teachers.
Our tasks for the day? Dismantle compost bin and redistribute soil lovingly into new home, plant flowers and vegetables, destroy broken notice board, kill pesky weeds, fix hose and most importantly make area look pretty again. How long? 30 mins.
Did we get it done? Of course we did. 4 teams working harmoniously for the greater good of our host. There was however one little mishap, one of our newbies mistook a small toy dinosaur for a real beast, screamed and nearly knocked herself out lol. Did she survive? OF COURSE she did.
Thank you's, goodbyes and a cheeky little 1 miler tagged on the end just for the fun of it. Lots of newbies and lots of good done. What better way to spend a morning?
Inspiring a generation
20 runners including a huge bunch from Zendesk completed a quick loop from City Hall and returned for a speed careers session back at base. Children from across London were given an inspiring speech from Andy Barrow followed by speed careers advice from our volunteers. The future of London is in safe hands with this lot.
Shelfless Runners
Led by Tower Hamlets run leader Ivo Gormley
A brave crew of 17 blue GoodGym runners hit the streets of Southwark to make things happen at the Downside Fisher Youth Centre.
The run there: once we'd escaped the photographers, done some lunges, some knee raises and some impressive fast feet, introduced ourselves 5 times, was a doddle. 0.6kms run through in no time.
We arrived at the door of the centre and were met by Christine and Phil who run the place. We were tasked with cleaning the windows and sorting out a cupboard.
We split into two crack teams of 8 ; the cupboard was emptied with precision and zeal, the windows were flooded with mr muscle and the job was underway. Ladders were scaled, shelves removed, climbing equipment was sorted, admin material was separated, extenders were grasped and elbow grease was applied. 30 mins later both jobs were done to a high standard.
Phil, who works for the centre said "I was amazed how much you got done."
The general manager Christine, said "Bloody hell, that was quick. Those windows are gleaming."
Not content with just doing good, we set about pushing ourselves a bit harder, we nipped 1.2km down the road to Southwark Park. We did 3x30seconds intervals with 30seconds rest. A TOUGH session, handled admirably before we strode back along the Southbank of London's great river Thames.
Well done all. See you at the next one.
Team Tower
Led by Haringey trainer Varon Lewis
15 GoodGymers navigated their way from City Hall, over the bridge that bared the teams name, through cobbled city streets and into the palace grounds at the Tower of London. There we were met by Sarah, the task owner, who lead us past the beefeaters and guards, under the tower of doom and into part of an old​​ building that was used as a classroom for visiting children. Here the team packed envelopes given to those who had become members of the Historic Royal Palaces charity. Team Tower did GoodGym proud and managed to pack over 900 envelopes within a 35 minute window. This would have usually taken volunteers around 3 hours. We had conquered our task as William had conquered centuries ago. Great job guys!
Until next time folks - Stay Fit, Do Good & Look Out For The Light!
What next?
GoodGym is the easiest way to get fit in London. This weekend we have some special starter sessions to make it even easier to get involved. Sign up to one now and keep that good going:
GoodGym Lewisham are getting ready for festival season by helping out at the Brockley Max Festival. Sign up here.
GoodGym Camden are running to help out a local growing space. Sign up here.
GoodGym Hackney are giving some HUGS to the Hackney Downs User Group. Sign up here.
GoodGym Croydon are running to help the local Brownies. Sign up here.
---
Discuss this report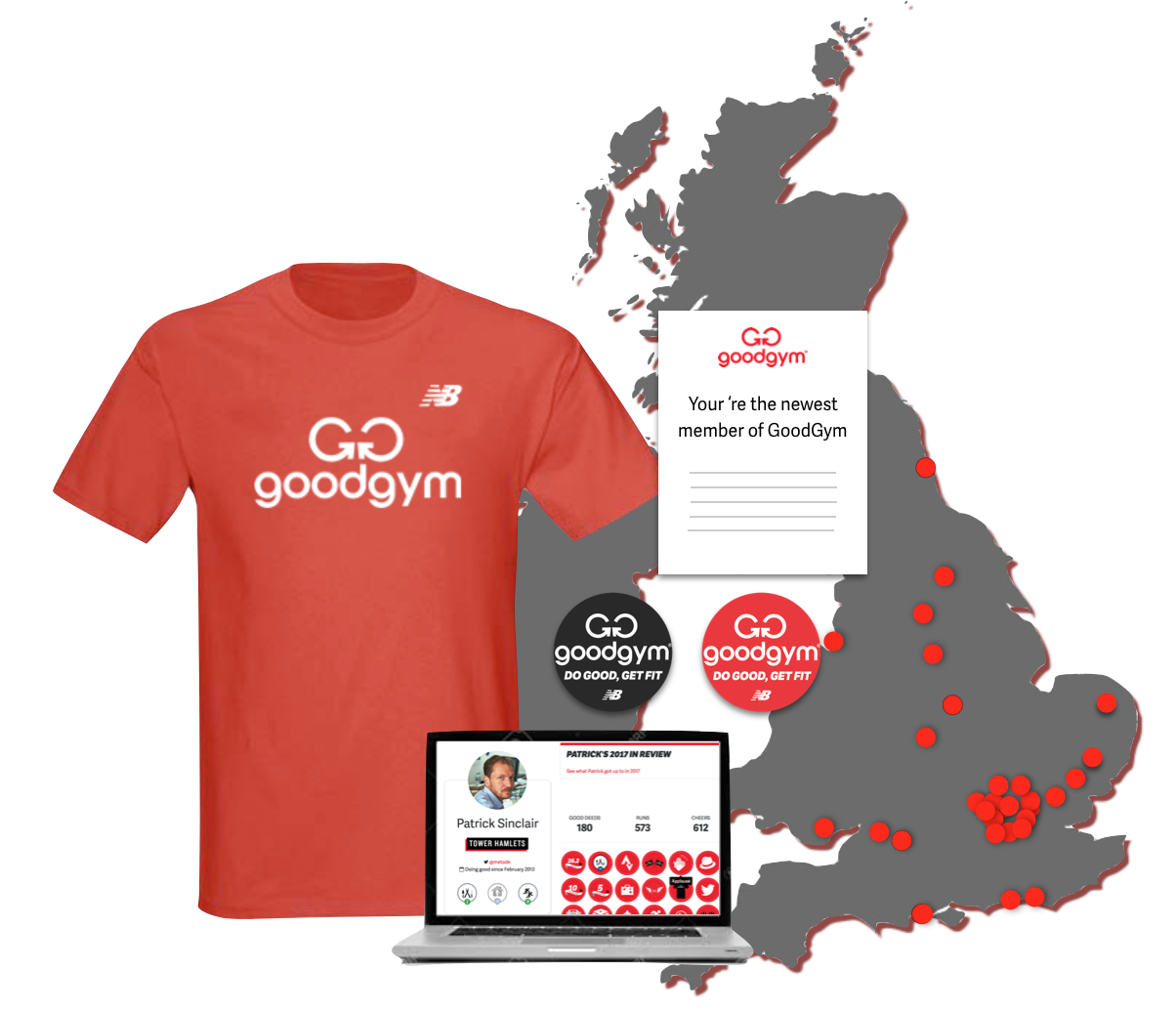 Become a member
with an optional £9.95 monthly donation
Run to help older people
Access sessions across the country
Claim your GoodGym t-shirt from New Balance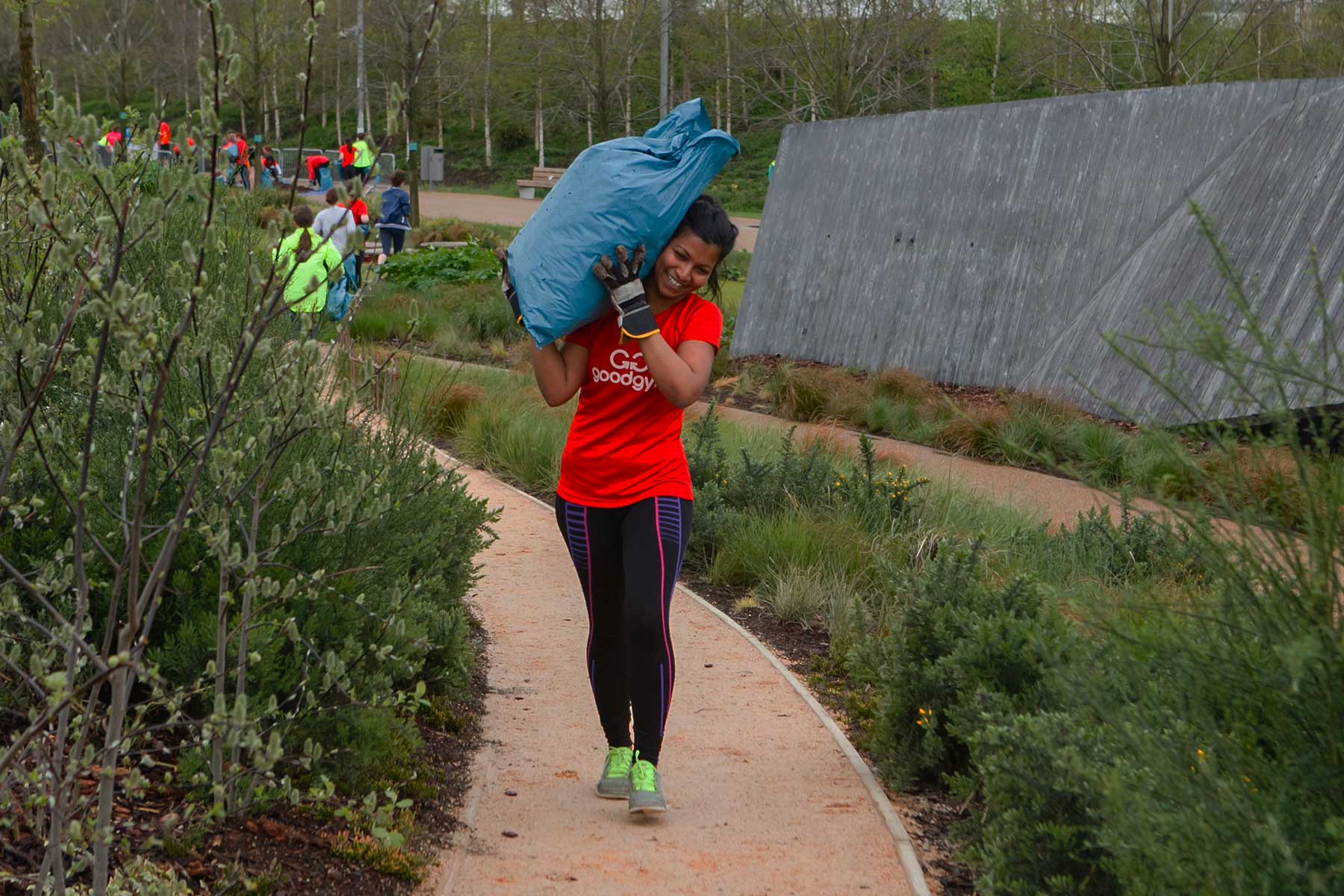 Need help with a community project?
If you're a community organisation and have a physical task then we'd like to help.
Request a task
---