Paint the halls and clear the shed... Tra la la la la la la la la la ... GoodGym runners dressed in red... Tra la la la la la la
33 GoodGymers made their way 5.0km to help the Samye Mindfulness and Well being Centre in Cardiff.
Tuesday, 11th of December 2018

Led by Benjamin Annear
A whopping 33 runners showed up to GoodGym this evening! This was the second largest turnout we have every had at GoodGym Cardiff and the Vale and this is most certainly a reflection of the passion there is amongst GoodGym volunteers to make Cardiff a better place to live.
There were new faces tonight at GoodGym, and I don't mean Santa Adam and Elf Ben. I'm talking about 4 new runners who have never been on a GoodGym run before - A HUGE welcome to Hannah, Liam, Rachel and Laura! It was so fantastic to have you come along tonight. Your enthusiasm was motivating, and it'd be lovely to run with you again :) Marie brought Liam and Rachel along to GoodGym... Guess what that means!?! She earns herself two red laces! #LifesGoals Hannah T also brought Laura to GoodGym, that means Hannah has also earned herself a red lace too #LifesGoals - With Hannah and Marie earning red laces, they are 'living the best life!'
A Christmasy themed warm up, thanks to Lucy
Some of our traditional GoodGym games were changed to fit in with Christmas. Lucy helped provide the quick renaming of the games to make them Christmas themed; To warm up this week we played 'Stuck in the snow' and 'Jingle Bells.'
How do these games work you ask? Well, Jingle Bells is better known as Fish and Chips at Goodgym, and contrary to its name you actually burn more calories than you consume. Runners run in a space and when Santa Ben shouts out "JINGLE BELLS" runners find a partner and say either "Jingle" or "bells" to one another. If they say the same then they have to do 10 star jumps, however if they say different then they have to do 10 press-ups. I know what you are thinking... this will be one to play at home with the family this Chirstmas, we encourage you to give it a go... post about it and tag us if you do!
Stuck in the snow is like stuck in the mud… If you don't know this game then come along to GoodGym, request it and we'll play it! In summary, it's like tag!
Worthy of a mention - 100 Good deed champions
It was Mahatma Gandhi who said, "be the change you want to see in the world". When I think of these words, I think of GoodGym runners who volunteer their time every week to help out in the community. Aimee and Ellen are the epitome of this phrase this week. They both reached 100 good deeds which means they have combined their running with doing good in the community 100 times. Well done both of you - Not all heroes wear capes... instead you both get to to wear the rainbow wings! These wings are proven (not sure by whom) to increase your running speed. NB. At the end of the run Aimee said she was flying on her run tonight!
It's time to run to Samye
After a very informative safety briefing that reminded runners not to trip over curbs and to check both ways before crossing roads, it was time to begin the journey to the Samye Foundation. We split into three groups this evening;
Ben led the speedy runners, a group backmarked by Ellen
Mikey led the sexy runners, a group backmarked by Fiona
Lucy led the walking , talking group!
After an exciting journey through town, past the Reindeers outside Cardiff Castle and up Cowbridge road, we had arrived!...
Hello everyone and welcome to the Samye Foundation
Arriving at the Samye Foundation first were the speedy runners. It wasn't long after that when the sexy runners arrived (wow they look GOOD!) and then the walking group... After having squash to rehydrate, Lorraine told everyone about the Samye Foundation and what they do there;
The Mindfulness and Well-Being Centre, part of Samye Foundation Wales, exists to provide mindfulness courses in the community as well as access to complementary therapies, psychotherapy and counselling. Our charity targets diverse markets such as corporate business, health and higher education providers, voluntary and community sector, local community groups and private individuals.
Inspired by what goes on at the Samye Mindfulness and wellbeing centre everyone was keen to get involved and provide a helping hand. With an unprecedented number of runners tonight, Lorraine was having to think outside the box of more tasks to do to make the most of the runners. So what tasks did we do? ;
A therapy room needed painting; 7 runners got stuck into this.
An upstairs door needed an undercoat; 4 runners work together to get this done - They really a'door'red this task!
2 runners potted plants. - There was planty to do.
2 runners painted the dado rail in the front room of the building on the left-hand side. - Look at the photos, didn't dado a good job?
11 runners worked as a team to empty and sort the shed at the back of the Samye Foundation. - Shed responsibilities makes light work!
4 runners got stuck into weeding. - Weedly enough they weedly enjoyed themselves!
2 runners got into the loft and organised belongings brought up in the shed so that they could be stored neatly in the loft - These runners had lofts of fun!
After 30 minutes, time was up! The shed had been sorted, plants were now potted, the upstairs door had an undercoat, the dado rail was painted, and the therapy room was almost finished! Wow, it is even tiring saying all that!
After helping we had a group photo. We made sure Aimee and Sue were both down from the loft before taking the photo. If there are any blurry faces, then those are the culprits who moved when the photo was being taken.
Lorraine then invited us next door into the lounge for homemade pizzas… mmmm delicious! The Samye Foundation really go above and beyond to make us feel welcome, ensuring that we have enough energy to run back after helping out too.
Have the merriest of Christmas' Yin and Lorraine
It was now time to run back. There are no more plans to run to the Samye Foundation before Christmas, so we wished Yin and Lorraine a very Merry Christmas.
We then headed back as one group to Big Moose Cafe. Whilst running past Cardiff castle Ben said to everyone, "When Santa asked his wife what the weather was like outside, she pointed out the window and said there is some Reindeer." A member of the public began laughing and said that was quite an awful joke! In all honesty, I completely agree - I do love the 'dad jokes'!
Next week I promise a very special run to end 2018
The task organisers have said fancy dress would be wonderful! I will also be planning a selection of Christmas games, including 'Avoid Mr Grinch' and 'Don't get caught by the Christmas Tree.' Last year we also did an on the spot, unplanned, rendition of Rudolph the Red Nosed Reindeer - What are we going to have next week I wonder?!?
THE WINNER OF THE RUNPUNSTILTSKIN AWARD
Holding the RunPunStiltSkin award in high regard, a big mention has to go to Lucy. who is this week's winner! You are just amazing and you can have the award for the whole week. Show it to your friends and your family but keep it safe!
If you aren't able to run with GoodGym next week then have the merriest of Christmasses!
Report written by Benjamin Annear
---
Discuss this report
Hello, i'm Ben! I'm the trainer of GoodGym Cardiff! Please get in touch with any questions and click support to follow updates.
GoodGymers helping out
Back markers

Make sure that no one is left behind

Document Checker

Check the documents of GoodGymers applying for a DBS

Photographers

Take photos for the session report

Walk Leader

Lead a walking group to the task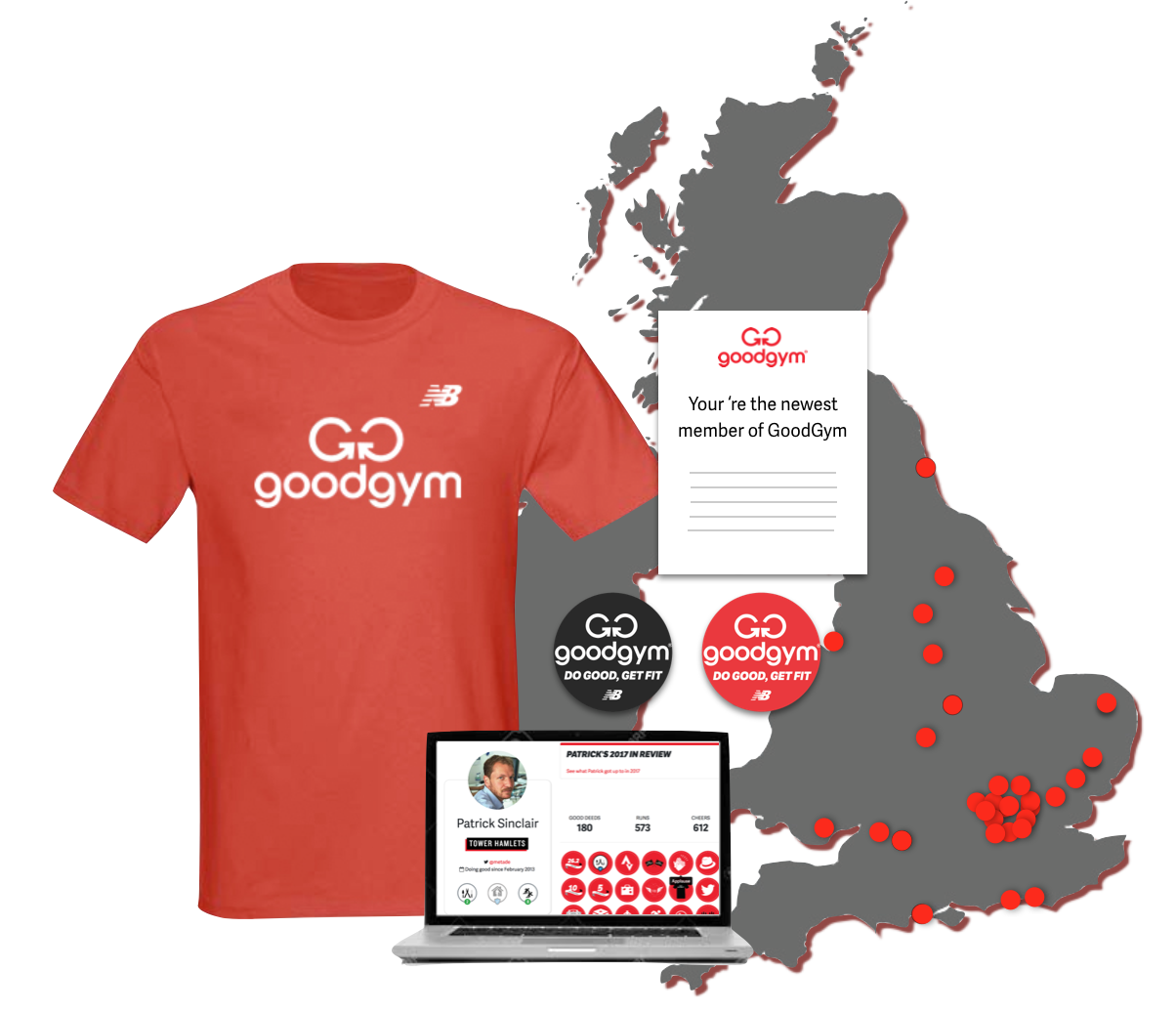 Become a member
with an optional monthly donation
Run, walk, or cycle to help older people
Access sessions across the country
Claim your GoodGym t-shirt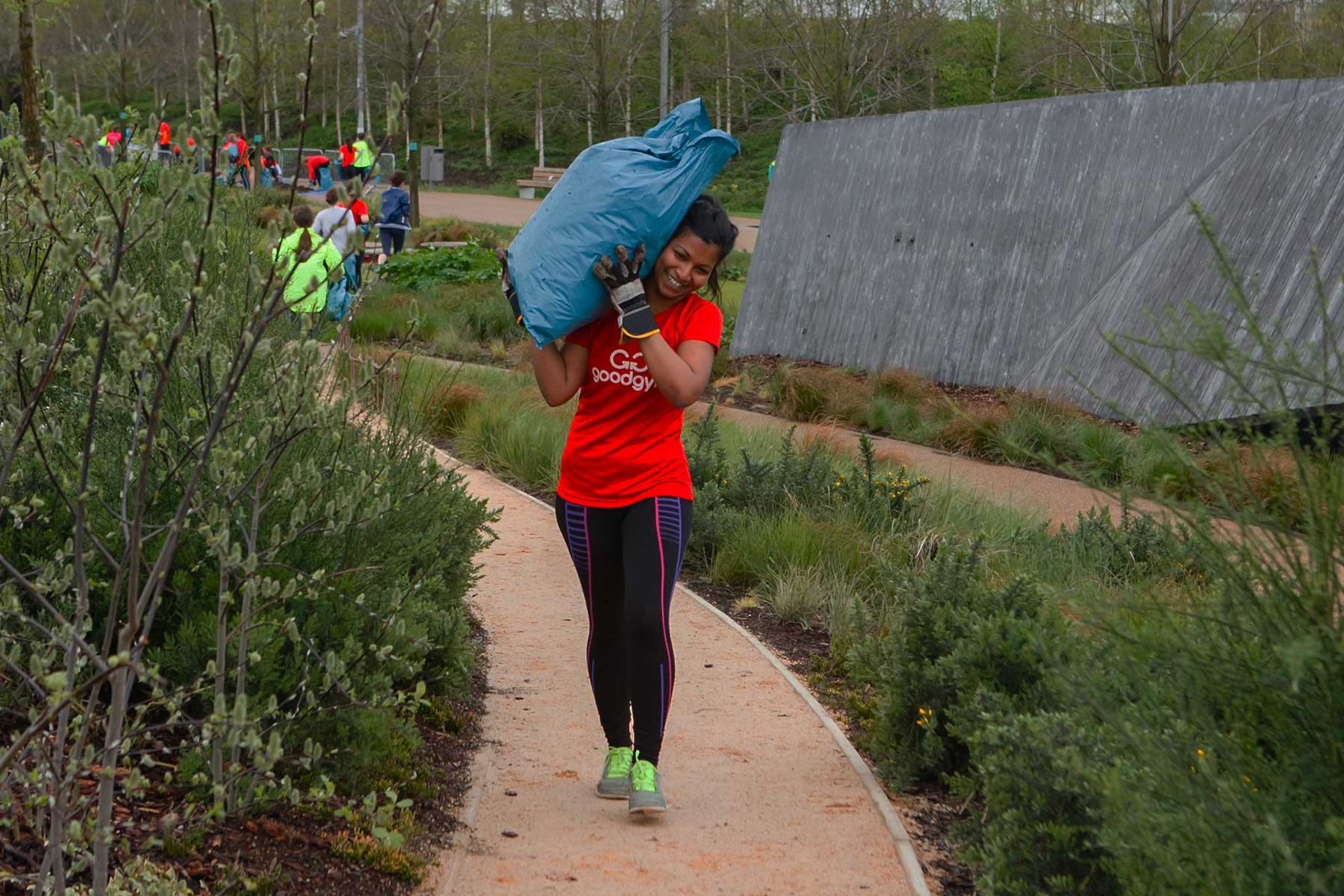 Need help with a community project?
If you're a community organisation and have a physical task then we'd like to help.
Request a task
---