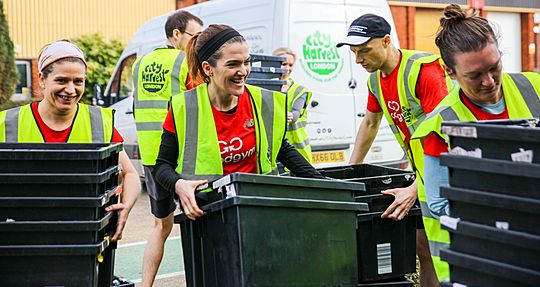 Why we are supporting City Harvest
City Harvest is on the front line during the COVID-19 Emergency.
They need volunteers to sort food more than ever before.
As a warehouse volunteer, you will help City Harvest to check and sort food donations, unload deliveries and carry out other warehouse tasks to help get food to those who need it most.
How to get involved
They have shifts available to sign up for at all different times and dates. The sign up process is really simple - you'll just need to log in through their time counts portal to get involved - https://timecounts.org/city-harvest
You can then come back here and log a good deed each time you go!
Show your support
17 people are supporting City Harvest
By supporting this charity, you will be able to log any good deeds you have done with them.
Count me in
Posted by

Liv Parker-Scott
I'm Liv, the GoodGym area activator in Ealing. I love running for mental & physical wellbeing and want to spread that joy to everyone else!