An Ultra Special Birthday
14 runners ran 59.2km on a training session in Liverpool.
Saturday, 12th of September 2020

Led by Char Binns
Running an Ultra Marathon might not be everyone's idea of a fun Birthday party, but luckily for Area Activator Char the GoodGym Liverpool crew was willing to indulge her!
This year I aimed to run my first Ultra Marathon (that's any distance longer than a marathon). I was signed up and pretty much ready to go with the 50km "Canalathon" due to take place in March. But alas, lockdown came and all races were cancelled.
But what if we don't need an expensive entry fee, a Race Director or a blingy medal? Maybe the streets of Liverpool offer all the adventures a person could need...
My birthday is on 14 September. I told my team that I don't want any presents, I just want to run an Ultra. And so a plan was hatched to run 36 miles to celebrate 36 years on planet earth. And my GoodGym team mates would provide the support needed to make a DIY Ultra possible.
My best buddy Jak decided to run the whole way with me (what a star!) while everyone else picked a distance that best suited them and their current goals.
Setting off from home, on a fine Saturday morning, I was accompanied by Jak and our respective partners (and fellow GoodGym-ers) Emma (with our dog Penny-Flo) and Rowan, plus extra support from Becky.
Emma and Penny-Flo waved us goodbye after 1.5km and Rowan a little while later, with Becky accompanying Jak and I right through the city centre and on the first mile of the Leeds-Liverpool Canal.
After Becky said goodbye, we remained just the two of us (aside from the odd heron) for 12 miles until we hit Croxteth Park and our support vehicle (my car!) plus a cheering crowd of Emma and Rowan, now joined by Matthew, Pauline and Jo. After a speedily eaten peanut butter sandwich and a quick outfit change, we were on our way again with the fresh energy of Mat, Jo and Pauline spurring us on.
After 5km and well onto the Liverpool Loop Line (an old railway line now managed by Sustrans), we bid them goodbye. Just as I was saying that it would be a while before we saw any other friendly faces, out of nowhere Sam appeared. His cheery chat was just the pick me up we needed and we found ourselves accidentally running faster than our target pace.
After a few more kilometres we reached the end of the Loop Line and the end of our time with Sam. At this point, the map I'd shared of our route differed from the route I had in my head. Luckily, some clever use of tech meant that John and Eimear, who were waiting to join us, managed to track us down after our slight diversion. They provided much needed company (and sweets!) during a less than scenic part of the route, weaving through an industrial estate. As we hit the suburbs, we picked up Farnaz who had kindly been waiting for us for an hour!
John and Eimear stayed with us all the way to Otterspool Prom, by which point we had already run further than a marathon = the furthest either Jak or I had ever run before in one day. Farnaz, who had planned to run 10km, ended up staying with us until the (not so) bitter end, clocking a brilliant 15km.
We were warmly welcomed on to the Prom by Christine and Yan who were both poised and ready to go, up for challenging their themselves as well as for helping us make it to the end. By this stage, I was falling into what I've heard ultra runners describe as the "pain cave". In other words, I was struggling. And while I knew the route from here like the back of my hand, that also meant that I knew exactly how long I still needed to shuffle forwards. On a "normal" Saturday, a 12km run along the Prom wouldn't phase me, but things were far from normal.
Spurred on my Christine's kindness and Yan's unfailing positivity, I was able to keep checking off landmarks as we eased our way closer to Liverpool's Pier Head. I knew that from there, we would turn and run for home. If I could only make it to the Liver Building, I'd know that the end was in sight. Time passed slowly, but finally... finally... I spotted a Liver Bird in the distance. Traversing the tourists around a sunny Albert Docks was no mean feat, especially because by that stage, Jak and I were desperate to avoid having to run over cobbles. But we continued to edge forward until we'd made it to Pier Head.
Turning back through town, we were now on the home stretch, and although I knew that we had almost certainly made it, the 4km that was left - all up hill - felt so very far. As we began our accent, with just 2km to go, we were joined again by a fresh faced Rowan ready to bring us home. I sludged my way along one of the slowest kilometres I've ever clocked until we were on the other side of Upper Parliament Street and back in Toxteth. Home was well and truly in sight now. And suddenly, for both Jak and I, legs that previously felt like steel suddenly found a new lease of energy as adrenline and joy began pumping around our bodies. Having previously trailed behind the others, we took the lead. And we kicked harder as we turned the corner to my road and towards the finish line.
I wouldn't exactly call it a "sprint" finish but we certainly ran as hard as we could along the final 10 metres and through a homemade finish banner created by Emma to celebrate the end of a very long run.
We did it!
Over 6 hours on the move, 36 miles clocked and with 14 runners involved. This was one heck of a Birthday party. And without doubt, I can now eat all the cake that I could possibly desire.
Thank you so much to my wonderful GoodGym team for making my Birthday wishes come true.
Report written by Char Binns
---
Discuss this report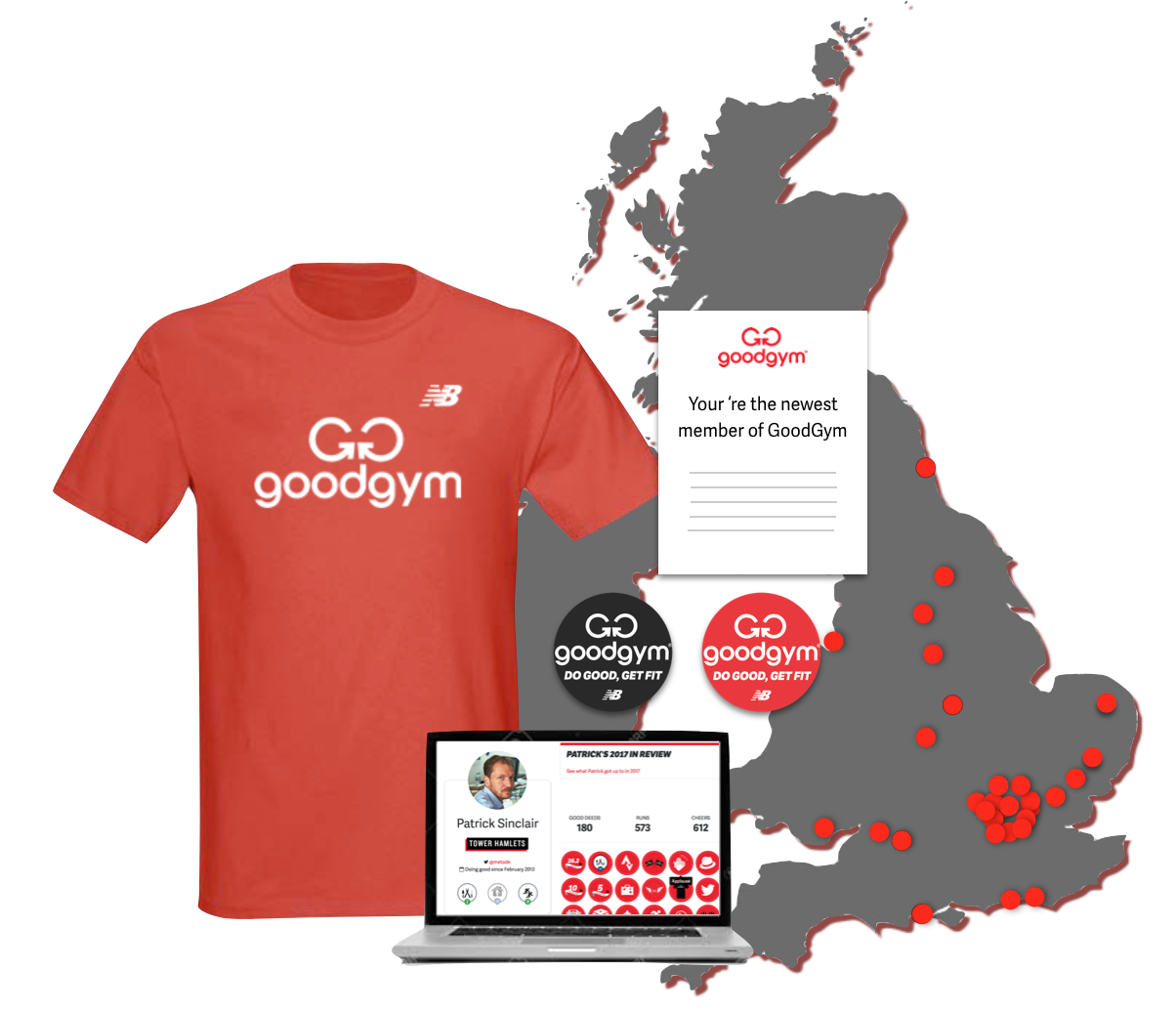 Become a member
with an optional £9.95 monthly donation
Run to help older people
Access sessions across the country
Claim your GoodGym t-shirt
---