Summer was here on a night of cheer!
36 runners ran have an amazing time in Camden.
Thursday, 7th of July 2016
You guys! What are you like? You just never let me down :D
On a lovely summer's evening THIRTY SIX of you came down (or up) to the Queen Elizabeth Hall roof garden to chat, to cheer and to celebrate the passing of another month of wonderful GoodGym-ing!
Thank you all!
We were competing with the semi final of some football tournament, the lovely weather itself and the start of holiday season so whilst we didn't break records for attendance I'm still super happy so many of you came down. I think I can safely say you were rewarded with the best location yet and with almost perfect weather too (check out that sunset). By my reckoning we had ELEVEN of you at drinks for the first time so thanks to all of you who braved it, I'm sure it's a bit daunting coming down for your first time - I really hope you enjoyed it and you'll come back again!
HUGE thanks to our guest speaker Melissa for coming and telling us about her amazing running challenge - find out more here and if want to get involved go here! Good Luck from all of us Melissa!
Anyway, thank you so much to everyone - drinks is just me drinking on my own if you don't all come so I'm always so happy to see you all :) ... run the report:
HEROES
As ever you can see the full listings here.
A bit of a Bristol take over again, David Guest in particular featuring in all but the distance table and topping the most cheered - a lot of love for David!
With a stonking 640k last month James Poole topped the distance charts - leaving nothing to chance as he prepares for the launch of GoodGym Redbridge!
A return to the top for Beth 'Queen of the Gazebo' Hoskins with 17 good deeds last month - fantastic work!
Cheers!
Finally the 'cheers given' table, as 700+ wasn't enough Pru pulled out all the stops and cheered 1182 people last month and won herself 'Cheers' as a prize as well!
Massive thanks to Frances who was a wonderful prize recipient on Pru's behalf - Pru your prize is on the way!
Now it wouldn't be me if I didn't cock up the speech somehow and I'm sorry to say that the 50s and 100s didn't get a shout last night but I'm so pleased to announce them here - we had Kike, Maya and James turning 50 - awesome! The infamous Judy Reid turned 100 last month - what an amazing lady! Aidan Padfield from Islington turned 100 - woohoo! Claire Thomson from Brent turned 100 - congratulations! Finally Chris Warmoll from Hackney turned 100 too - incredible! Give them all a cheer!
NEW FEATURE
I'm always trying to mix things up and we've had the current heroes format for some time - it's taken a while but here we have it! I'm hoping that we can get a good snapshot of how GoodGym is doing, but I also feel it's something that you can all get involved wiht by spreading the word about GoodGym and getting people you know involved therefore really having an influence on whether your area tops the table! Oh and please, please, please - let me know if you can think of a better name...
In any case... a massive congratulations to GG Westminster on their winning of the inaugural 'GG most new runners last month' prize!!! Due to a website anomaly they had a whopping 126 new runners!
NEWS
We raced the horse(s)! 53 of us took on all that Wales could throw at us and really very much came out on top!
Axel came 9th overall!

GoodGym came 3rd in the club race for solo runners
and finally... the winners:
Unofficially we also won the loudest cheerers knocking those pesky Pontypridd Roadents off their spot!
GoodGym is expanding...
In other news GoodGym is expanding and over the next six weeks we have SEVEN areas opening:
GG Chelmsford - Wednesday 13th July with Ken Hoye

GG Richmond - Monday 18th July with Mark Barun

GG Redbridge - Monday 25th July with James Poole (of distance winning fame)

GG Wandsworth - Monday 1st August with Anastasia Hancock

GG Colchester - Wednesday 3rd August with Angela Isherwood

GG Ealing - Tuesday 9th August with Lisa Rattray

GG Barnet - Tuesday 16th August with Pennie Varvarides
Keep an eye out for more news on these and tell everyone you know in these areas that they now have their own local GoodGym too!
Finally looking ahead we have a few races coming up, check out the details and get yourself signed up:
Pun time...
These reports really don't get any shorter do they? Apologies but here it is the one you are always waiting for it's INTERNATIONAL PUN OF THE MONTH!!!
June was a good month with a long list of 11 and I really struggled to get down to the five in the shortlist but five we had and with the shortlist going out on twitter we had six votes before drinks even kicked off! A total of 39 votes were cast but by one point, with 12 votes the June winner of International Pun of the Month is...
A hearty congratulations to Simon and co!
Right, that is that from July drinks, I hope you all liked the new feature, thanks again to Melissa for chatting to us about #RunTheBoroughs and one final thing... we have a new feature!
Yup for the drinks report only, after the coolness that was James 'Barney 'Barnard's Edinburgh Marathon medal you'll notice a picture of some striking shoes in the photo carousel...yup the new feature is the 'Cool stuff from James' feature, every month we'll get a picture up from James of cool things he owns and/or has come across! Hope you all like it! (Ok, we might get rid of this new feature soon - i'll take a straw poll next month and quite frankly James doesn't even know about it).
See you next month, 4th August!
Anywho, thank you all so much for coming, hope for an even bigger better drinks next month - we're going to be in the King's Cross area and drinks will be on the 4th August!
Cheers,
Report written by Pritesh Mistry
---
Discuss this report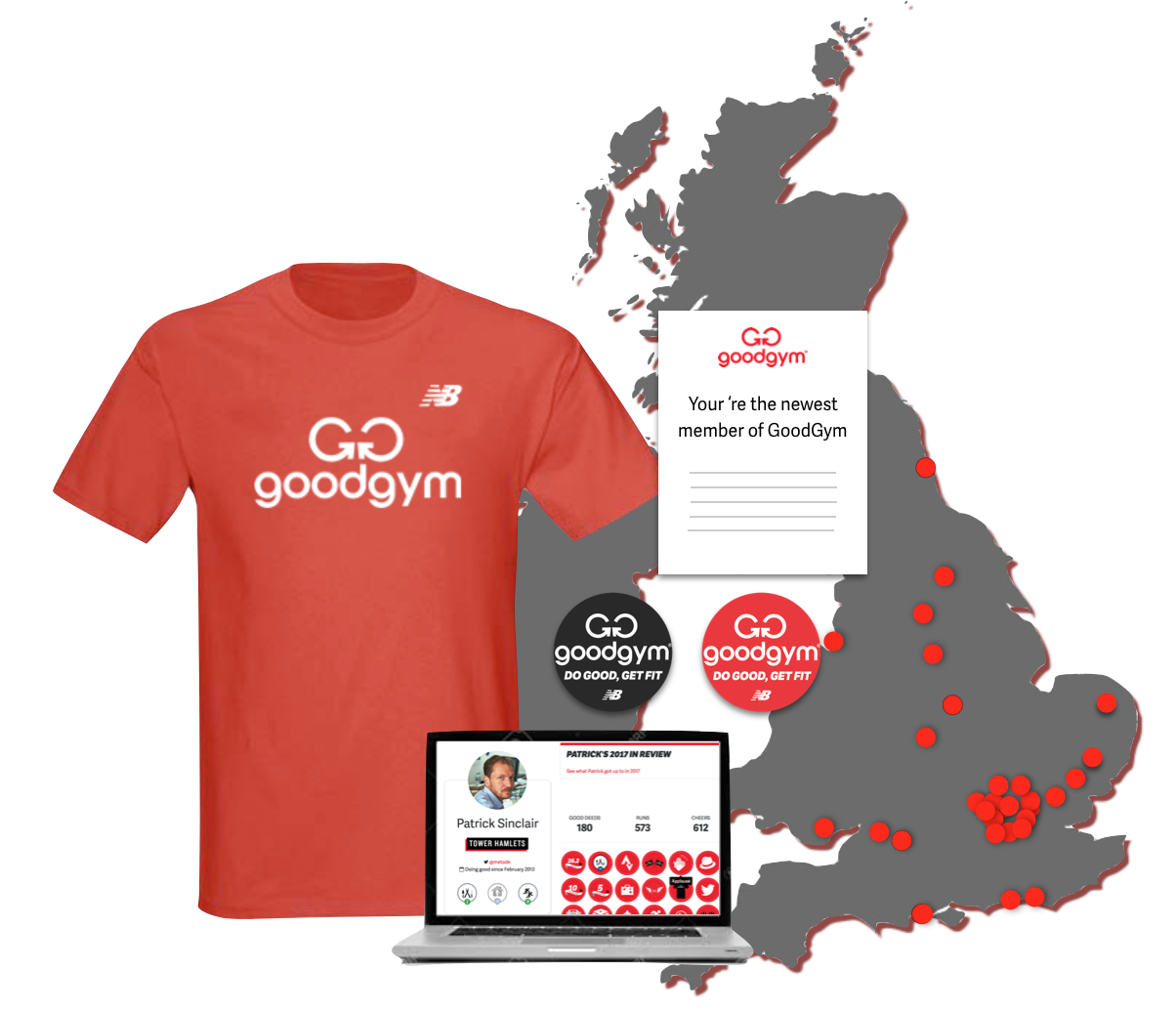 Become a member
with an optional £9.95 monthly donation
Run to help older people
Access sessions across the country
Claim your GoodGym t-shirt
---