Mulch ado apple nothing
23 runners ran 7.0km to help their local community in Cardiff.
Tuesday, 22nd of August 2017

Led by Benjamin Annear
A call comes in… "We need some of your awesome GoodGym runners to help out at our Global Garden Project allotment"… We reply… "Okay, sounds like a plan, on the 22nd August we will run to help you out"… Keep reading to find out the tasks that Poppy, the task organiser for the Global Gardens Project, set us for the evening
On Tuesday evening 23 GoodGym runners gathered at Yr Hen Lyfrgell ready for the evening's task ahead. This week we saw some new faces! (Now now… when I say new I am not saying other runners' faces are old, I am merely saying that these faces have not been seen before at GoodGym :) ). And so… in the warmest of GoodGym welcomes… Welcome to Jemma, Amber and Emyr. Jemma travelled all the way from Swansea to run with GoodGym Cardiff tonight – An extra round of applause for you Jemma! We also had Colette join us from the BBC – She didn't have enough of us last time and wanted to come back for more… We like it and great to have you back with us!
Let's get warmed up!
Knowing how important a warm up is in preventing injuries, we headed outside for our warm up. Ben got everyone jogging on the spot whilst he explained about GoodGym, detailed the task for the evening and gave an update on the GoodGym low down! … Well done to Aimee, Ben, Emma and Mikey who all completed run missions within the past week. You can read about the run mission to Grangetown Community Hub by clicking here and the run mission to help out Mr P with his gardening by clicking here.
Then Ben got everyone all walking on tip toes, heels, lunging, squat jumping and then running on the spot doing high knees and butt kicks at varying speeds from 1-5, with 5 being the fastest which contributed to rather interesting noises being produced from some runners…
Let's go guys… Poppy is waiting for us
Poppy was this week's task organiser. She was waiting 2 miles away for us at the allotment of the Global Gardens Project. We were all excited to be helping her out this evening, and so, with a spring in our step, smiles on our faces and the thoughts of Oreo cookies, which Ben brought along as a snack for after our run, we headed off at speed!. Emma backmarkered on the way there.
We ran past Cardiff Castle, paying attention to the Pride flags blowing in the wind high above the Castle turrets. We also received a few waves and hellos from people of all ages, from children who were amazed by seeing a swarm of red t-shirted runners, right through to older persons… It was very clear that our smiling faces created a positive impression on the Cardiff community.
Riddle me this and Riddle me that… Get your teeth stuck into this riddle for the evening. Ben gave us this week's riddle for the run to get our teeth stuck into…
I am the beginning of the end, the end of every place. I am the beginning of eternity, the end of time and space… What am I?
...Some runners worked this out pretty quickly, and so, upping the ante, Ben gave runners another riddle…
I'm tall when I am young and I am short when I am old… What am I?
Have you worked out the answers? Write your answers be in the comments box below! Answers will be revealed next week at the group run and in the next run report.
We're here! But what's that? We can't get in?
After running, planking, squatting, and other bicep and tricep exercises which serve to improve our running form, we arrived at the allotments. Poppy welcomed us but then informed us that the gate's lock was stuck and we would have to run through the other entrance to get in… "Fear not!" Exclaimed our friendly neighbourhood cameraman who stepped in and, using the skills unbeknown to him, just like Arthur pulling the sword out of the stone, the cameraman was able to turn the key in the lock… It was then Cheers erupted, we were in!
Hello again lovely faces, some of which I recognise!
Poppy welcomed us like old friends. She offered us water to rehydrate, told us about the Global Gardens Project and listed our tasks for the evening. Click here to find out all about the amazing Global Gardens Project.
Poppy tasked some runners to harvest apples from the tree, others to lay a woodchip path around the flowerbeds and another group to turn over soil ready for the planting of new flowers. And so, without a moment to lose the Apple harvesters got stuck in. Amber's arms working like a factory conveyor belt and when this was observed she said it was because she had previously worked on a farm. It was amazing she was able to tell us this whilst her arms were still moving apples 100mph. The apple harvesters collected up apples which had become mouldy and put them in the compost and then afterwards collected fresh apples from the tree which, after the run, are going to be donated to The Trinity Centre which helps refugees and asylum seekers in the Cardiff Community.
The woodchip path layers; this was actually more difficult than it sounds as there were 3 different types of woodchip depending on the path around the plantation beds. The team allocated to this task worked hard, shifting woodchip into wheelbarrows and then laying it down the path.
The soil churners; this team worked hard to churn the soil, ready for the planting of new flowers. They did a marvellous job of it and gave their arms a good workout in the process.
We got so much done we even managed to lay fresh compost into the churned up soil bed and lay new comfrey herbs! Look how many apples were collected too – see photos!
I can't not mention the antics from tonight's run either; Colette's tribal dancing when she found bugs crawling up her legs, Craig's awesome spade pose which Johannes has also mastered. Lexi and Emma's graceful weeding and Paul's laidback approach to moving woodchipping (sitting on a bag of woochip whilst doing the task)… Sue also found a worm in a mouldy apple… A few runners, naming no names (Mikey and Fliss) also came up with naughty puns for the run... No RunPunstiltskin award for you this week guys!... and I managed to dodge an apple that fell from a tree and almost tripped over a weed. Needless to say… this was a very fun and eventful task!
Not only did runners get physically active during this task, their minds were also trying to solve the riddle!...
Tick Tock… Time is up!
We put all of our gardening tools into wheelbarrows and put them next to the apple tree. We then all quickly gathered together for a group photo and, holding our apples, we smiled and held our apples high into the air! We completed the tasks! How do you like those apples? Wooo!
After we completed the task we usually stop off on the way for a quick fitness session. However, this week we ran straight back to the start,… although we did manage to give our legs a good workout and run up and down the steps of Cardiff Museum - It's all about finding those opportunities to give yourself that extra bit of a workout (Ben didn't mention to runners about the dinosaur claws on the top of the museum though as he feared this would've scared everyone and they would have run off in all directions). Aimee backmarkered our run home beautifully - thanks for your awesome backmarking skills.
Sprint finish!
Finishing the group run with a sprint finish, we arrived back to our start location.
Do you want to join us on the next GoodGym run? We would love to have you! Click here to sign up.
Well done to Aimee, the winner of the RunPunstiltskin award for this week. You get to keep this virtual award. Please take it everywhere with you, shopping, in the car, to work, but you must remember to return it next week!
Report written by Benjamin Annear
---
Discuss this report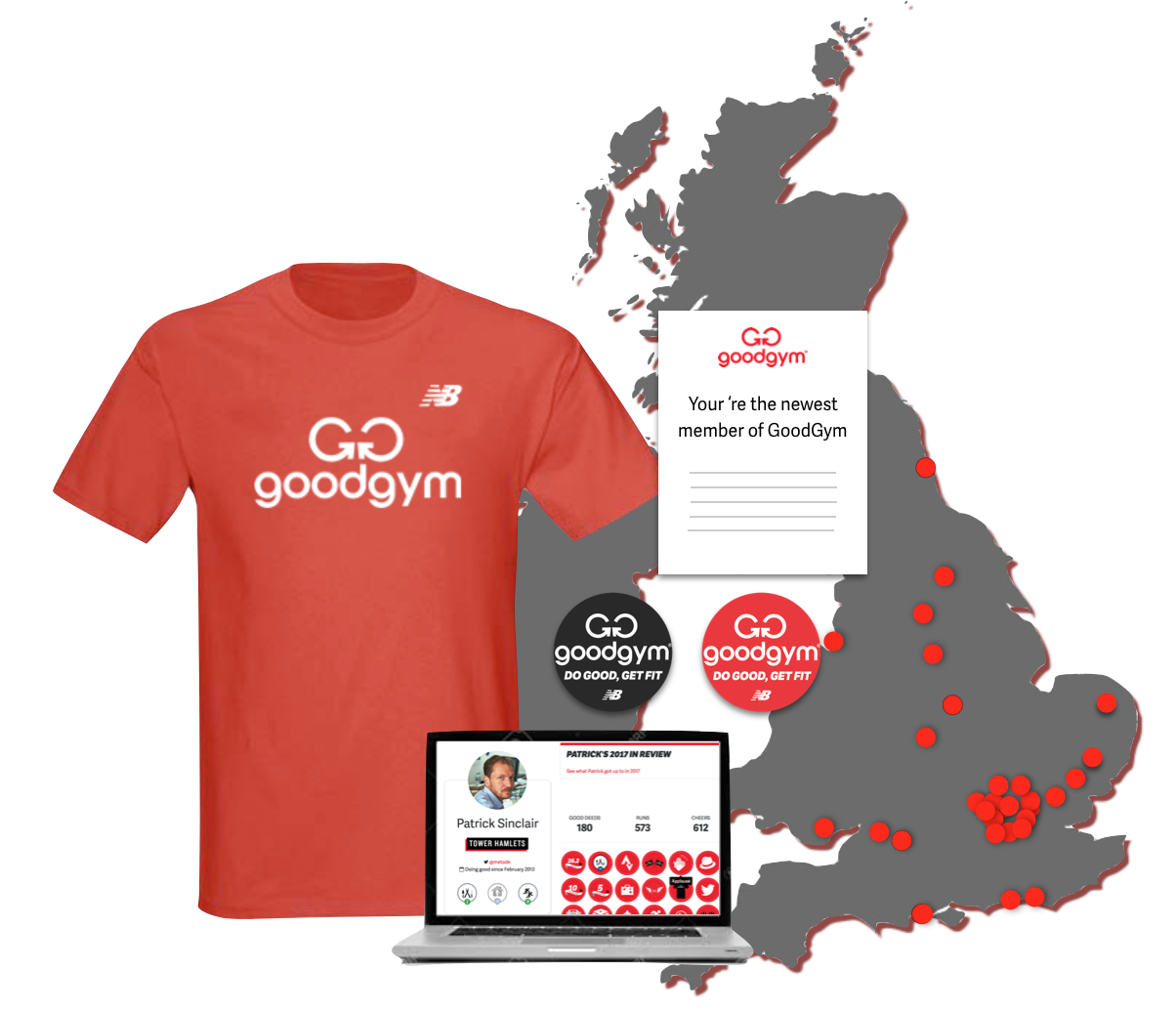 Become a member
with an optional £9.95 monthly donation
Run to help older people
Access sessions across the country
Claim your GoodGym t-shirt from New Balance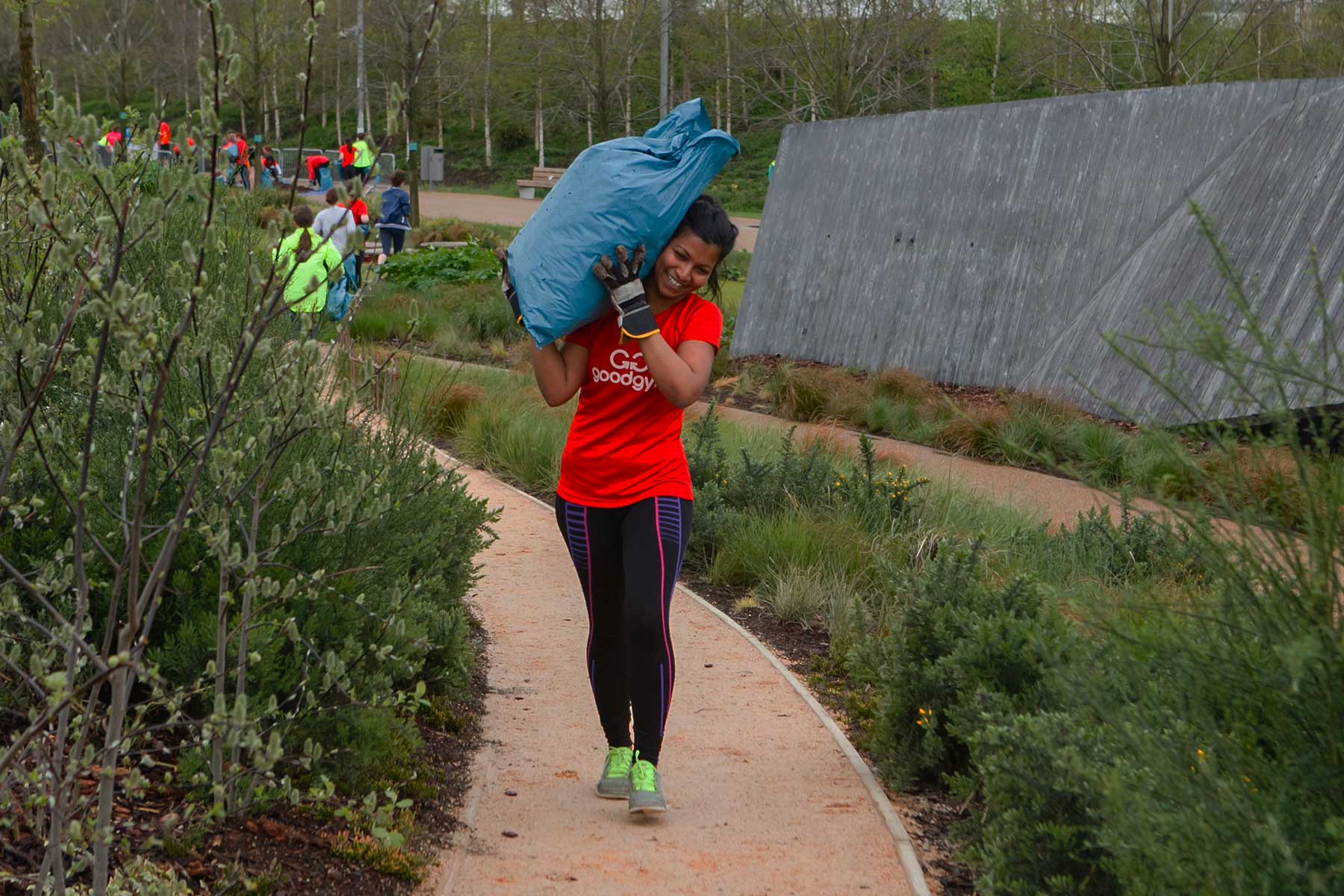 Need help with a community project?
If you're a community organisation and have a physical task then we'd like to help.
Request a task
---