Rice, rice maybe
Monday, 11th of December 2017

Led by Adele Prince
32 runners ran 5km to help the Big Red Box in Lewisham.
For our last group run of 2017, an incredibly hardy 32 runners covered 5km of running and sorted and packed boxes of food for Big Red Box.
Unless you've spent the past few days under your duvet, which might not have been such a bad idea, you will have noticed The Weather. Yesterday we had rain, we had sleet, we had snow and then we had ice. I never doubted though, that we would have a foyer full of runners, eager to good. It was great to see some visitors this week, all the way from...Greenwich! It was also lovely to meet last week's newcomers, who enjoyed our group run enough to give it another go, great to see you back.
EXCITING NEWS TIME!
After becoming a dad last weekend, we were all very surprised to see James out and about! Congratulations on becoming a dad to a beautiful little boy and feeling energetic enough to come out and run with us, amazing! Admittedly, he did look slightly shell-shocked.
I just felt too shy
This is what Marta had to say, when I asked why she kept quiet about Saturday's starter session being her 50th good deed! This illustrates perfectly the kind of person Marta is, putting her head down and quietly getting on with the task in hand, whilst offering support and encouragement to her fellow runners. Well done Marta, it's a great achievement (and we look forward to seeing you in your black t-shirt in the new year!).
Special guest warmer-upper!
On Sunday, a big group of us will be off to Greenwich for the Run Through 5 or 10k race. A while back they asked us if we wanted to lead the warm-up (!), so of course we jumped at the chance. Amongst our runners, we have our very own personal trainer, Amber, so who better to take the lead?! Tonight was our chance to practice and get a feel for what we will be doing in front of around 500 runners on Sunday. Thank you Amber, your warm-up was fun and we definitely felt ready to run, with our muscles firing up against the cold.
Time to run!
When we run in this direction, we do have to contend with the crazy new road system that is now central Lewisham. Cue lots of hopping on the spot, waiting for the lights to change. Thanks here, go to Caireen, who very kindly spent time with a cyclist, who had been knocked off her bike and was clearly in shock. We - thankfully - haven't had to deal with anything like this on a group run before, so thank you to everyone for being patient and understanding. Thank you also to Conroy, who led our big group away and to Stephen (or 'Elf' as he should probably be known now) and Chris for being our back-markers this week.
Once we arrived at the Big Red Box, it was all systems go! Nykolette and Emma had arrived before us and were already rushing around, sorting through donations! It was great to see Emma back from her travels and how impressive that she was out in the cold, doing good stuff at what was 7am for her! Joining us on our run this week was Mike, who is a big part of the Big Red Box, he and Alice quickly got us all organised, with bodies moving around like red ants, picking up items and finding the right crate.
Inside, was a team of lid-makers, folding, popping and tucking, in fact so much so that they had very soon created an actual tower of red lids. At the other end of the corridor, Jo and Mridula were building the corresponding boxes, again, creating an installation to rival anything Tate Modern could put in their Turbine Hall. Once enough crates had been filled, they were carried into the corridor and a human chain was formed, ready to fill the Big Red Boxes. Boxes were passed along, items being placed inside and, when they reached the end of the line, a lid was popped on and the box was lifted onto the trolley.
At this point, Alice set us a challenge. Each team of volunteers has had a go at the Five Minute Challenge, to see how many boxes they can fill in five minutes. We're not competitive or anything but, OK, we are SO competitive! Our aim was to beat the 41 set last week, but why not aim for fifty? Alice counted down aaaaahhhhhhnd, they were off! All along the corridor were shouts and cheers, boxes being shunted along, tins being thrown in, chocolates being placed atop and all sealed with a Christmas pudding and a box of mince pies.
In we went, trying to quickly scan the stacks of boxes to see if we could work out if we'd managed it. Mike kept us in suspense, telling us that, in the first week, 28 had been packed, the second week was 32 and last week 41. In five minutes, our super group of packers had managed...
Drumroll please...
...46 boxes, taking us to the top of the leaderboard!!! This made our total for the evening 80 boxes of food, to be taken and distributed to families, individuals, older people who may be alone and people getting back on their feet. Mike told us that what we were doing was giving hope to people who might not feel much hope, making their Christmas a little bit blessed.
Well done everyone.
As we stretched back at Glass Mill, we wished everyone a happy Christmas and reminded ourselves of the change of day in January, for one day only we will meet on a Wednesday, 3rd of January (otherwise we would have been meeting on New Year's Day!). Next Tuesday, the 19th, is our Christmas get-together, over at the lovely Catford Constitutional Club - please sign up now if you're definitely coming, so we can confirm numbers. In the meantime, I look forward to seeing you all in Greenwich Park, bright and early on Sunday, to either, run or cheer and definitely to warm up afterwards with a nice big hot drink and a mince pie.
Report written by Adele Prince
---
Discuss this report
Join us on the next run
Let's welcome in 2018 at Crofton Books!
Wednesday, 3rd of January 2018 6:45pm
Led by Adele Prince
Glass Mill Leisure Centre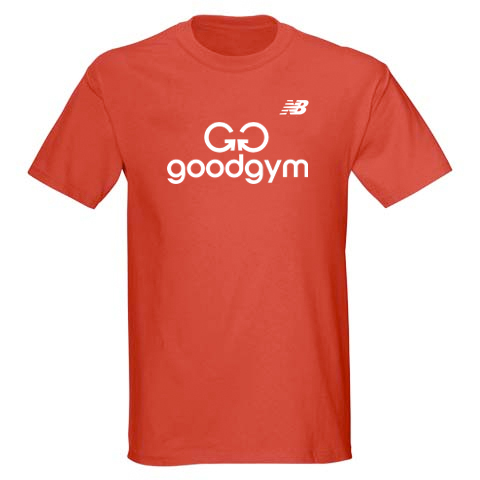 GoodGym Membership
If you become a member we'll help you get fit by doing good. You get the support of your local trainer and help to set and achieve fitness goals and a new GoodGym New Balance technical running top. You also get 20% off at NewBalance.com.
All aspects of GoodGym are free to participate in. Most Goodgym members donate an optional £9.95 a month which go to the GoodGym Charity to help us reach more older people. We'll ask you if you'd like to donate when you join.