I field good, na-na-na-na-na-na-nah!
Saturday, 9th of December 2017

Led by Adele Prince
14 runners ran 2km to help the Crofton Park Station Garden in Lewisham.
On a beautifully bright morning in Lewisham a frosty fourteen ran 2.5km, cleared leaves, filled raised beds, pulled up weeds and laid bricks over at Crofton Garden.
How do you spend your Saturday morning? At this time of year, lots of people are edging gingerly out of bed towards the sofa, but not these amazing people! Some of our runner volunteers had been up extra early to run Hilly Fields parkrun and two of those had come all the way from York (not just to be with us, but let's imagine...)! Welcome to Egg, who is the trainer for GoodGym York (remember, she ran with us just over a year ago, when GG York was in its infancy?) and Lizzie, who is a York regular, complete with her black '50' t-shirt. As well as our visitors, we were delighted to welcome a few new faces to GoodGym Lewisham, six new faces in fact! Open arms to Nadine, Lauren, Phillippa, David, Lucy and Rebecca (if you click on their names, you can show them support with a nice little cheer!).
EDIT Well, someone sneaked quietly into the 50 good deeds milestone family this morning, without even mentioning it! Congratulations Marta, who completed her 50th good deed today! Give her a VERY big cheer!
If you've looked out of the window yet today, you might appreciate how very cold - but beautiful - it is. Even more important to warm up our bodies and get moving. Over to the grass we went, to get to know each other's names, jump around a bit and get into a bit of an arm-wrestle, to engage our muscles for the task ahead (yes, arm-wrestling is the best pre-gardening exercise). Today's run (expertly back-marked by Jacqueline and Nykolette) took us down the lovely, newly resurfaced paths and over to Crofton Park Railway Garden, this is the one you can see alongside the railway station platform as you wait for your train. Here, we were met by Ben, who outlined the various jobs:
lifting sacks of compost into the raised beds

raking leaves onto the beds, to mulch down

creating edging with bricks

pulling up - very stubborn - weeds

gathering arisings and putting them on the compost heap
Faced with an array of tasks, it's not long before everyone grabs a tool and some gloves and gets stuck in (especially when it's hovering around sub-zero temperatures!). It was great to see everyone chatting happily as time ticked away and to hear about some of the running goals that people have - most of today's runners are signed up to the Big Half in March, so are gearing up to some dedicated training over the next three months, all with the support of their fellow runners. Good stuff.
Before we knew it, it was time to gather up our tools and find a nice sunny spot for the obligatory group photo, say 'weeds!'
A GoodGym group run wouldn't be complete without a little fitness session to push ourselves a bit harder. Today's run was to finish at Hilly Fields, so a few hill repeats were definitely the order of the day. As I was saying to the group, hill training is an excellent way to build strength, to encourage good form and to turbo-power your all-round running. We ran as a group to a designated point, turning when the first person reached that spot. Using the downhill for recovery, two more hills were run, with a strong focus on our arms, to give us added strength to push hard. I know it's hard to do this kind of session on your own, but we are lucky around here to have lots of little (and big!) hills to incorporate into a run, so go for it!
As we stretched at the top, we wished Nykolette and David luck in their races tomorrow - let's hope the weather forecast is wrong! We also talked about Monday's task, our last before Christmas and, if you want another daytime session, we have our first weekend run of 2018 on January 13th, a chance to wear waders and get into the River Ravensbourne! Well done everyone, it was a pleasure to spend a Saturday morning with you!
Report written by Adele Prince
---
Discuss this report
Join us on the next run
Let's welcome in 2018 at Crofton Books!
Wednesday, 3rd of January 2018 6:45pm
Led by Adele Prince
Glass Mill Leisure Centre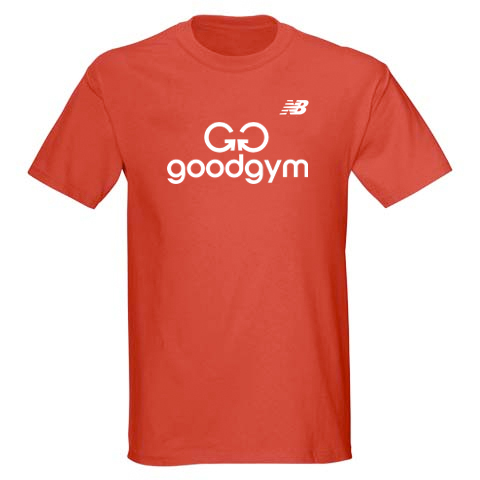 GoodGym Membership
If you become a member we'll help you get fit by doing good. You get the support of your local trainer and help to set and achieve fitness goals and a new GoodGym New Balance technical running top. You also get 20% off at NewBalance.com.
All aspects of GoodGym are free to participate in. Most Goodgym members donate an optional £9.95 a month which go to the GoodGym Charity to help us reach more older people. We'll ask you if you'd like to donate when you join.