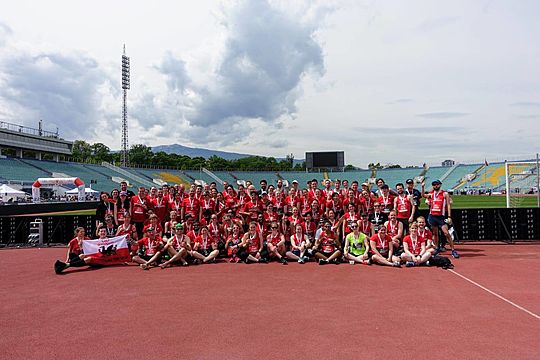 Kiev Running Festival April 2020
5th edition of GGxEuro
Description
Please note that this race has been cancelled.
After a very successful trip to Sofia with 90 amazing GoodGymers painting Bulgaria red, we are off to Kiev!
We're off to the capital of Ukrainian next April, with the races taking place on Saturday 4th and Sunday 5th April. This will be the 5th year GGxEuro Trip - come make it awesome! We will be bringing you:
4-5 day's in an Eastern-European City
With various race distances - 10km or Half Marathon (21km)
Good food, good drinks and GREAT company!
Sunday Group Dinner
Important Details:
Entries are now open:
Flights: Various direct flights available from London, Manchester and other places. Including:
Ryanair out (Friday 3rd April) from Stansted
Ukraine International back (Tuesday 7th April)
They are a bit more expensive than I'd like. But this will even out with the cheap accommodation, reasonable race cost and cheap food/drink.
Spreadsheet: It helps for us to know who is coming and what you are all doing. Therefore please fill in this spreadsheet here.
Here is the 2019 race website (hopefully updated soon) and their facebook page if you'd like to look at either.
To inspire you to sign up for the trip of a lifetime we'll leave you with these quotes about Sofia 2019:
Dharmesh: "I mostly just drank rakia and had fun with Rob Riley, it was the best!"

Helena & Ed: "We've basically been every year to the GGxEuro trip and it's the foundation of our relationship!"

Ben Annear: "It's not Wales but it'll do!"
Please note these words may not have actually ever been said..
Also please note that this event/race is not organised by the GoodGym Race Team and its not part of the big six races for 2020. This event is organised by Paul Bown (paul@goodgym.org).
Looking forward to it!
PB
Date and time
09:00 - 10:30
Saturday, 4th of April 2020
Led by

Paul Bown
Previous Trainer for Camden and Islington, England Athletics Qualified Endurance Coach, 2h51 marathoner, & big sweet potato advocate
GoodGym Race team
Want to be part of a more competitive side of GoodGym?
Pechersk Lavra
Kyiv
CHM4+VW Kyiv,
Ukraine