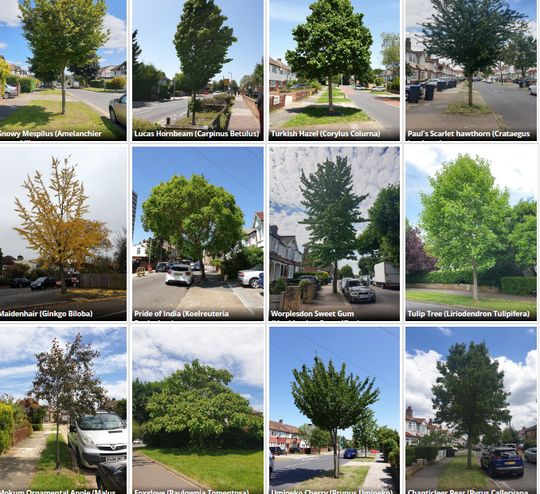 Why we are supporting Kingston Edible Forest
100,000 trees for Kingston – combine your runs with helping
What & why?
The government's Climate Change committee recommends the UK should increase its tree cover from about 13% tree cover on average to 19%, which compares to 30 - 45% typically in Europe.
Were Kingston to match Cardiff's aim to achieve 25% tree cover – this would equate to needing 100,000 extra trees of which perhaps 10,000 might be street trees. This wouldn't turn Kingston into a forest – just tactical planting – e.g. a tree in a small garden which doesn't have one, two in a large garden, and similarly in the grounds of commercial and public buildings, and some more in green spaces.
Kingston Edible Forest seeks to contribute to this by donating several hundred saplings each year grown at no cost but needs your help.
How to get involved
With your help to identify and collect tree seeds. Last year 200 seeds were purchased but only one germinated. This year with the help of GoodGym, primary schools and the scouts, we need to collect thousands of seeds to get tens of trees growing. Ask your kids, friends and neighbours too!
When?
Over the next 2 weeks as trees are in full seed now (judging by all the conkers and acorns) You can do it anytime you are out walking or running over the next 2 weeks and log your community good deed. Then sign up to deliver your seeds to the Edible Forest at the community mission on Thursday 1st October (or arrange for your seeds to be delivered another time)
Tree identification instructions:
What trees do we want? ONLY SMALL & MEDIUM size varieties suitable for small streets or people's gardens.
Here is a link of the tree species that Kingston Council use to help you identify some of them: https://kingstonletstalk.co.uk/rbk-tree-planting/widgets/14048/photos or try https://www.nhm.ac.uk/take-part/identify-nature/uk-tree-identification-guide.html Map of street trees in London https://maps.london.gov.uk/trees/ - may not be up to date or accurate and Kingston doesn't have much data
Any attractive small to medium sized garden or street trees such as: rowan, ornamental maple varieties, ginko, acacia
Which trees are we not able to use? Large ones. AVOID: oak, ash, beech, silver birch, field maple, norway maple, chestnut (horse or sweet), sycamore, bamboo, laurel, elderflower
ALSO AVOID: apple, pear, and cherry – they will have cross-pollinated with other local trees and will not produce the same variety, and therefore are not of use.
Seed collection instructions: Store seeds cool (with a leaf from the tree) in a paper envelope or paper bag – do not seal as they need air to dry out and will turn mouldy if damp.
Mark the envelope with road name and tree variety eg Kingston Hill/Rowan, take a photo of tree, leaf and seed and post to Facebook Group: Kingston Edible Forest and it would be a great help if you could complete the information in our google form:
https://forms.gle/dC1eNvZs7gfptFW7A
Thank you!
Show your support
2 people are supporting Kingston Edible Forest
By supporting this charity, you will be able to log any good deeds you have done with them.
Count me in
Posted by

Jane Yelloly
Love exercising to relax especially by running and cycling with other friendly folk. And love finding great food and drink treats after!