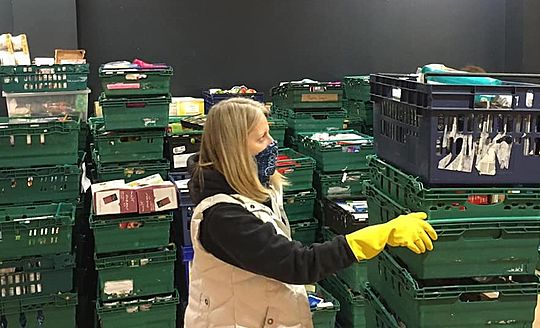 Why we are supporting Foodshare
Maidenhead's Foodbank, Foodshare provide nutritious meals to individuals and families who are unable to afford a proper meal every day for themselves or their children. During the coronavirus outbreak they have seen a massive surge in demand and they need more donations and more volunteers than ever before.
How to get involved
Food Donations
People can drop off food donations at the following locations:
Foodshare, The Nicholson Centre, Brock Lane, Maidenhead, SL6 1LP. Wednesdays: 4:00pm – 5:30pm, Fridays: 12:00pm – 1:00pm, Saturdays: 9:30am – 11:00am
Foodshare, The New Market, King Street, Maidenhead SL6 1DR. Tuesdays: 10:00am – 11:00am, Wednesdays: 10:30am – midday, Fridays: 10:30am – midday, Saturdays: 9:00am – 11:00am
Supermarkets - Sainsburys and Waitrose
Local Street Collections Click here to see map for local drop-off points
Volunteering
Food Deliveries
What is needed: Picking up and delivering parcels of food.
The charity ask that this is done by car. Obviously this is not the normal GoodGym mode of transport, but these are not normal times! We suggest pledging to take your daily run, walk or bike ride before or after making the delivery.
How to volunteer: Click here to sign up to the Maidenhead Coronavirus Response group on Facebook. Foodshare post requests for support on this group as and when they receive them.
Cooking Meals
What is needed: Cooking meals to be frozen for the foodbank parcels
How to volunteer: Contact the charity at frozen_meals@foodshare.today
Street Collections
What is needed: Setting up and managing a food collection point in your street
How to volunteer: Contact maidenheadfood@gmail.com for more details and to register. NOTE The charity have had a great response to their plea to set these up and now have more than 90. They don't want too many boxes on the same streets so check the map and only volunteer if you see a gap in your area.
Show your support
5 people are supporting Foodshare
By supporting this charity, you will be able to log any good deeds you have done with them.
Count me in
Posted by

Liv Parker-Scott
GoodGym area activator in Ealing. I love running, walking & cycling for mental & physical wellbeing!