Take a leaf-let out of our book
Wednesday, 2nd of August 2017

Led by Pennie Varvarides
14 runners ran 6.0km to help the Kori in Haringey.
This week 12 GoodGym-ers ran 6km (ish) to deliver fliers for a new community centre opening in Down Lane Park in Tottenham Hale.
Leyla and Laura from Living Under 1 Sun and Friends of Tottenham Green met us at the start point with fliers for us to deliver to spread the word to the local residents of their wonderful new project at the bowling green. Leyla did some great explaining of how much they've already been through to get the project off the ground and we're happy to help spread the word.
We then had a quick intro – where we welcomed a GG newbie, Kerstin for her very first run (give her a cheer!) – and a quick warm up, testing everybody's reflexes, before heading off in a loop towards the park.
Emily was our trusty back-marker, while Kerstin and Dave helped me carry the leaflets.
An easy mile later, including a couple of sprints along the way, and it was time to split into teams. With military precision we covered several streets, engaging with local people curious about what we were doing along the way. After 30 minutes of flyering it was time to head to the park for a quick fitness session.
Chi requested leading a quick workout, including burpees, mountain climbers and abs. We finished up with a quick plank war, before gathering for a group photo. Everybody pulled some great 'we're friends' faces (as you can see).
Claire came up with this week's pun – for the third week in a row. She definitely deserves a cheer for that – she's only come on three runs!
We then quickly ran back to base for some stretches and a debrief. Great job, team!
Report written by Pennie Varvarides
---
Discuss this report
Join us on the next run
GG Haringey helps at the Bowling Green
Wednesday 6:45pm
Led by Pennie Varvarides
Tottenham Green Leisure Centre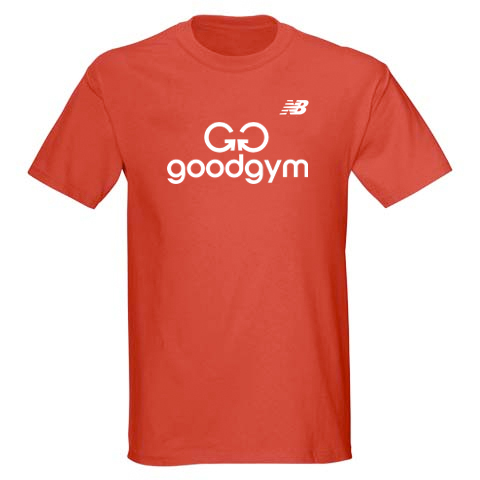 GoodGym Membership
If you become a member we'll help you get fit by doing good. You get the support of your local trainer and help to set and achieve fitness goals and a new GoodGym New Balance technical running top. You also get 20% off at NewBalance.com.
All aspects of GoodGym are free to participate in. Most Goodgym members donate an optional £9.95 a month which go to the GoodGym Charity to help us reach more older people. We'll ask you if you'd like to donate when you join.
---