Icy red people
Monday, 11th of December 2017

Led by Anastasia Hancock
20 runners ran 5km to help their local community in Wandsworth.
Brrr. With the thermometer dropping below freezing, it was only the toughest of the GoodGymers in Wandsworth decked out in gloves and hats (plus a couple of bare-kneed bravies) last night. Well done team!
One of these lovely people was Vix who came along for her 101st run to do good - hat tip to this most committed of runners, who has just got her incredibly well-deserved wings. Way to go Vix!
Let's also give a massive cheer to Jo and Jessica who both braved the cold to come along to their first GoodGym run last - great to have you run with us!
Well done to Chris who managed to stay upright at a very icy Regent's Park 10k on Sunday. Don't let the cold (or christmas puds) put you off over the festive period - make like Chris and tackle a race! There are also loads of parkruns all over the country who are putting on special runs on Christmas and New Year's Day - check out if there's one on near you.
During our warm up we asked what every body was hoping to find waiting for them underneath the Christmas tree. Puppies and kittens were the standout favourite, along with running gear (of course), holidays and a new voice for Nick! After a quick but high-gear warm up to get our blood pumping, we set off in the direction of the Venue.
We've been down to this great community centre a few times before, and it's always inspiring to see what Hadas, the lady who runs the place, does for the community. Wednesday nights anybody can do down and help themselves to some lovely food that would otherwise be thrown away, there are Feast and Film nights on certain Fridays, there will soon be lessons for older people who want to become computer literate, and it's a also a place where clothes and other useful things are collected for people who need them.
Our job tonight, after our quick one mile run down there, was to sort out the storage rooms where all these donations were being stored. We started out by doing what we in Wandsworth do best- forming a human chain. In no time at all the rooms were being emptied of clothes, furniture and even fridges and being taken for recycling. We also tackled the piles of boxes outside, and generally had a good sort of the place. At the end of the task we were rewarded by Hadas with Graze boxes and bananas and set off on our merry way.
We stopped about half way through the run to do a little core workout. This is an area often neglected by runners but essential to strong form and to prevent injuries. Finding a nice low wall to work with, we knocked out two rounds of core triathlon before setting off to find a good hill on which to do some hill sprints. It was a little bit slippery over the bridge so we slowed it down to a walk (health and safety!) before jogging over to a nice steady slope. During our four sprints we thought about a different technical point each time, including landing on the right part of our foot, positive backwards arm drive and not leaning into the hill.
Job done, all that was a nice jog (sprint!) back to the BAC and a quick stretch. Next week we have a fabulous task for our last run of 2017 plus our Christmas social immediately after the run - please do let me know if you can make it so I have an idea of numbers. Would love to see as many of you there as possible to see off what has been a wonderful year of inspiring running and bringing communities together.
Report written by Anastasia Hancock
---
Discuss this report
Join us on the next run
Caroling in Wandsworth
Monday 6:30pm
Led by Anastasia Hancock
Battersea Arts Centre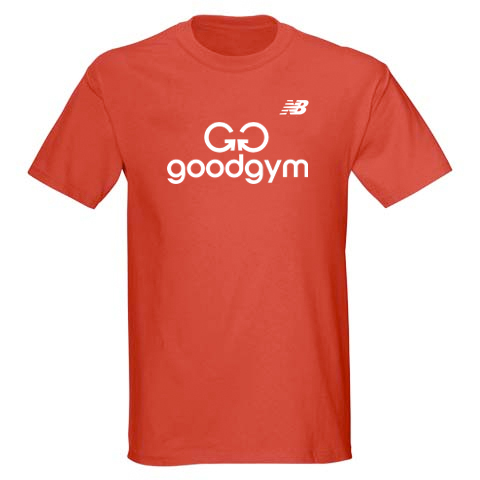 GoodGym Membership
If you become a member we'll help you get fit by doing good. You get the support of your local trainer and help to set and achieve fitness goals and a new GoodGym New Balance technical running top. You also get 20% off at NewBalance.com.
All aspects of GoodGym are free to participate in. Most Goodgym members donate an optional £9.95 a month which go to the GoodGym Charity to help us reach more older people. We'll ask you if you'd like to donate when you join.