Wilma and Melanie
Wilma, 75, was referred to GoodGym by her sheltered housing scheme manager Jamie in 2012. After having a stroke, Wilma has very restricted mobility and therefore is unable to go out much and spends most of her time at home alone.
Melanie, 35, got involved with GoodGym in 2012. Melanie's grandma had recently passed away and as a result she wanted to get involved with older people in her community who might be feeling lonely. Melanie says:
I looked into a couple of befriending schemes but I really liked the ethos of GoodGym, the idea that you and your coach are both helping each other.

Wilma has lived in Hackney since the 60s and it's been really interesting hearing how the area has changed from when she worked in a hat factory on Hackney Road earning £5 a week. She's also shown me pictures of her family home in Antigua and jokes that she'll take me with her in her suitcase on the next trip!

Since I changed jobs this year it's become much more difficult to make our arranged time because of the longer commute. Luckily Wilma is flexible on days so I can still visit weekly, for example at weekends if I miss the after-work slot.

For anyone thinking about getting involved I'd say go for it! It's a rare opportunity to get to know someone you would never normally meet and see the area you live in from a totally different perspective.
Wilma has lived in Hackney since 1960 when she moved from Antigua with a friend. She says Hackney's changed a lot since then. When talking about Melanie, Wilma smiles and says:
I love my Melanie, I won't give her up. I remember when I met her, she was very friendly. Some people pretend, but not Melanie. When she comes to see me she gives me a hug and makes me a cup of tea. She's really pleasant. She's never late, rain, snow, sun she always comes.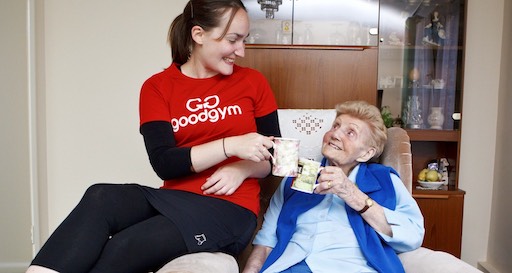 Run to visit an older person
There are lots of lonely older people waiting to be paired with a runner like you.
What are you waiting for?