Paul and Beth
"When she first started coming, I was going through a very low period. Beth came and helped. We didn't discuss anything too heavy, but it was just nice having her here. She, with her commitment to visit every week, has contributed to my recovery. I now feel much more optimistic." Paul, GoodGym Camden coach
Paul was referred to GoodGym by Origin Housing in Camden. At the time he told us he was feeling quite down because no one really popped in on him.
GoodGym was suggested to me when I mentioned to my Origin Estate Manager, at the time, that I was spending a lot of time at home and getting 'negative'. I had health issues throughout 2015. When I was paired with Beth I thought 'why not?' It proved an auspicious move for my part. Beth is a great listener first and foremost.

When Beth first visited me, it was a wet and rainy night. I remember opening the door to her and seeing her hair plastered to her head! The weather never puts her off visiting - she's here rain or shine. What a trooper she is!
Beth and Paul celebrated their one year GoodGym anniversary in September 2016 and Beth is still visiting each week.
Beth emailed GoodGym back in February 2016 after she'd been visiting Paul for 5 months: Just heading home from seeing Paul and wanted to pass on the warm glow that I'm feeling. He said that when I started visiting him he was going through a low period but things have started looking up and he thanked me for the part I've played in that. So I wanted to thank you for pairing us up and giving me the opportunity to make things a bit better for him!
Beth had been a regularly group and mission runner with GoodGym for about 18 months before signing up to visit a coach. She had already heard a lot about coach running, but was initially worried it wasn't for her:
I thought the coach runners were some kind of superhuman with amazing characteristics that I didn't have. It wasn't until I read a case study of a friend from Lambeth, John and Flo, that I realised it was something I could probably do too. It's just a friendly chat once a week, nothing more than that.

When I first started visiting Paul I would go on my way to the Camden group run. He lives close to the start location so it was really easy to pop in for half an hour and meant that it didn't take up another evening in an already pretty full week. Now that I go to Southwark on a Wednesday evening we're more flexible about my visits, planning the next one just before I leave. It can be hard when you schedule in a chat a week in advance, when it comes to it you might not be in the mood, but some of my favourite visits are the ones where we're both in a better mood by the time I leave.
As well as helping her keep up running on a regular basis, Beth has noticed other benefits to coach running too:
When I started coach running I knew I would be helping someone who was a bit lonely but I hadn't appreciated that i'd also be gaining someone to look out for me, it's nice to have someone to ask how my day or week has been and worry about how well i'm eating.
For Paul, the impact of Beth's visits are clear:
It has, along with better health and improving my outlook on life, meant that my runner Beth has become a permanent and very loyal mate. I hope I've also encouraged her running, both at the group runs and her personal running.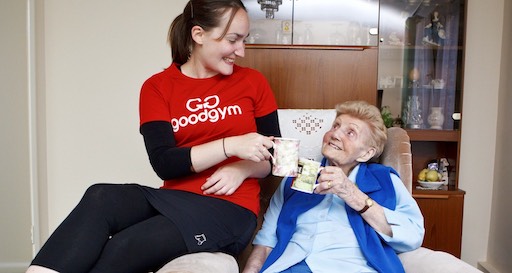 Run to visit an older person
There are lots of lonely older people waiting to be paired with a runner like you.
What are you waiting for?