Kim and Joan
Kim visits Joan once a week.
Joan, aged 91, was referred to GoodGym by Link Age in Bristol. Joan was born in Bristol and has lived there all her life. Her career was in administration and she worked for BAC Engineering, a Bristol based aeroplane company, during the War and later at the South West Gas Board.
When Joan first heard about GoodGym she immediately thought it was a really good idea. Soon afterwards, she was paired with a GoodGym runner called Kim. Joan says:
I saw hardly anybody. I was housebound having had my knees and hips replaced. I felt very cut off. Having Kim visit me gives me something to look forward to every week, she's lovely. She comes every Monday. It's someone to have a chat and a laugh with. Mind you, she doesn't say much as I'm chatting all the time! We have a good laugh. I would definitely recommend it to other people like me.
Kim, 31, got involved with GoodGym in 2013. Kim was one of the first runners to get paired up with an older person in Bristol. In 2015, she became our first ever Coach Runner Representative, spreading the word about coach runs and helping people get DBS checked. With her help, we've been able to support many more older people in Bristol.
Kim says:
I have been running to see Joan for over a year now. We now know each other well and now have a nice little routine! I visit every Monday and when I arrive her little dog Toby is sitting waiting. We slip straight into conversation about anything from the weather to current affairs, and of course about her dog.

Joan has neighbours who check if she is ok, but not many who will sit and take time to chat so she spends a lot of time on her own.

It is lovely to have a friend from a completely different generation, we never run out of things to chat about. Going to see Joan helps me to get out running on a Monday night whatever the weather, I am pretty sure I could not motivate myself to go out running all through the winter without her!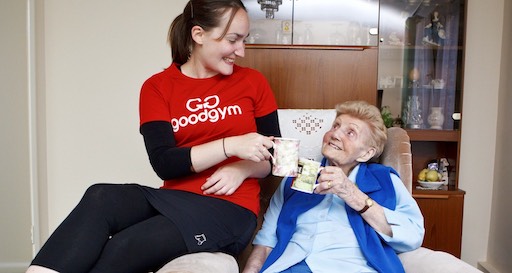 Run to visit an older person
There are lots of lonely older people waiting to be paired with a runner like you.
What are you waiting for?