John and Flo
John was paired with his Coach Flo in January 2015. Flo has dementia which affects her short term memory, and her housing manager recognised that she could do with someone to chat to. John wrote the following about how they got to know each other:
The first question Flo asks me every Friday morning when I turn up at her flat is, "Do you know me?"
This is then normally followed by "How did you know I was here?" I tell her that I have known her for 4 months and that I come every Friday especially to visit her. This seems to cheer her up, and she will give me that cheeky little smile, and tell me to come in. It worries me a bit that I could be anyone and I would still get this generous, warm reception, but the building Flo lives in is very secure and well managed by the extra care housing team.
I've never hung out with an elderly person with dementia before. It's like 50 first dates - each time Flo and I do something, I'm paying close attention to whether it's going well or not, and I make a mental note - "don't do this again next time" - Jeremy Kyle with the sound turned down = good, loud chat with Thelma and Flo's other friends in the communal area = a bit overwhelming. I thought I would try to get towards the perfect half-hour - filled with things that I know we both enjoy - but of course it doesn't work like that - it's unpredictable and wonderful, as people are.
One week Flo told me about the garden she left behind in Jamaica, with its dahlias in fantastic colours, and she looked sad when I asked her if she got the chance to do any gardening here - her knee is too painful for her to spend any time outside. So, I got hold of a book written by Sheila Ghelani, called Rambles With Nature - a collection of writing about wandering amongst nature - and a few weeks later we read it together. It was so peaceful - it was like being in the garden - pages and pages - we read for about half an hour. I was going to write 'I won't ever forget it' but it made me wonder if Flo will or won't remember anything we do like that.
But, really, that has stopped mattering to me. We were both very happy for that 30 minutes, and that's what my visits are for, in my mind. Flo might even carry that good mood into the rest of her day, which would be cool. I know I do; my feet feel a little bit lighter on the run home (3.3 miles each way, if you're asking).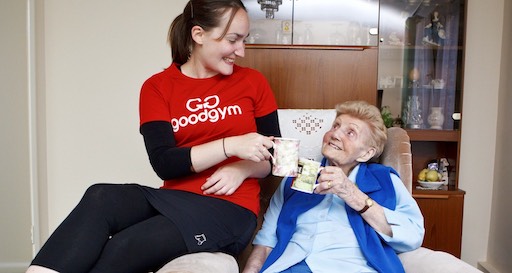 Run to visit an older person
There are lots of lonely older people waiting to be paired with a runner like you.
What are you waiting for?