Harry and John
"Knowing Harry is waiting for a visit is great motivation to go running, especially when it gets cold or wet and it would be so much easier to sit on that sofa." John, GoodGym Islington coach, mission and group runner
John has been running to visit his 86 year old GoodGym coach, Harry, every Monday evening for over 4 months. Harry's wife sadly passed away nine months ago from Alzheimer's and he now lives alone in the same flat he shared with her for over 50 years. He doesn't have any family or friends nearby and has felt increasingly isolated.
Harry talks about the impact John's visits have had for him:
It's a pleasure for someone to come and see me and have a little chat. It's something to talk about; it's something different. Every day is so similar. When it's the same thing every day, it can get a bit worrying.
Neither John or Harry are ever short of conversation and have plenty of topics they enjoy chatting about. When asked about their usual topics of conversation, John said:
Harry tells me about his travels - he travelled the world with his wife. I can see the joy on his face when he talks about his holidays.
Harry explained:
Me and my wife, we decided to travel the world. For one trip we were in the middle of the desert under canvas for 12 days. I've got marvelous photographs.
As a committed Arsenal fan, Harry gives John regular updates about how they're getting on:
We like having a chat about football. Harry is always telling me how well Arsenal are getting on. They played Burnley, my team, in October - Arsenal "cheated" and managed to score in the 93rd minute! Harry said he enjoyed the game, but was on the edge of his seat thinking they had blown it. Losing didn't seem quite as bad when I could see how happy it made Harry.
John, 40, works for BT and has spent time reflecting on how different working life was for Harry:
I work a lot with numbers but I can't get my head around how Harry worked without a calculator. He was a chartered accountant for his whole career and worked before calculators came about. I love hearing stories about what it used to be like.
John got involved with GoodGym after reading an article in the Huffington Post. He thought it was a great idea and was looking for a way to get a bit healthier. He came along to his first group run in October 2015 and was hooked straight away:
I find weekly group runs where you do a good deed, are good for the body and good for the soul, but what really draws me back are the people. Exercising alone can be dull, and easy to give up. It makes a world of difference when you are jogging around, chatting with a group of interesting and friendly people. In fact, you hardly notice the jogging and then a few weeks later suddenly find you can run 5k, no problems.
As a self confessed 'tortoise' John was worried he wouldn't be able to keep up with other GoodGym runners, but after a year of running with GoodGym he's completed his first half marathon.
I've never really been a runner, now I enjoy it. From struggling to run 2k when I joined GoodGym, I've now run my first half marathon (that's a whopping 21k). There are people of all running abilities at GoodGym, from tortoises like me to really fast people that win medals in proper races, but the support that everyone gives each other is immense, and really helps you achieve whatever goal it is you've set yourself.
Running to visit Harry has been a great motivation to improve John's running. He says he no longer collapses on his sofa when he gets home from work, but puts on his running shoes:
Knowing Harry is waiting for a visit is great motivation to go running, especially when it gets cold or wet and it would be so much easier to sit on that sofa.
It's not just about the motivation to run though, John says that having contact with an older person allows him to see the world from a different view. It's clear John's weekly visits have made a big impression on Harry too:
I often sit here at night and talk to my wife's photo and tell her all about John.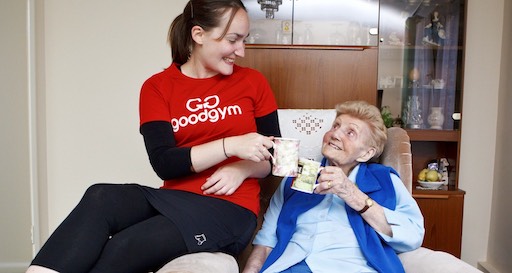 Run to visit an older person
There are lots of lonely older people waiting to be paired with a runner like you.
What are you waiting for?