Gary and Edna
He's crackers!
Edna, 80, was referred to GoodGym by LinkAge in Bristol. Edna is born and bred bristolian, and has lived in her flat for 32 years. When LinkAge told Edna about GoodGym, she thought she'd give having a visitor a go.
Edna says:
I love having Gary to visit me. We can have a real laugh, which is important. You've got to have a laugh! We talk about anything and everything. He helps me find out information as well which is so helpful. I think he's totally crackers for all the running he does!
Gary got involved with GoodGym in July 2014. He had some spare time and thought it would be a good idea to use it to volunteer in some way. Gary started off with the group runs and after chatting to Coach Runner Rep Kim about her coach visits, decided to get paired up.
Gary says:
When Edna and I first met, we were both thinking "Why do they want to talk to me? Surely we don't have anything in common!?" But after the first 15 minutes of getting to know each other it was obvious we would get on.

We share our stories which so far have involved a tiger escaping at the circus, playing on bomb sites around Bristol during the war and so many other great things. I have found out so much about the history of Bristol and how things have changed. Edna was very mischievous when she was growing up so she has some brilliant stories about those days.

Edna is part of my life now and I love visiting her. Although on paper I am volunteering as a befriender, that is not how it feels, to me I am just popping round for a chat with a friend. It makes me feel great to know that instead of sitting alone in her flat on a Thursday evening, she now looks forward to me coming over and giving her someone to talk to and to laugh with.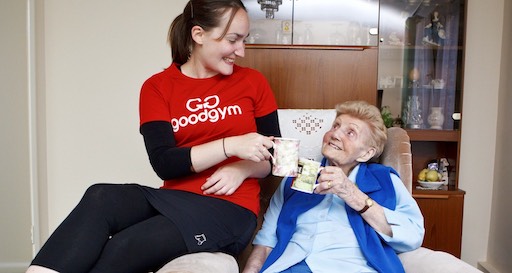 Run to visit an older person
There are lots of lonely older people waiting to be paired with a runner like you.
What are you waiting for?