David and Eve
I am so grateful that we have been placed together...
Eve, 96, was referred to GoodGym by Link Age in Bristol. Eve was born in Hertfordshire and moved to Bristol in the 60s. Before she retired, Eve worked as an office and personnel manager for over 20 years. At the time, there were no women working in senior positions in that industry and Eve fought hard to earn the same salary as her male counterparts. Eve recruited many young people with the aim to giving them a better start in life. Eve's success as a manager showed; most of her staff stayed with her for over 15 years and she is still in touch with many of them today. Eve has a passion for theatre and drama and loves going to see concerts. She particularly enjoys Beethoven.
Last year, Eve had had to give up her car which made her feel quite trapped at home so she thought a visitor would be really valuable.
She says:
I can not speak highly enough of Dave. He is a blessing and I am so grateful that we have been placed together. He's very kind, and really gives all he can give. I'm very blessed with him calling on me. He cares a great deal. I can't express how grateful I am.

David, 52, joined GoodGym in 2014. He had been looking into doing some volunteering work at the time and thought he'd give GoodGym group run a try. After going to the group runs for a while he realised that visiting someone in the community for a chat would be something he'd really enjoy.
He says:
When Eve and I first met, I don't think that she could really understand what was in it for me and couldn't quite believe that I would want to visit her. I was nervous that we wouldn't have much to talk about but we chatted for a long time and found that we got on with each other really well.

I think that Eve now realises how much I enjoy going to see her and that it motivates me to go for a run when perhaps I might otherwise give it a miss. We have become good friends and have a good understanding of each other and genuinely look out for each other. Knowing that I perhaps make just a little difference for the better to someone's life is heartwarming.

To anyone thinking of being paired up with a coach I would say "go for it!" I think many of us (myself particularly) worry that we might not be very good at it, or the right kind of personality, or may not get on but that doesn't seem to be the case, I've chatted to many of the existing coach runners and have yet to meet one who doesn't enjoy it!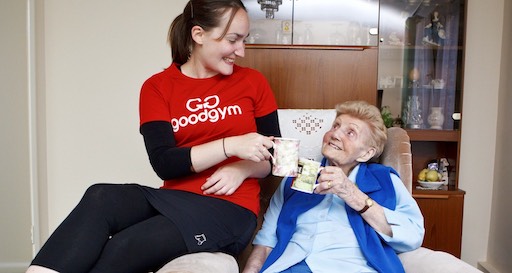 Run to visit an older person
There are lots of lonely older people waiting to be paired with a runner like you.
What are you waiting for?