Clara and Victoria
"when I am around people, I come alive!"
Clara was referred to GoodGym by the British Red Cross in 2016. She has lived on her estate for more than 70 years and she's now still living independently at the age of 98.
you lose your friends"
She said "I have always been independent, I retired at 60 from British Airways but they asked me to come back and I worked for another 20 years until I was 84. I have always been surrounded by people and one drawback of living to an old age is that you lose your friends."
Victoria started running to see Clara in March 2017 and since her family live far away is one of Clara's only visitors.
I can go back 100 years"
Clara said "I look forward to seeing her, she is important to me. There is such an age difference that I can go back 100 years and tell Victoria stories that she would never otherwise hear. It's been easy for me….we sit and chat and she doesn't get a word in edgeways."
Victoria had wanted to help an isolated old person for a while when a friend told her about GoodGym. She registered her interest online and once GoodGym started in Richmond she signed up.
Victoria says "It's nice to do some good by visiting Clara and to give her someone to engage with who she might not normally meet. Just talking about someone's day can add so much and we can take this for granted, not knowing what it is like to be so isolated."
got for it"
"For anyone thinking about coach running I would say, just go for it! What do you have to lose? It is a big commitment…...but it is rewarding and something different. It gives you a new perspective on life!"
Clara said:
"See, when I am around people, I come alive!"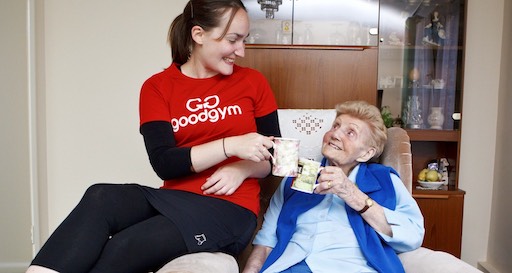 Run to visit an older person
There are lots of lonely older people waiting to be paired with a runner like you.
What are you waiting for?