Brenda and Claire
Brenda visits Claire once a week.
Brenda, 74, was referred to GoodGym after attending an exercise course with Fit 4 Health through her local council. Brenda had a stroke in 2011 which affected her vision and led to a couple of falls. The idea was that Brenda could encourage the GoodGym runner to keep up their exercises, and they could encourage her to keep up with hers.
Brenda was born in Hackney, at an estate up the road from where she lives now. She lives with her husband, Graham. They've been married for 52 years. Brenda spent her career in office work and she has seen the profession through working with shorthand, manual and electric typewriters and computers. Brenda has always been active and after her stroke in 2011, was presented with the Hackney Fit 4 Health award! When she retired, Brenda took an interest in architecture and the built environment, visiting buildings all over London with a local group.
Brenda and Claire have been paired since September 2012. Brenda says:
My runner Claire is lovely. She's like a friend. She's interested in you and I like to take an interest in her life and travels. It works both ways.

I was born in the area so I have helped her get to know it. We look out for each other.
Claire, 35, joined GoodGym in 2012 and being new to Hackney, wanted a way to get to know her community. She heard about GoodGym in a newspaper and thought that it might be a good way of getting into running. Claire says
I went along to a few group runs, got involved in digging some allotments, clearing some gardens and helping with a house move or two, and, as someone who's always found gyms and sports in general quite intimidating, was pleased to find the groups so welcoming (even to someone who was pretty much brand new to running).

I was then paired up with Brenda, who has been my coach for the last few years.

Brenda has become a friend whose good company I look forward to every week. Visiting her has definitely helped keep me motivated to keep up with the running - and even on a Monday evening in the middle of winter, after a long day at work, when a run is the last thing I feel like, a visit to Brenda's makes it worthwhile. Plus, as someone who's spent her whole life living in the area, Brenda's full of interesting bits of information about the changing face of Hackney. I hope she gets as much from my visits as I do.

I'm definitely not a natural athlete, so the toughest part for me is the running itself. Without my weekly visits to Brenda, I'd have zero motivation and probably never would have got beyond a half-hearted 5 minute jog

For anyone thinking about getting paired up with a coach I'd say do it! I can't recommend it highly enough.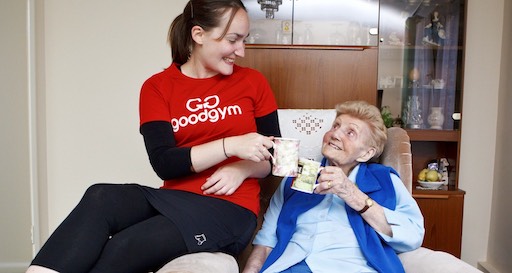 Run to visit an older person
There are lots of lonely older people waiting to be paired with a runner like you.
What are you waiting for?