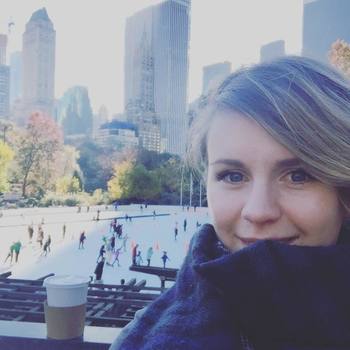 Damaris Brown
Newbie runner!
Cambridge

Thu 7 Sep 18:30 pm
The Old White Lion, 121 Great North Road, London, N2 0NW
Our first ever tour stop in North London
It's social time and we are back on tour!
The Old White Lion, N2 0NW - 6.30pm Thursday 7th September. Literally a minute away from East Finchley Station
Thanks to the lovely people of GoodGym Barnet who are hosting us just a few weeks after turning ONE! We are gonna be at their usual haunt The Old White Lion.
As for the social it will the usual mix of news, heroes, and all that is GoodGym! We'll hopefully have a guest speak from Barnet and of course little old me shouting myself hoarse just for you!
Please please let everyone know and do make the effort to come out to Barnet - they really want you to be there.
As ever please contact me if you have any suggestions or want to ask any questions. Follow me on twitter for the most up to the minute news and otherwise look out for updates here or on facebook!
Please let runners in your areas know about this - see you in September!
Oh and you didn't think i'd forgotten did you..? INTERNATIONAL PUN OF THE MONTH continues..!
Pritesh - 07887802793
p.s. I mentioned facebook, I will try to let everyone know via your area facebook groups (the ones I am in at least) and otherwise look out for news on the 'unofficial unofficial' group - and please do join if you're not in it already, just remember to put down your area when requesting to join - cheers!
Read more

Thu 10 Aug 18:30 pm
Queen Elizabeth Hall Roof Garden @ Southbank Centre, Belvedere Road, London, SE1 8XX
GGxSocial at the Southbank Centre rooftop garden!
Welcome all!
6.30pm til late. Thursday 10th August. Queen Elizabeth Hall Rooftop Garden, Southbank Centre, SE1 8XX. Looks like we'll avoid the rain but bring something to keep you warm...not looking too sunny #prayforsun
I'm delighted to bring you another social on at the rooftop garden of the Queen Elizabeth Hall at the the Southbank Centre! Apologies to everyone who I have annoyed by not revealing this location but we were unsure whether we would get it again!
Stop press I know you all like a guest speaker (i mean anything to hear less of me, right?) and I am very pleased to announce that Fay Sibley of GG Colchester fame will be taking the guest slot for this social and telling you about her incredible adventure cycling from Land's End to John O' Groats and spreading the 'Gospel of Ivo' (talking about GG and visiting some lovely older folk) around the country as she went! Please contribute to the cause, if you ca, check out Fay's fundraising page here.
Otherwise we will have the usual mix of fun, puns and goodgym-related frolicking!
Start your sundances, your prayers and anything else you can do to ensure that we get good weather for the day cos quite frankly there is no back up plan!
Anyway - please please do make sure that you let your areas know about the drinks and if you have any questions, want to improve the format of drinks or stick your hand up to be a host area for the tour (no slots till 2018 now) then just drop me a line.
Pritesh - 07887802793
p.s. ...aaaand for those of you on facebook don't forget the unofficial unoffical goodgym socialising group for all your GG community related news from runs to socials to interesting articles and random chat! Just let us know which area you are from to get in and feel free to pass the link on to other runners - thanks!
Read more