GoodGymgle all the way!
Tuesday, 5th of December 2017

Led by Adele Prince
20 runners ran 2.1km to help the St Hugh's Community Centre in Bromley.
An incredible 20 of Bromley's top runner volunteers took to the streets of Anerley, to put up the Christmas decorations at St Hugh's Community Centre, covering around 2.5km along the way.
Yes, 20, they just kept on coming! That's only five away from the number of people who came to our first run in the area, marvellous.
This week, we had the pleasure of welcoming newcomer, Kiri, hello Kiri, we hope you enjoyed your first group run with us! It was lovely too, to see a few people who haven't been for a while, it's always great to welcome people back, don't be shy!
Our run this week was taking us to another new task, over at St Hugh's Community Centre, so we took the chance to duck into Crystal Palace Park, and alongside the lake, cutting down the road (thank you Ian and David for being our back-markers)and briefly wondering where the building was. This is not your stereotypical community centre, so it took us a while to spot it! It's a very modern building, on the ground floor of a residential block of flats. Spotting the lights on (and the decorations!), we jogged up the path and were met by Maria and Alicja.
As you will see from the photos above, there were huge boxes of decorations to be put up, so Maria talked through the various jobs and people quickly nabbed the one they fancied and got stuck in. There were red t-shirts all over the place, with activities such as:
creating a precisely symmetrical tinsel display along one wall

decorating the tree in the entrance hall

hanging baubles from the covers of the raised beds outside

painting little wooden trees, crackers and snowmen

filling gift bags with sweet treats

sticking glass stickers on the windows

threading baubles onto string

wrapping pretend presents to go under the tree
Phew, I think I remembered everything, that's a lot going on!
As time ticked away and festive tunes played, our orders were very politely taken for hot drinks (good work from Hannah and Kiri, who made the drinks for us!). Coming in from the cold, our raised bed workers were eager to wrap their hands around a mug of hot chocolate and we all enjoyed a mince pie before posing in front of Tim's wall, for a group photo.
Bellies full, we ran back towards the park (bleurgh!) where we discovered our usual spotlights were out. This didn't stop us pushing ourselves though - headtorches at the ready - with some hill sprints and strength work, in partners. All that hospitality at the task meant a short fitness session this week (boo), but expect a bumper once next week to make up for it ;)
Next week, our last group run before Christmas, now that really has come round in a flash! Sign up and join us, as we revisit Melvin Hall, to attempt to give that peachy paint one last bash. On Wednesday of next week, we have our Christmas social, very conveniently at our start point - a chance to chat whilst not out of breath and a bit sweaty. If you are joining us, please sign up, so we can give the restaurant our final numbers.
Well done all, a great evening all round!
Report written by Adele Prince
---
Discuss this report
Join us on the next run
Paint the entrance at Penge Conregational Church
Tuesday 6:45pm
Led by Adele Prince
Bridge House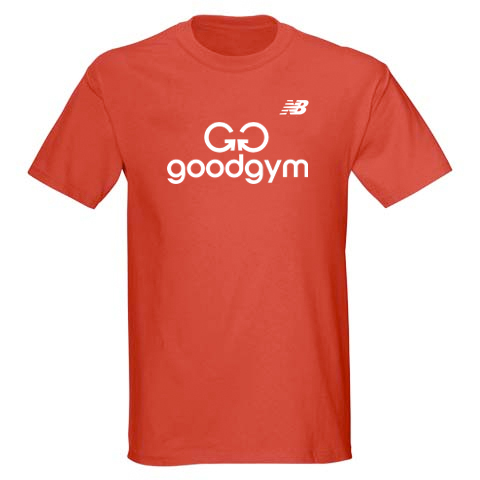 GoodGym Membership
If you become a member we'll help you get fit by doing good. You get the support of your local trainer and help to set and achieve fitness goals and a new GoodGym New Balance technical running top. You also get 20% off at NewBalance.com.
All aspects of GoodGym are free to participate in. Most Goodgym members donate an optional £9.95 a month which go to the GoodGym Charity to help us reach more older people. We'll ask you if you'd like to donate when you join.
---