Fast Food.
Monday, 11th of December 2017

Led by Ellie Hutch
14 runners ran 6km to help their local community in Brent.
FAST FOOD PART 1
14 Brave Brent bandits, ran miles, to sort through piles of food that was sent, for the community of Brent!!
Food donation sorting for the amazing Brent Food Bank.
Having spent the last few days sending out a shed load of 'don't leave me hanging' emails to my crew, I was delighted to be met at base camp by a team of 13!! This of course was an absolute miracle considering the icy weather, freezing cold snow and wintery conditions!! So thank you, thank you team of brave warriors!!! What an awesome turn out for GG Brent's last sesh of 2017!!
The tasks (plural) at hand this evening, for our last and final session of the year, were helping out the Brent Food Bank, with their enormous hoard of food donations for Christmas at not one but two locations!!
As there were a couple of sites to get to; the storage center and the base, we split into 2 and set off! I led the team heading for base camp - The vestry hall, for an evening of lifting, loading and sorting all kinds of food groups into orderly piles and racked onto the shelves. Supported by my amazing team - Pete, Mouse, Marie, Ellen, Isabelle and Beth!
Our journey of 1.4 Miles was a cold one, so to beat the icy bite of the winds, we made it rapid!! That's fast food, if ever you did see!
Looked after by Maxine and Nana on arrival we were set to work instantly! There was so much to get through, we were like a team of busy elves, beavering away in our nutritious workshop!
Halfway through, we were rewarded with mugs of hot tea, which gave us the added energy to keep up the good work, for an extended session of 60 Mins, as we didn't want to go until we'd made a hefty impact on the massive piles!!
After a full hour of Good-deeding and about 100 tins and packets of food galore stocked up onto shelves, we said our farewells and head back out into the night.
Facing the cold once more, the run was again, a swift affair, but we didn't care. Pleased with our effors, we couldn't have done better. For Brent's amazing bank of food, not a worthier cause could we choose!!
FAST FOOD PART 2 - By Tabitha Skinner
So our group had the task of running to Brent Food Bank's storage unit, where they keep the tons of donations they receive. It was a 2.4Mile route there and we were thrilled to get there in less than 30mins woop woop.
We met Michele on site, who took us to the storage unit and told us a bit about what the Brent Food Bank do for the community! But to read a bit more yourselves check out their website - https://brent.foodbank.org.uk
Amazing cause What we found out was that they have boxes of food donations ready for when people in need.... need them. They also do packs of toiletries and nappies and things for new mums when they go to hospital to have a baby, as well as feminine products for girls who can't afford them. If that wasn't enough, this amazing cause also put on and host cooking classes at their base, for the community to teach people how to eat healthily and well for less money.
Loads of good stuff!!
Weigh-hey So back to our task, which was to empty out their big yellow, storage unit and weigh EVERYTHING before putting it back! This is because they have to do a yearly audit of donations, so we were helping with that. It was a mammoth task which took longer than a usual GG amount of set time, however, as it was our last one for the tear, we were all happy to stay and do more for these amazing people.
Fast food.... literally We got to work quickly using human chains to take it all out, weigh the boxes, then put them back. Each box was easily 20kg so we definitely worked hard, and we had hundreds of them to sort, so that's easily a tonne of donations we lifted. David our very own Isabelle's hubby (she finally dragged him along!!), was at the end of the chain most the night so probably did the most work! What an intro!! Even though there was so much food, Michele said, if they didn't get any more it would only last until April so they are always looking for more donations all the time!!!
Nearly there The last few boxes were Christmas presents and decorations so they were the last ones in, ready to be taken out again this week, for creations of Christmas Cheer all over Brent homes. After our epic efforts, we all ran back to base in the cold, other than karen who ubered it - Don't blame you Kazzer!!!
Until next year!!!!! That's GG Brent over and out!
Report written by Ellie Hutch
---
Discuss this report
Join us on the next run
Starter Session for Brent Goodgym
Saturday, 6th of January 2018 11:00am
Led by Ellie Hutch
The QueensBury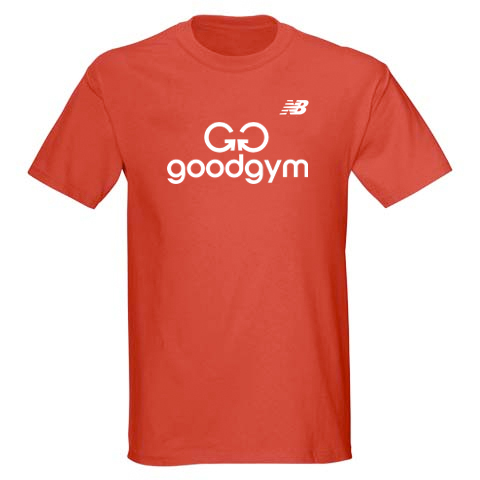 GoodGym Membership
If you become a member we'll help you get fit by doing good. You get the support of your local trainer and help to set and achieve fitness goals and a new GoodGym New Balance technical running top. You also get 20% off at NewBalance.com.
All aspects of GoodGym are free to participate in. Most Goodgym members donate an optional £9.95 a month which go to the GoodGym Charity to help us reach more older people. We'll ask you if you'd like to donate when you join.