Smells Like Team Spirit
Sunday, 1st of May 2016
8 runners ran to help their local community in Tower Hamlets.
Massive thanks to Graham for the run report
On a gloriously sunny Sunday, eight GoodGymers made their way to Weavers Adventure playground to help Weavers Adventure Playground sort and tidy their wood supplies, take down an old climbing wall, and various other helpful tasks.
Weavers Adventure Playground is a fantastic community centre and supervised adventure playground tucked away at the edge of Weavers Fields in Bethnal Green, and has been providing a space for local children to come since 1974! Weavers are currently undertaking a series of "community fixes" on the first Sunday of every month, to fix, improve, and generally clean up some of the outdoor structures - which is where GoodGym came in!
After hearing playworker-in-charge Alex explain a bit more about what Weavers do, and the variety of tasks that needed to be done, we got stuck in straight away.
How much wood can a woodchuck chuck?
Starting off with two huge piles of wood, we cracked on sorting the good from bad, and digging out a small shelter to keep the reusable wood sheltered from rain and other elements. Whilst some dug, others sorted, shifted, and removed nails from wood, in addition to giving the site a general tidy-up - nice teamwork!
Lunch!
Following a solid working session, we enjoyed some of the excellent lunch Weavers had brought down for volunteers on the day, including but not limited to;
Brilliant bagels
Crackin' cream cheese
Heavenly hummus
Delicious digestives
Returning to task post-break, we managed to get a good amount more wood shifting done, clearing two huge piles of messy wood into reusable and waste piles, took down a climbing wall, and left the site looking much better than it had started off that day. An excellent effort all-round and a task we're likely to return to in the future!
For more on what we got up to, and to see what the Weavers Adventure Playground people are up to, check out their report here!
---
Discuss this report
Join us on the next run
Moving tyres, woodchip, and indoor-painting at Weavers Adventure Playground (Week II)
Monday 6:45pm
Led by Laura Williams
Town Hall Hotel - Hotel Entrance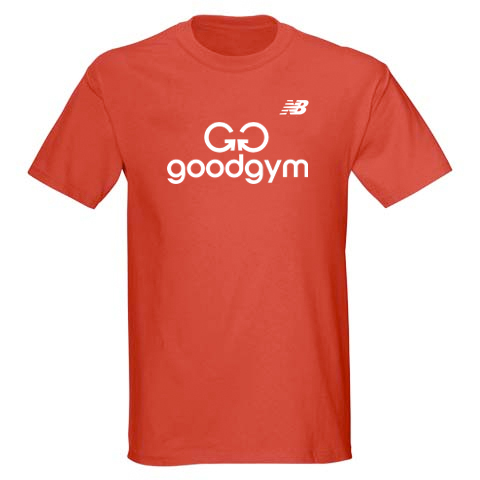 GoodGym Membership
If you become a member we'll help you get fit by doing good. You get the support of your local trainer and help to set and achieve fitness goals and a new GoodGym New Balance technical running top. You also get 20% off at NewBalance.com.
All aspects of GoodGym are free to participate in. Most Goodgym members donate an optional £9.95 a month which go to the GoodGym Charity to help us reach more older people. We'll ask you if you'd like to donate when you join.
---