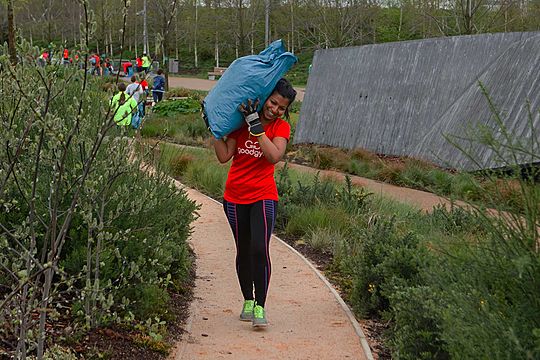 Work with us - UX Designer
We are looking for an experienced and versatile UX designer who wants to make big positive social impact with their work
GoodGym is an award winning social innovation that enables people to combine their workout with helping older people and community projects. We are looking for an experienced and versatile UX designer who wants to make big positive social impact with their work.
About GoodGym
GoodGym is ambitious and growing social enterprise that helps its members combine exercise with volunteering. Across 57 cities and boroughs its members run to help isolated older people and community projects. It's shown to reduce isolation, improve community cohesion and to improve wellbeing for all involved. It is frequently cited as a leading social innovation by the government, mainstream press and leading think tanks.
At our core is a digital platform through which we operate our runs, onboard new members, and manage our work with older people in cities across the UK. Now a registered charity, GoodGym is credited as an important innovation by the government and mainstream press.
---
About the role
We are looking for a talented and socially motivated designer with a broad range of skills. You will be fully responsible for the design of GoodGym's platform and user experience. Your work will range from researching and scoping of development sprints, through to user research, wireframing and front end design.
Responsibilities
You will be fully responsible for the design of GoodGym's platform and user experience. This includes:
Conducting user research with GoodGym volunteers, trainers, referral partners and beneficiaries
Taking these research insights into design, prototyping and production
Producing wireframes and mock-ups
Producing designs and collaborating with developers on implementation
Presenting design concepts to the rest of the team
Collaborating with colleagues from all disciplines across the GoodGym team, and coaching others on best practice.
Essential skills and experience
3 - 5 years of experience of working as a service designer, UX designer or digital product designer
Experience of designing web-based products and services.
Experience of working directly with users and understanding their psychology and behaviour
Experience of interpreting feedback and input from users into product updates
Experience of working with operational teams to understand their needs and priorities
Good to have
Experience of working with a software development team
Front end web development experience
About our team
You will be joining our team of 12 at our office in Somerset House, London. You will be working with the GoodGym technology team, a small agile team currently consisting of the CTO and a web developer. Inspired by Basecamp's Shape Up methodology, we work in cycles of 6-8 weeks on the highest priority problems for the organisation. You will be working closely together with the GoodGym operational teams on researching and designing features to support our users (including our volunteers, trainers, task referrers and operational staff).
Our digital platform is built on Ruby on Rails and we work iteratively, pushing code to production several times a day. We constantly review performance data to help us improve.
---
Further details
£35k - £40k depending on experience
Office located in Somerset House, Strand, London
Flexible working hours including working from home.
Family-friendly policy
Big social impact and dedicated team
33 days paid holiday including bank holidays
Personal development days to broaden skills and build experience
---
Applying
The role will be open until 23:59 on the 3rd of November 2019 with interviews to follow.
Please apply with the following by email to jobs@goodgym.org:
A cover letter clearly demonstrating your understanding of our work
Your CV
A link to your portfolio, ideally including a project case study showing your design process from beginning to end
If your application is successful you'll be asked to do short exercise before being asked to interview.
Interviews will be on the 15th of November in London.
We are an equal opportunity employer and value diversity as an organisation. We particularly welcome applications from BAME and women applicants. We do not discriminate on the basis of race, religion, colour, national origin, gender, sexual orientation, age, marital or disability status.