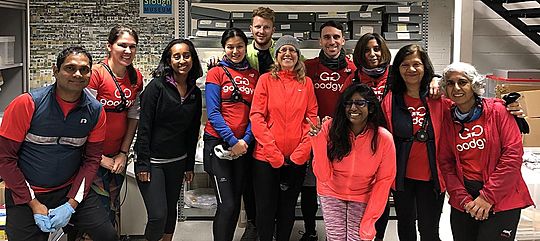 Work with us to change lives through sport
Lead a major new programme improving wellbeing and supporting women to exercise more
As GoodGym's new Engagement Lead you will develop an exciting new programme of physical activity and volunteering making huge positive impact on wellbeing. You will use your skills in understanding behaviours to lead on a major new project supporting thousands of women to stay active when they finish education.
You will take a tested model and adapt it for a new audience. You will listen and learn, and be responsible for researching, testing and scaling your findings.
If you have a passion for getting people active and care about communities we'd love to hear from you.
About GoodGym
GoodGym is a community of runners who get fit by doing good. We run in groups to do physical tasks for community organisations, run to help older people with one off tasks they can no longer do alone, such as clearing gardens or changing light bulbs and run to make social visits to isolated older people who we call our 'coaches' because they motivate us to keep going.
Founded in 2009, we have seen participation doubling year-on-year. GoodGym's central team of 12 staff coordinate the national operations across 57 areas. GoodGym is unique globally and is the first to combine physical exercise with volunteering at scale. We aim to be a vital health and wellbeing offer in every major city and town in the UK
Job Purpose
GoodGym is working with Sport England to address the reduction in physical activity by women after the transition from full-time education to job-seeking or employment. Following a year of service design GoodGym is now looking to implement, test and refine the offer in locations across England. This role will lead on this next stage of the project.
In this role, you will be responsible for increasing participation in GoodGym group activities, testing different engagement and delivery options and gathering user feedback. You will be required to work closely with participants, our Marketing Manager and a team of developers.
Growth and capacity to engage more people will rely on increased number of opportunities; crucial to this work will be increasing numbers of sessions available and involving new participants in not only participation but coordination of GoodGym activities.
This post requires travel and working outside of office hours and you will be expected to be present at GoodGym sessions at least twice a week. These are predominantly on evenings and weekends.
This post is funded by Sport England.
Responsibilities
Primary objectives:
Increase participation of women finishing full time education in GoodGym activities.
Increase the number of GoodGym opportunities available to women finishing full time education.
Increase Participation:
Establish new community-led GoodGym activities.
Develop supporting culture among participants to encourage long-term participation in GoodGym activities.
Identify and train new session leaders.
Train, support and monitor session leaders.
Work closely with the GoodGym tech team to develop online levers to increase participation.
Promote GoodGym activities to community partners.
Design and Coordination
Work to understand participants experience and make adjustments to roles and project design accordingly.
Work with local delivery partners and participants to refine offer.
Collate and analyse participant feedback.
Work with GoodGym's Marketing and Communications Manager to refine marketing and delivery messages.
Partnership Management
Establish and manage relationships with universities and colleges.
Establish and manage relationships with participation partners.
Project Management
Manage work towards the primary objectives above.
Develop the training programme for GoodGym session leaders and coordinators.
Implement project delivery plans.
Report on project outcomes.
Person Specification
Skills and abilities:
Ability to understand the drivers for behaviour: and adapt approach to appeal to those behaviours. Being able to think about this on a systems level.
Galvanising a community: being able to get people behind an idea and enabling them to take action. Being able to communicate this to a larger group of people.
Generosity and not too much ego; allow others to take and develop your ideas.
Experience:
Experience of building a community.
Experience of working on and improving systems and processes.
Significant experience of making something happen from scratch; football club, society, club night, anything that shows that people respect your ideas.
Experience of adapting your work based on feedback. Researching people's experiences and building your work on what people say.
Contract type:
Job title: Engagement Lead
Full time for 12 months - 3 years, starting early 2020
£29-31k depending on experience
Working from the GoodGym office and out on site
5 days (37.5 hours) per week
How to apply
Please send a CV and covering letter to jobs@goodgym.org. We strongly recommend attending a GoodGym run prior to application/interview.
Please contact ed@goodgym.org for more details and to discuss the role
The deadline for applications is midnight on Sunday 22nd December. Interviews will be taking place early January 2020.
GoodGym aims to create a workplace team which reflects the people we support and those who participate in our activities. Applicants will be considered on the basis of their suitability for the post, regardless of their marital status, age, gender, culture, religious belief, ethnic origin or sexual orientation. We will support you throughout the recruitment process with any reasonable adjustments required in accordance with the Equality Act. Please contact ed@goodgym.org if you require support.