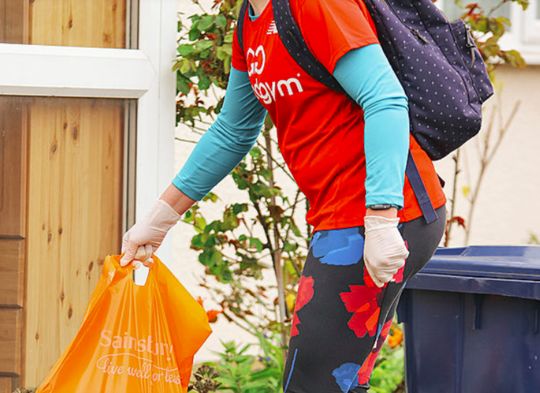 Work with us
We're recruiting for a Operations Support Coordinator
Job Title: Operations Support Coordinator
Team: Older People Operations
Contract Type: One year contract with possibility of extension
Hours: 5 days (37.5 hours) per week with flexible arrangements considered
Location: Central London (remote working until at least September due to Covid-19)


Report to: Older People Operations Manager
Salary: £21,500
Application Closing Date: 24/08/2020
Interview Date: 31/08/20


About GoodGym
GoodGym is an award-winning charity that encourages people to get fit and do good at the same time. GoodGym supports people to do so in four different ways:


Group Runs:  running  in a group to help community projects with practical tasks.
Community Missions: We run, walk or cycle to help community projects with practical tasks.
Missions: We run, walk or cycle to help older or isolated people with practical household tasks.
Coach visits: We run, walk, or cycle to visit isolated or lonely older people for regular weekly social visits. 
GoodGym is active in 58 areas and boroughs across the UK and is recruiting for an Operations Support Coordinator to assist its busy Older People Operations team, during a particularly busy period.
Our work is  shown to reduce isolation, improve community cohesion and to improve wellbeing for all involved. It is frequently cited as a leading social innovation by the government, mainstream press and leading think tanks.


Job description
As part of GoodGym's Older People's Operations Team, you will play a key role in the organisation helping to tackle social isolation and loneliness by supporting volunteers and their work with older people across the UK. The work will focus on supporting both volunteers and beneficiaries on  Missions and Coach Visits, 


The ideal candidate will have experience in office administration, working with volunteers and vulnerable people, and will be looking to join a small but dynamic team during a period of significant organisational change.


Primary Responsibilities

Office Management
Answering phone calls on Zendesk and managing the Older People Operations Team's shared email inbox


Volunteer Support
Acting as first point of contact for volunteers, whether over email or over the phone; supporting them on either coach runs or missions, troubleshooting and resolving issues where necessary, maintaining complete volunteer records and reporting to the Older People Operations Manager if any safeguarding issues/allegations are made in line with GoodGym's Safeguarding Policy
Providing administrative support for missions, including but not limited to  communicating with referral partners, screening and listing missions on the GoodGym website, confirming missions with beneficiaries on the phone and ensuring best safeguarding practices are upheld
Supporting volunteers through the process of DBS application, checking references, conducting document checks and making judgement calls on volunteers' suitability for volunteer role


Relationship Management
Communicating with potential and existing referral partners over the phone and via email, answering questions about GoodGym and providing technical support as and when necessary
Seeking out partnership opportunities for GoodGym


Other Responsibilities
Contributing to the development of the Older People Operations Team and respective processes and policies


Person Specification
Knowledge
An understanding of the needs of older people and volunteers
Awareness of services available to older people


Skills and abilities
Excellent verbal communication skills, particularly over the phone
Excellent written communication skills
Ability to provide information, advice and assistance appropriately, to volunteers and older people who use GoodGym's services
Ability to build strong relationships with people from a variety of backgrounds
Record management skills and attention to detail
Ability to work from own initiative and as part of a team
IT literate and able to pick up new systems quickly


Experience
Experience of volunteering
Experience of working with or supervising volunteers (desirable)
Experience managing relationships with a variety of internal and external stakeholders (desirable)

How to apply:


GoodGym is specifically looking to address the underrepresentation of certain groups in its staff and would strongly encourage candidates from a BAME background to apply for this role. We are an equal opportunity employer and value diversity as an organisation. We welcome applications from black, asian and minority ethnic applicants in order to better represent the communities we operate in. We do not discriminate on the basis of race, religion, colour, national origin, gender, sexual orientation, age, marital or disability status.


The information collected during our recruitment process is only used for monitoring purposes to assist us in analysing the profile and make up of individuals who apply, are shortlisted for and appointed to each vacancy. In this way, we can check we are complying with the Equality Act 2010 and with our own Equality Opportunities and Diversity policy.