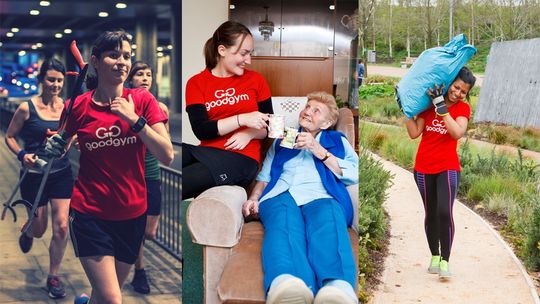 Volunteer with the Older People Operations Team
Help us make more missions happen!
September 10, 2020
Featuring
GoodGym's Older People Operations team is looking for enthusiastic and energetic volunteers to support with managing missions referrals during this particularly busy period for mission referrals. You will assist with processing mission referrals, confirming those missions with runners and beneficiaries and managing relationships with GoodGym referral partners across the country (as well as other tasks to support the team with its Covid-19 response effort). You will join a friendly and supportive team and will play an important role in making more GoodGym missions happen.


You will be fully trained and supported during this role, all that we ask is that you can spare one half day per week (about four hours) to help out.  This role will be a remote opportunity and so there is a lot of flexibility in how this is done.  We welcome applications from runners with experience of missions, whichever GoodGym you run with! 


If you're interested in finding out more about the role, here's what existing volunteer,
CJ
, has to say:
'Volunteering 'behind the scenes' with GoodGym has been a great experience so far. The Operations team are so well-organised, friendly and welcoming. I feel part of the team, even though we're working remotely and I've never been into the office! I was well-trained when I first started so that I could get stuck into organising missions and other tasks quickly and learn as I went along. When I have questions, someone is always there to respond. A lot of my role involves talking to older people who GoodGym works with, so it's quite sociable, which is nice especially in lockdown when I'm stuck at home. The role is also good customer service experience for my CV. The shift patterns are very flexible, I always know what's expected of me and although it gets busy, it's not stressful because of the support of the rest of the team.'
Below is an idea of the type of volunteer we're looking for, however please do not worry if you don't meet all of the criteria.  The most important thing is that you are enthusiastic about GoodGym's mission and that you are willing to learn!
Person Specification

Good verbal communication skills, particularly over the phone
Good written communication skills
Ability to provide information, advice and assistance appropriately to a wide range of individuals
Strong information management skills and attention to detail
IT literate, able to pick up new systems quickly and able to use your own laptop 
Experience of GoodGym missions would be an added bonus!
Primary Responsibilities


Checking and processing mission referrals
Responding to referrer queries via email
Confirming missions with runners, beneficiaries and referrers via phone or email
Sourcing stories and quotes for GoodGym's communications
If you're interested in volunteering with the Older People Operations team, please fill in this short Google form
here
and we'll be in touch.