Victoria's first big half
The journey from running to visit an older person, to crossing the finish line of a half marathon
Last Sunday almost 250 of us descended on south east London to run the Big Half. Never before have so many GoodGym runners run together in the same race. For Victoria, it was her first half marathon and she totally smashed it. Here's the story behind her journey to reaching the finish line last weekend – massive congratulations to her and everyone who ran.
The big day
So it went well – I didn't collapse in a heap which was a bonus! I had imposed a wildly optimistic target of finishing my first half in 2 hours 15 minutes, so I didn't achieve the finish time I had initially set myself. Instead I finished the route in 2hours 29 minutes (and seven seconds) but who is counting! I was still genuinely pleased with that result, mainly because I was just happy to get around the course alive! When you run that far, you have this interesting mental battle with yourself to carry on.
I was still genuinely pleased with that result, mainly because I was just happy to get around the course alive!
On the day, there was a great atmosphere – a lovely stranger gave me a jelly baby at mile 10 which was much welcomed! I'd given up sweets for lent but allowed myself this gift from the God's. The last two miles were in my home borough of Greenwich and Lewisham so I really enjoyed running through the streets I grew up on.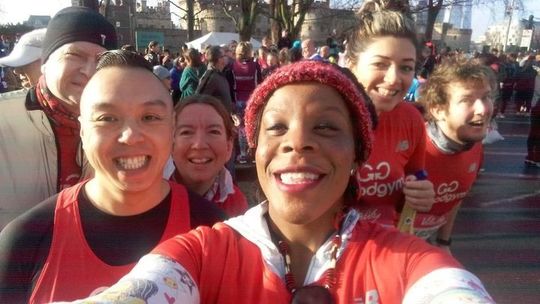 Where it all began
I joined GoodGym as a coach runner 18 months ago and since then, I've become a member of the taskforce group in GoodGym Richmond too. I joined GoodGym because I loved the concept of doing something productive while you ran – doing something for someone else and for yourself at the same time. I loved the idea of visiting an isolated older person and giving them someone to talk to. As an only child loneliness in old age has always been a worry for me and it's encouraging to see there are charities out there to help people and also that there are people open to accepting the help.
Back in December, an email from Ed dropped in my inbox saying that GoodGym was offering spaces to run in the Big Half. I'd always said I'd be too scared to attempt a half marathon as the distance seemed impossible, but the Big Half felt like a more community-focused, less elitist race. I found that more encouraging, feeling there would be more everyday people like me doing it.
The road to the Big Half
I was already running regularly: 10k races, taking part in the group run at GoodGym Richmond on a Monday, and not forgetting the behemoth that is Bushy parkrun every Saturday morning. But training for the half was different as it was an alien distance to me.
The Big Half felt like a more community-focused race, I found that more encouraging.
I regularly cycle 10k to work, so I began running to work instead to prepare myself, and then started adding a mile every week to my commute. I actually managed to reach the 10-mile mark two weeks before the race and then had to taper. I was concerned about making the whole distance on the day as I hadn't trained it all, but in the end, they threw caution to the wind and just went with it.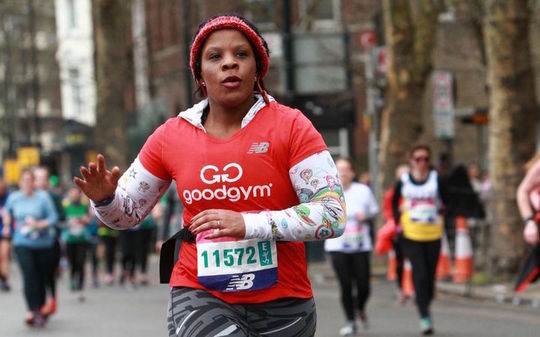 On finding the inspiration to keep on running
I enjoy the social and community aspect of running with GoodGym and parkrun. I'm almost 'Strava famous'! You get so much support from other people on those apps, encouraging you to run further and always promoting races to get involved in. I also struggle with keeping my weight in check so running takes the edge off that.
If you're thinking about running…
A GoodGym group session is a great place to start. There's always a friendly back marker (usually me) so don't worry about your speed, we all get to the tasks and it's a group effort. It's less about the running and more about the helping anyway!
I'd like to say a huge thank you to Ivo and the team. GoodGym has impacted on my life incredibly. Since I joined, as a coach runner I met an awesome older lady, won a community award from my borough for services to the community, got my parkrun personal best time down from 32 minutes to 27.09 (though it was fleeting), and I ran my first half marathon – all thanks to 18 months at GoodGym! awesome!
---