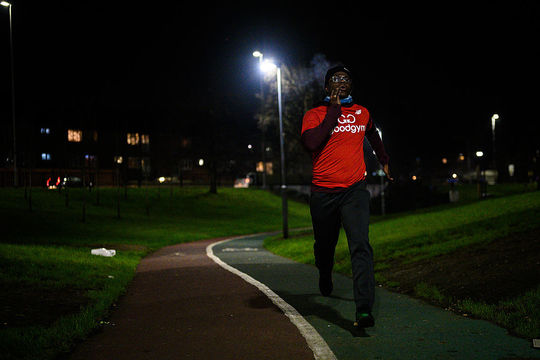 The GoodGym January challenge
How to find your January team
A new year is here so that means it's time for the GoodGym January challenge, but what's it all about? Here's the lowdown on how to get involved.
Every January, we set ourselves a new challenge to kickstart the year in the right way. In January 2020 we challenged ourselves to do as many good deeds and run as far as possible, managing a huge 8726 good deeds in total and ran 113,042 kms, the equivalent of twice around the earth.
This year, we're running things a bit differently.
With the new lockdown and restrictions coming this month after almost a year of other disruptions this January might feel like it's already quite tough.
So this month, the January challenge will all be about getting outdoors to run, walk and cycle to improve our mental health to get through January together.
Each area has been placed in a team with other GoodGym areas across the UK. Every team is named after an inspirational athlete who achieved great success to inspire you to get those kilometres in.
The team who can cover the most KMs will be crowned champions and take home the golden trowel trophy.
So who's it for?
Everyone. The January challenge is for absolutely everyone, whether you walk one kilometre or run a half marathon, every kilometre counts. Whether you've been coming to GoodGym for years or it's your first session, come and get stuck in with us this January.
How do I add my distance?
Each area is in a team with 6 or 7 other areas. We took three months of data for each area's running, walking and cycling (Aug - Oct), converting cycling at the rate of 1:4, to come up with totals.
Each group had an equal amount of KMs during these three months so it should be quite competitive in January. The teams are named after inspirational athletes so we encourage you to research all of them to motivate you to go further as you head out the door.
Everyone who runs, walks or cycles with GoodGym in January will have their distance from all their activities added to their area total. To make sure your distance is added you'll need to track your runs, walks and cycles using Strava and link it to your GoodGym profile. It's really easy, free and a great way to keep motivated and see what other GoodGym members are up to. There's absolutely no pressure to complete a certain distance and you'll be working as a big, brilliant team to motivate each other and get out there.
And that's pretty much it, now let's get out there make the start of this decade a good one!
---
Get involved