February 14, 2019
Featuring

York runner
York
Nick Griffin has been running with GoodGym since 2017 with his wife Barbara. In 2018 his son Laurence and daughter Ellie both joined the team, and the family have been running together ever since. Here Nick talks about the family's involvement with the GoodGym York community.
Two years ago when GoodGym arrived in York it was great timing for my wife Barbara and me. Our kids were University age and so after twenty years of being focused on them day-to-day we were wondering how we would fill our time while they were both away. The indefatigable York trainer Egg soon made sure that our evenings and weekends were mostly full of GoodGym! And we have had an absolute blast; getting fitter, meeting new people, seeing parts of York that we otherwise wouldn't have seen, doing good stuff and making great friends.
We were both there on the first group run and have been pretty much every week since, both having coaches over that time and getting involved as TaskForce, run leader and part of the gang. We are probably both in love with GoodGym if truth be told. But what has made it even better has been that both 'kids' (Ellie now 22 and Laurence now 19) have come along and joined in with the GoodGym crowd too to make it a real family affair.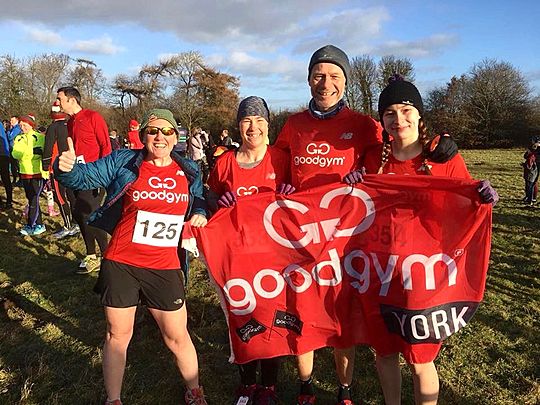 We have done group runs and missions together (including the one where we fitted two Ellie's in one Tyvek suit while painting a bridge on the cycle path and the one where after we painted a wall in invisible anti-graffiti paint, me and Laurence were ridiculed for our bad dad dancing during the cones of joy exercise!) Ellie and Laurence are both great sports people in their own right through their running, cycling, swimming and other sports but GoodGym has given us something we can share together getting stuck in to tasks that we otherwise wouldn't do, meeting new people together, getting an insight into the lives of folk that we might not encounter as a family and making new friends. Ellie has brought along mates from York University and helped promote GoodGym there too and we have run together with the GoodGym gang in local races.
GoodGym has given all the family the chance to feel just how much fun volunteering can be.
GoodGym has given all the family the chance to feel just how much fun volunteering can be. We have got far more out of this than any of the organisations and individuals we have helped along the way of that I'm sure. And it doesn't matter that we're different ages, so as we head off on a group run it's great to see all four of us chatting away to someone different and building a great social network amongst the GoodGym group.
GoodGym has been another way we can share time together and build common bonds together
The ancient Greeks knew a thing or two about love (I think they named 7 kinds) and through GoodGym we have experienced familial love, altruistic love, the love of friends and love of larking about and having fun! The Griffs are a pretty tight knit little family anyhow but GoodGym has been another way we can share time together, get fit together, build common bonds together and make common memories together at a time when some families can easily find themselves drifting apart a little.
Thanks GoodGym – you're all LOVEly!
---
Get involved: