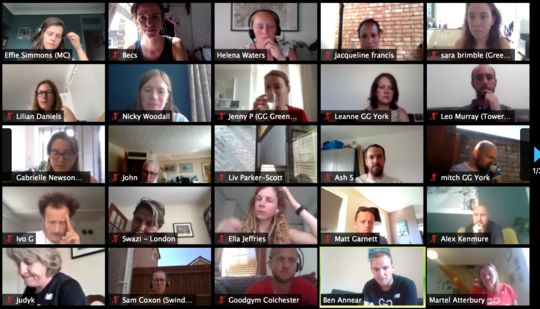 Shindig 2020
How we spent this year's annual GoodGym get-together
Every year the GoodGym community meets for a weekend to celebrate our achievements and plan for the future. On the 7th and 8th August, we gathered together for a virtual edition of the annual shindig. Here is what we discussed and what happened.
On Friday evening, Laura, Effie, Sophie and Alice hosted a little Friday night frivolity with a GoodGym themed quiz, which included a fun evening of multiple choice questions, visual riddles, a deep dive into GoodGym stats and a general knowledge round.
On early Saturday morning, whilst the temperatures soared outside, in the spirit of the traditional parkrun activities that normally take place on the first day of Shindig, Laura Dunster, Laura Williams and Swazi Rodgers guided us through some virtual fitness challenges.
To start off, Laura's virtual run challenge asked people to go for a run and create Strava art by running or walking and spelling out a GoodGym related word on their activity.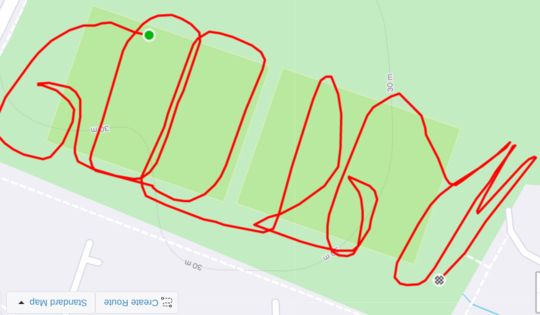 The run fun challenge was followed by some core and glute based exercises led by Laura Williams, GoodGym Tower Hamlets Area Activator and a soul and body soothing yoga session led by Swazi left attendees feeling fully refreshed before the day of talks began.
Later in the afternoon, the main event kicked off at 2pm with a warm welcome and introductions by the MC's for the day, Helena Waters and Effie Simmons. GoodGym's CEO, Ivo Gormley, then gave an update on GoodGym over the last year before the rest of the days discussions began.
The following sessions were put forward and led by GoodGym members to create a space for discussion and debate.
Future of group fitness and group sessions led by Jacqueline Francis from GoodGym Lewisham and Ashley Simmons from GoodGym Sheffield.

The future of GoodGym post Covid-19 over the next year hosted by Ben Annear from GoodGym Cardiff and Martel Atterbury from GoodGym Kingston.

Improving the organisation & delivery of Community Missions led by Matt Garnett from GoodGym Bristol and Sara Brimble from GoodGym Greenwich.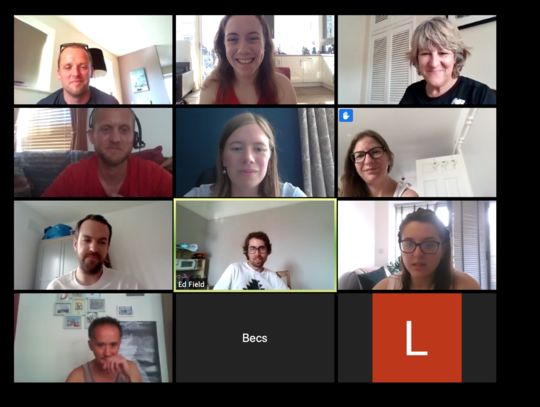 Member donations and GoodGym's growth steered by Victoria Molenkamp, GoodGym Lambeth.

GoodGym Races and Race Team led by Louise Costelloe-Ward from GoodGym Haringey and Jennifer Penn from GoodGym Greenwich.

Diversity, race, BLM, systemic racism and the role of the GoodGym community led by James Tav from GoodGym Colchester and CJ Jessup from GoodGym Camden.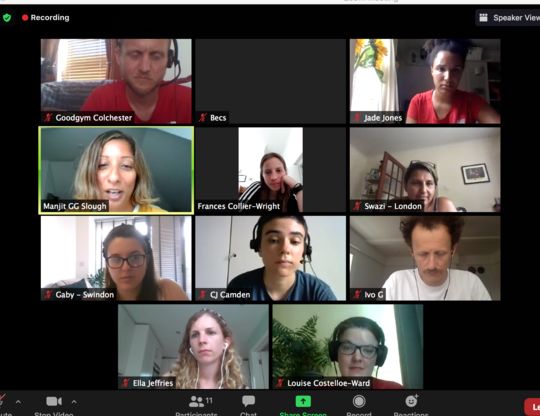 The role of TaskForce led by Nicky Woodall from GoodGym Lambeth and Grit Hartung from GoodGym Tower Hamlets.

Sharing good practice led by Steve Lee from GoodGym Islington.
A big thank you to everyone involved in making it happen and all who attended. Lots of positive engagement, challenge and food for thought. We'll be collating notes and themes from the sessions during this week and sharing around key thoughts and headlines across the GoodGym community, so keep an eye out on the GoodGym stories page.
---
Get involved: