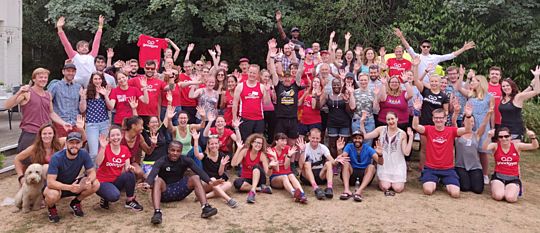 Shindig 2018
We went to Stratford-upon-Avon to talk about GoodGym
82 GoodGym runners assembled at the YHA in Stratford upon Avon to plan the future of GoodGym. Here's what three GoodGym runners thought. Thanks to everyone for some excellent photos.
Fay McKnight from GoodGym Barnet:
After initially signing up for the shindig a long time ago thinking how fun it would be, realisation hit me on the train to Stratford that I would be sharing a dorm and socialising with a whole lot of strangers. I hadn't done anything like this since my teenage years, and now I can't even qualify for a club 18-30!
The parkun takeover was a highlight for me as it was my first ever one
From arriving at the hostel, the team were just so friendly and the accomodation and the weekend was arranged so that everyone's voices were to be heard. Doing the park run takeover was a highlight for me as it was my first ever one, getting to run under the good gym arch was such a fab feeling, and really represented the kindness and inclusiveness of good gym! Thank you so much for a wonderful uplifting weekend and letting me be a part of it!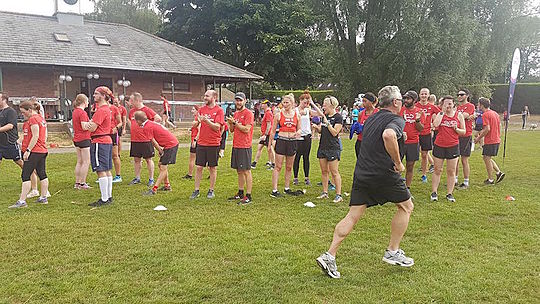 Emily Tupper from GoodGym York:
Is there any other event like Shindig? Over the weekend we were racking our brains to think of other organisations that come together in the same way – allowing members to structure and facilitate the agenda and discussions. I'm sure many would be scared to do so (and perhaps GoodGym were), because it undoubtedly leaves those who lead the organisation day-in-day-out exposed to criticism.
Something to be remembered going forwards
However, as someone shared in the wrap up discussion – the weekend always felt constructive and positive, and although people's experiences of GoodGym were diverse (whether that be because they were from different areas, or had a background in running or not) there was always a sense that we shared something too.
From my perspective, Shindig echoed the connective ethos of the whole GoodGym project by bringing together members from different areas and giving them an opportunity to learn from each other. But the informal knowledge and learning that came out of just being together – eating, running, talking, and games - I think is no less valuable for the GoodGym project than the more formal knowledge that came out of the structured sessions.
I think that is something to be remembered going forwards – if GoodGym is about connecting generations, communities, and connecting people to places where they live and work, then it is only fitting that GoodGym members themselves have opportunities to come together as a community, put faces to names, and share their stories and experiences.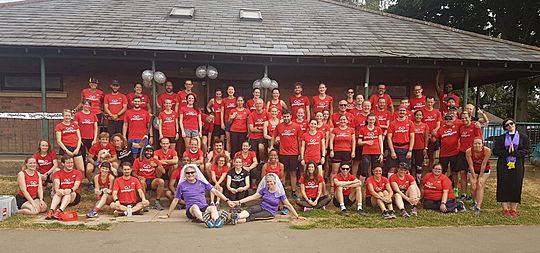 Martin Graff from GoodGym Cardiff:
On a sunny Friday afternoon in mid-July, seven Goodgym runners from Cardiff arrived at the YHA, Hemmingford House, Stratford-upon-Avon to participate in a weekend planning and discussing Goodgym. Only one of our group had attended Shindig last year, so I guess the rest of us didn't really know what to expect.
After settling in, the evening started with a treasure hunt. Teams comprised of a mixture of runners from different areas, ensuring people started to get to know each other early on, with more socialising taking place as the evening progressed.
Saturday morning commenced with about 30/40 Goodgym runners descending on Stratford parkrun, which was great fun, even after a late night.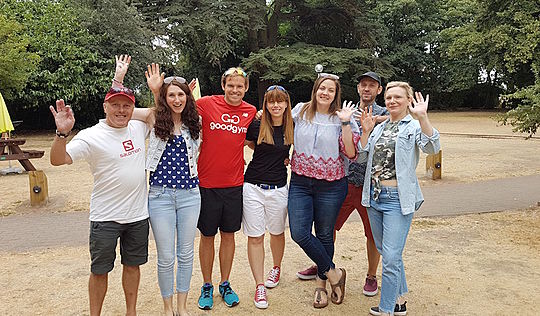 After returning to Hemmingford House for showers, discussion sessions started at 11.00. The enthusiasm of the session facilitators was clearly evident. Furthermore, the range of presentation styles resulted in attendees keenly contributing to all of the sessions throughout the day, and it was amazing to see the energy with which people got involved in the discussions despite the very warm weather.
After a good day's work and dinner on Saturday, the evening entertainment kicked off with the Shindig quiz featuring rounds on general knowledge, psychology, music and Goodgym. After this and with lubrication from beer and wine, socialising continued into the night.
A brilliant weekend spend with lovely, fun and interesting people
Sunday morning started with a great round-up session outside, where we heard very many positive and enthusiastic words about the weekend and Goodgym. Then it was free time or another run for those who wanted, before we all said a sad farewell after Sunday lunch in Stratford.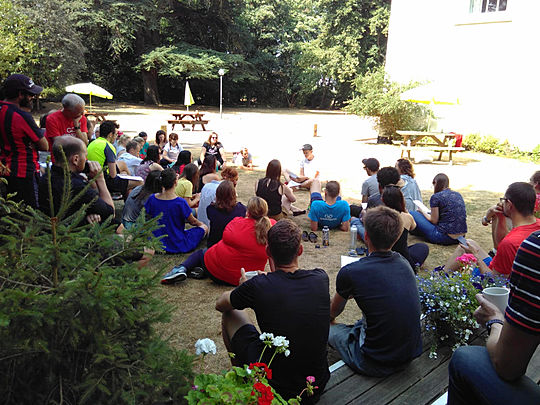 In the car on the way home, we agreed that we had initially not really known what to expect from the Shindig, but enthused on what a fantastic weekend it had been at such a lovely location.
Overall, a brilliant and exceptionally well-organised weekend spent interacting with lovely, fun and interesting people. Thank you!
---