Running with New Balance
Highlights from our special GoodGym x New Balance London Marathon Training Series
To help runners prepare for this year's London Marathon, we teamed up with our sponsors New Balance to run a series of special training sessions.
Over four runs we covered everything from pacing to endurance and the mental preparation required to push through 26.2 miles. During each run, we stopped off to help a community organisation in each of the boroughs that the marathon route passes through.
Run 1: Goals
GoodGym Camden trainer Paul Bown led us on an 8km run to help us set some goals for race day - from thinking about our target pace, to planning for the weeks of training ahead. We ran to help Hollybush Community Garden in Tower Hamlets.
Run 2: Pacing
24 of us headed out on a 12km pacing run with GoodGym Southwark trainer Lucy Jeczalik to explore what it feels like to run at our target marathon pace and to understand how, when and why to run at that pace. Blogger, runner, and personal trainer Kirby Anne Akindeninde joined us for the run and task to help with some painting at Surrey Docks Farm.
Run 3: Endurance
22 of us headed out with GoodGym Greenwich trainer Sarah Place for an 18km endurance run that helped us prepare for the last third of the marathon. Rochelle Humes from the Saturday's was running her first marathon this year and she joined us for the run too. We stopped off at Royal Hill Gardens to help out with some clearing and tidying in the gardens.
Run 4: Race Day Prep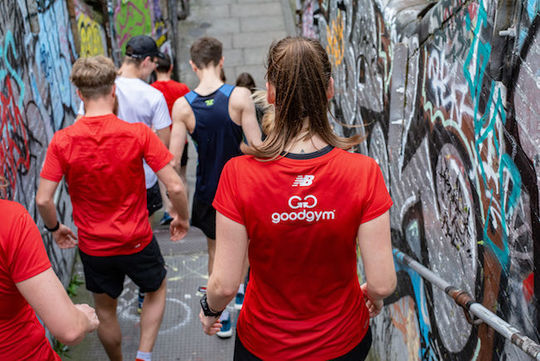 With less than a week to go, 21 of us headed out on a final shake-out run with GoodGym Hackney trainer Joel Wiles, complete with some final tips to make sure we were all ready for race day. On our final run we returned to the wonderful Hollybush Community Garden to help with clearing the allotments.
---
Reasons To Run
New Balance chatted to GoodGym runners Chris and Katie about why they were running the London Marathon this year.
Chris from GoodGym Bristol realised running could help him with so much more than just fitness. He describes himself as someone who's not a natural runner and talks about the journey towards taking on 26.2.
For Katie the Trainer of GoodGym Lambeth, running a marathon is the ultimate challenge. Here she talks about running in the city she lives in and about the art of setting targets but not letting them stress you out.
---
Thinking about upgrading your kit?
Remember, GoodGym Members get 20% of everything over at the New Balance store. Head over now to check out the latest kit.