Why running can change everything
Daryl decided to get fit to lose some weight, but then he just kept on running
Daryl is a Run Leader in Bournemouth and part of the Taskforce. Since he joined GoodGym back in 2016, he's become a regular at the Bournemouth group run every Wednesday evening. In just under 2 years, Daryl has transformed his lifestyle, made a bunch of friends and acquired some bling (in the form of medals)!
I joined GoodGym back in August 2016 because I decided that something needed to change. I'd been reading so many stories about people and their health – mainly about the impact that being overweight had had on their lives. I realised that I actually fell into that category too.
I was unfit, unhealthy and overweight. I didn't want to end up being a burden on the NHS and realised that if I ever needed an operation for some reason, they wouldn't be able to help me at the weight that I was.
I found my reason to run...
I discovered GoodGym around the same time. I'd never really run before but I really liked the idea of giving something back. Just going to a gym to burn off some energy didn't appeal to me, it didn't feel like I'd have achieved anything much. But going for a run and stopping off half way through to help someone out, giving something back sounded much better.
This was the reason why I started running. I decided I had to get fit, lose some weight and then keep it off.
So I went along to my first GoodGym group run and it was great. In those first few sessions I didn't realise how far I was actually running – you're just wrapped up in catching up with friends, having a laugh and a joke with a great bunch of people.
...so I just kept on running
Around this point I thought I'd set myself a challenge – to run my first 5k by Christmas that year – which I did. My running all just built up from there. A few months later I decided to go for my first 10 mile run and then push myself even more and go for my first half. I've got a collection of medals now!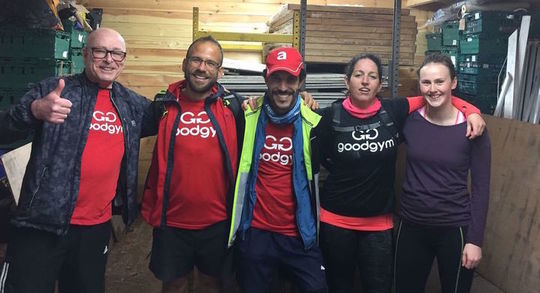 My first 10 mile was easily my favourite race. It was the Larmer Tree race which is run by White Star Running. It was organised really well and they have a few races of different distance all together on the same day. Last year a whole bunch of us from GoodGym ran at Larmer Tree together which was fun!
In those first few sessions I didn't realise how far I was actually running.
Actually, at the beginning of the year, one of the officers from a charity we ran to help decided to come on a run with us. They were nervous about running back from the task because they hadn't run much before – but they loved it.
Getting fit has transformed my life
GoodGym was a great help with everything for me. My main reason to run has paid off – I used to be 18 stone but now I'm down to 14 stone and I've kept all the weight off.
Then on the social side it's brilliant, I love the comradery of it all. It's like one big family – you meet new friends and everybody has a different story to tell, they're up for a laugh and a joke.
Training with friends helped me reach my goals
Also everybody looks after one another and supports each other whatever their goal or experience with running. Seasoned runners come along and give advice to novice runners which I think is great.
It's like one big family – you meet new friends and everybody has a different story to tell.
For me, my goal was to just run as much as possible. I genuinely never thought about the distance when I was training and my goal wasn't about coming first.
Just getting out there and doing the running was what I wanted – that's why I believe that everyone can do it – everyone can run. Plus, I've got quite a collection of medals now – it's nice that there's always a nice bit of bling waiting for you at the end of it all!
---
Looking for a new way to get fit?
Come along and try a GoodGym group run near you. Every week we work out by helping local community projects, and run back all within 90 minutes.
---
Take a look at upcoming GoodGym group runs near you.
Find out which upcoming races GoodGym runners are taking part in.