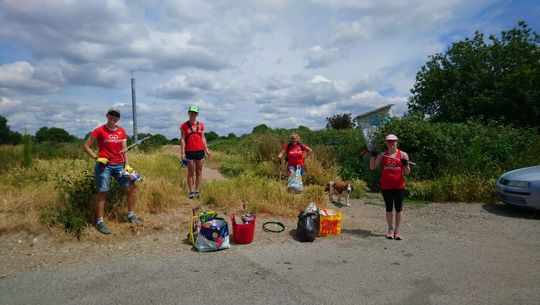 Momentum and energy
Emily writes thesis on what makes GoodGym special
Emily Tupper is a third-year anthropology PhD student at Durham University. She is interested in physical activity and how, where, and why people move in everyday contexts. Emily chose to undertake a study on the workings of GoodGym for her course.
"GoodGym sparked my interest because it is such a simple but novel concept that aims to bring people together," Emily comments.
While in the early stages of her research, she discovered two other movement volunteering programmes that also work to unite people through exercise: the 'Move the Masses' walking buddy programme and the 'York Bike Belles - Cycling Without Age' scheme.
"This got me thinking more broadly about the potential that movement has for bringing people closer and what it might mean for public health," Emily says.
"Physical inactivity is a global public health issue but targeting individuals through behaviour change models isn't always that effective, I wanted to see whether these programmes might offer something a bit different."
With this in mind, Emily set out to explore all the things that come together to create health and wellbeing, outside of a healthcare setting.
The research paper that she is working on will also look at the unintentional 'spillover' effects of GoodGym activity.
"It is important to try and capture the things that happen 'in the moment' during GoodGym group workouts," Emily says.
"It all takes place in a highly visible public space and this has an impact. Seeing people running along in red t-shirts, taking care of a community space, or picking up litter, or doing daft exercises in a park – there is a performative effect to all this as well as a practical one."
It is this sense of atmosphere, Emily is finding, that helps to create a sense of community as well as spontaneous engagements with passers-by, which always makes physical activities more memorable.
Emily is finding that people learn things through GoodGym too, not just practical things, but ways of relating to people and places.
"I don't think there is just one GoodGym community, there is a practice, a language, and an ethic which unites us and brings us all together but there are also things that make us different in each area and connect us to the places where we live and work," Emily concludes.
"There is a momentum and an energy to GoodGym which I think is really special."
---
Get involved