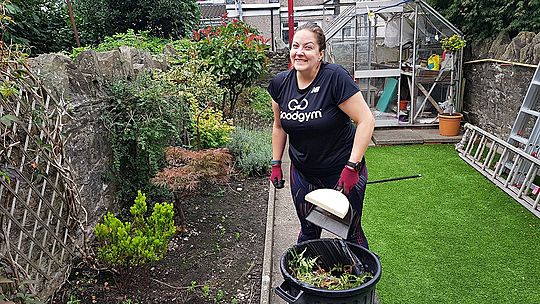 Ongoing improvements to GoodGym missions
How we are changing missions and why
Although they are often simple tasks, some of the most life changing GoodGym stories are about missions. Whether it is two minutes spent changing a light bulb so that someone is no longer in the dark or two hours clearing a garden meaning someone can live safely at home, the impact on runners and beneficiaries can be amazing.
Our partners such as British Red Cross and Age UK tell us the difference a mission can make to the lives of older people they support and older people tell us how having runners help impacts in so many ways, often beyond the task. NHS teams have told us the incredible value of missions for both patients and occupational therapists when runners have facilitated someone coming home from hospital.
All of the above means that missions have become an integral part of what GoodGym does and over the past year more and more runners have connected with older people to carry out practical tasks. What started out as a literally a few missions a month, is now over 1000 a year and there are over 1000 mission verified runners ready to help.
While this increase has been brilliant, it brings with it some challenges of scale. As a community, how can we reach as many older people as possible without breaking the bank?
To explore the real potential of missions the Older People Operations Team have been asking:
What is their purpose?
How can we make the biggest impact?
How can we connect as many runners with older people as possible?
Over the past year, the central team have also asked runners, older people and referrers about their experiences of missions. You might have been part of these conversations at Shindig or asked to take part in a survey or an interview as part of a recent evaluation.
To those who have already contributed your views thank you very much for your time and feedback. From what we have learned we need to make changes, some things are working well however there are lots of ways we could be doing things better. You can read more about what people have said here.
The central team have kicked off a new focus on missions with an aim to implement key changes over the next few months. There will be opportunities for runners, beneficiaries and referrers to shape this new vision.
Before this process started it was important to clarify and define the purpose of a mission. This had never been done before which has led us to carry out a whole range of tasks and create some confusion about what GoodGym missions are.
Based on the feedback gathered so far, the Older People Operations team have decided that for missions to have the most impact they should be defined as the following:
Missions exist to empower older people to live safe lives in their homes
This definition will require the criteria for a mission task to change however it will also help ensure everyone involved is clear about what runners can and can't do and why. This is likely to be a gradual process of change involving communication with mission runners, referrers and older people over a period of months.
Having decided on a focus for missions, there are a series of workshops running across London, Bristol, Cardiff and York over the next few weeks. The aim is to build on feedback and to convert ideas into actions and the exciting part, to design solutions. The workshops will initially involve runners and referrers however to gather as much feedback as possible there a short survey, which I invite you to complete as it will feed into the designs.
The plan is to launch a pilot of the new-look missions in January and there will be updates along the way about progress and how you can get involved. In the meantime if you have any questions or just want to get in touch about the missions review feel free to email getinvolved@goodgym.org.