Meet our new trainer in Leeds, Aron
Lover of hills and trails, Aron is bringing his passion for running to GoodGym Leeds
September 10, 2019
Featuring
A former member of GoodGym York, Aron has been involved with GoodGym since January 2017 and hasn't looked back since. However Leeds is the city he calls home so it made perfect sense to get involved when we announced our arrival, we can't wait to see him in action as our new trainer for the area!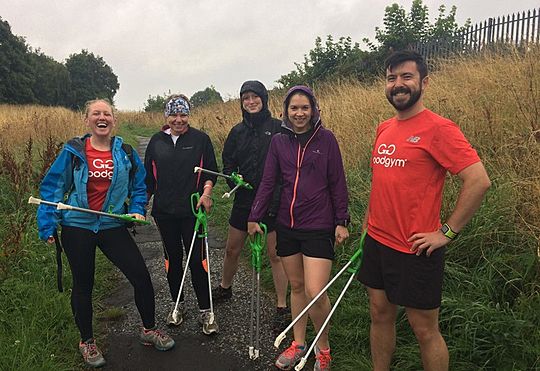 Litter picking task with GoodGym York
Aron has played sport since as far back as he can remember so being active has always been a big part of his life, however it wasn't until much later that he thought about running.
"I remember watching the London Marathon one year in my late teens and just thinking, I'd love to do that one day. I went for a run that afternoon! It was a few years before I finally ran a marathon, but I've done 4 now, and London is still on my bucket list!
The best run of his life came a bit later and involved taking part in parkrun on the morning of his wedding. With snow threating to call it off the run director promised that they would make sure the event went ahead.
"Lots of our friends and family joined us, including friends from our running club, GoodGym York, and even some people who hadn't run in years- It was just a really fun start to the day. "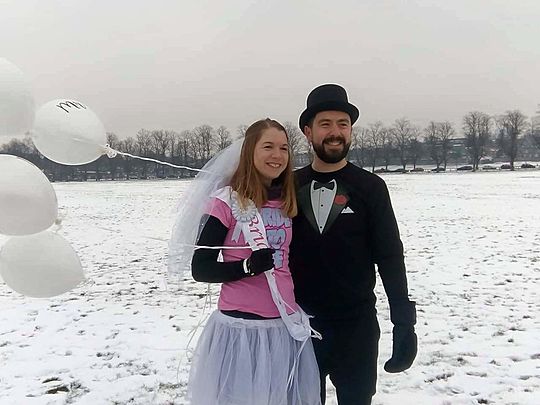 Wedding day parkrun
And what's he most known for? Well he's on a bit of roll with running and has run every day for the last 3 and a half years!
"I'm on a run streak, which basically means I've run at least a mile a day for (at last count) over 1,300 days, so I usually get asked about it quite a lot!
>  One big hill

Aron says his favourite thing about running in Leeds are the hills. In the north of the city they are pretty hard to avoid so Aron says the best thing to do i embrace them.
"Where I live, is pretty much on one big hill so it's pretty hard to avoid them when you're running around here. It's much easier to make friends with the hills and start to enjoy it! "
He also told us that he's lucky to have some pretty awesome trails nearby too so you can get yourself out in the countryside in no time at all. He recommends the Meanwood Valley Trail which he says goes for miles and can really help you feel like you've escaped the city.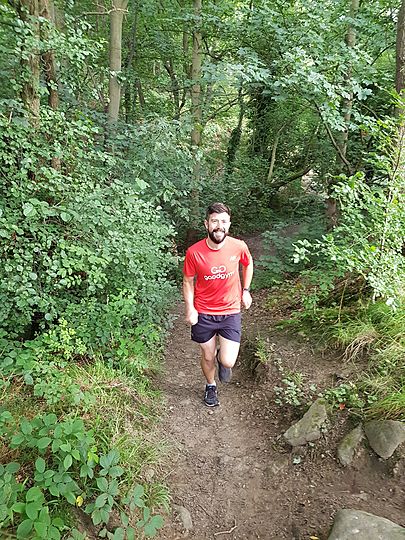 Aron, the new trainer for GoodGym Leeds
Aron is really excited to be part of bringing GoodGym to Leeds and says there's no-one who inspires him more than those who do good in their local communities.
it's so much easier when you're in a group
"There are absolutely loads of people doing huge amounts in Leeds, like people working in local charities and community organisations, they're all doing amazing things that most people have probably never heard about. Hopefully we can link up with lots of them and start to get the word out there about all of the awesome stuff that's going on."
Motivation to keep running used to be a problem for Aron but that all changed when he joined a running group.
"I find it's so much easier when you're in a group. Joining a running club and then joining GoodGym in York gave me more and more reasons to run."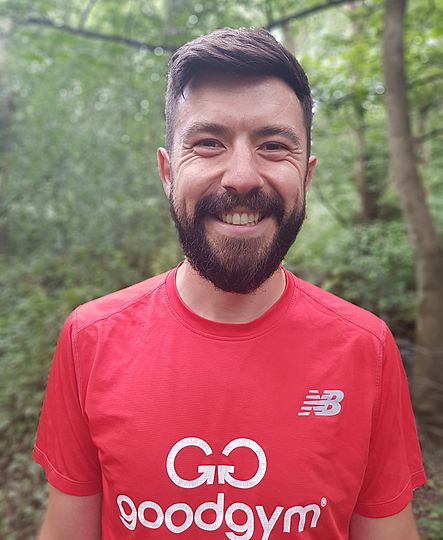 Aron is a fan of fitness sessions set to music
I've done quite a few things to try and be a bit more open
Aron loves helping people get fit and says he has been lucky to have had some amazing coaches in his life. He's looking forward to passing on some of that wisdom to GoodGym members in Leeds to help them on their fitness journeys too.
"I'm a big fan of workouts and fitness sessions set to music so everyone has that to look forward to!"
As well as running for physical fitness, Aron also spoke to us about how important running can be for your mental health.
"I think running can be a great tool for people to look after their mental health, and so I've done quite a few things to try and be a bit more open about this. I'm a mental health champion for my running club, and recently I've been volunteering as a coach for a charity that uses running as a tool to get primary school kids thinking about their physical and mental health."
Aron thinks we can all do more to talk more openly about mental health and has written a blog about it which you can find on the link below.
---
Get involved:
-Get involved in GoodGym Leeds
-Find Aron on Instagram @aronfulton