August 28, 2019
Featuring
On September 3rd, GoodGym will be launching in Derby. In the run up to the big day, GoodGym spoke with Dani De Simone about what got her into running and why she is looking forward to being a part of the GoodGym community.
Dani began running when her housemate returned to university after summer break looking happy and healthy after taking up running.
I thought, I want to get on board with that too! We began running together, just a couple of kms in the evenings to begin with & then we entered our first 5km race together; the Nottingham Mo-vember. I remember being SO nervous when we toed that start line like many people are at their first event.
She said their training together and that first race got her completely bitten by the running bug.
I haven't stopped running since... well only to do some yoga occasionally!
Since then she's gone on to complete half marathons, marathons and ultras in countries all across the world. She told us her most memorable run has to be when she was on a yoga retreat in Nepal in 2016. After the 2015 earthquake disaster which destroyed many villages and towns across the Himalaya region, their group decided to fundraise before the trip so that we could provide provisions for a small village a couple of hours outside of Kathmandu where one of the group had a Nepali friend. It transpired that the village was having a fundraiser of their own which was a three day village experience for tourists including a half-marathon in the mountains. Being the only runner in our group, Dani was easily persuaded to separate from the retreat and take part in this event of a lifetime.
It was a mind-blowing experience. I camped for 2 nights on the side of a mountain in the village, waking up to look over gorgeous golden hill-tops, the Himalayas in the distance. I was nervous the morning of the half-marathon as I hadn't yet ever run that distance, especially not in over 30 degree heat & in the mountains of Nepal! As soon as we set off along the dusty mountain track, my nerves disappeared & I glided along in that ever-elusive flow state, tunnel visioned to the trail ahead & the amazing mountains spanning out in-front of me. Some parts of the run were incredibly difficult (especially when the route hadn't been measured & the half-marathon turned into 16 miles... & the only markers for the route were arrows drawn in the dust!) but it was also incredibly magical & beautiful.
She said she'll never forget that feeling when she had reached the highest point of the race & stood looking over the valleys & hill-tops, strewn with forest, bushes & tiny villages, thriving with life despite the disaster which had struck them not long ago.
I felt incredibly grateful that I had the opportunity to be there in that moment & be able to witness that strength of human resilience.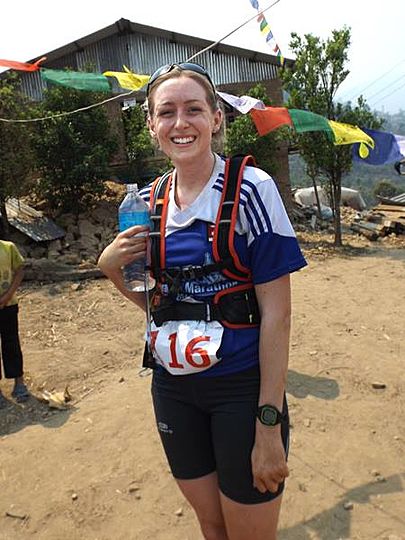 Dani describes herself as a happy-go-lucky, always smiling runner. People say her enthusiasm for life is infectious and that she loves to brighten peoples days and believes running in the great outdoors is the perfect formula for doing just that!
So what's Derby like?!
Derby is a beautiful and diverse city with some real gems of greenery right in the heart, which are amazing to explore on foot. The city is also teeming with history, with beautiful architectural finds. But the best thing about Derby has to be the people; friendly, resilient & always up for a run! One of Dani's favourite places to run in Derby is Darley Park. Only minutes from the City Centre this beautiful green space has it all; tree-lined walkways, open grassy spaces & the river Derwent running through it.
Who inspires you to run?
Dani absolutely loves following the adventures of Lucy Bartholomew (an Australian ultra-runner) & Emilie Forsberg (a Swedish athlete) who she says are her two biggest sources of inspiration in the running community at the moment.
They both have an incredible energy for running, adventures & life generally. What I really love about them is how they are amazing runners on a competitive level, but they hold tightly onto the belief & represent that running is a great way to bring people together & create a sense of community, whether you're a professional or a happy-plodder (like me!). Go give them a follow on Instagram... they'll provide you with your morning dose of pre-run inspiration for sure, as well as some great smoothie-bowl recipes if you're into that kind of thing!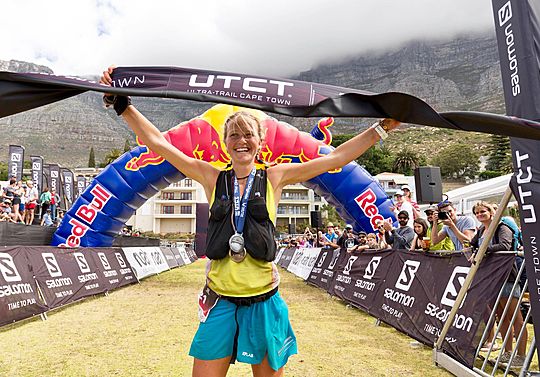 Lucy Bartholomew is one of Dani's biggest inspirations
What motivates you?
Like everyone Dani admits that she does occasionally feel a little unmotivated (like when the alarm goes off at 5:30am!) but when that happens she a few tricks up her sleeve.
I try to think about how good I'll feel 10 minutes into the run once my heart rate is raised, endorphins are flooding my body & I'm breathing in the fresh air. Ahhhh. If that doesn't work - it doesn't always - I think about my post-run coffee & that usually does the trick!
She also says that having friends to run with also keeps her on track with training.
There's nothing better than sharing the trail or road with a like-minded buddy & knowing that someone else is relying on you to lace up your trainers in the morning. Mileage shared is mileage halved... right?
What will it be like running with Dani at GoodGym?
Dani loves to show people what's possible for 'normal' people to achieve and hopes that through her training and adventures she I can inspire others to believe in what they are truly capable of too.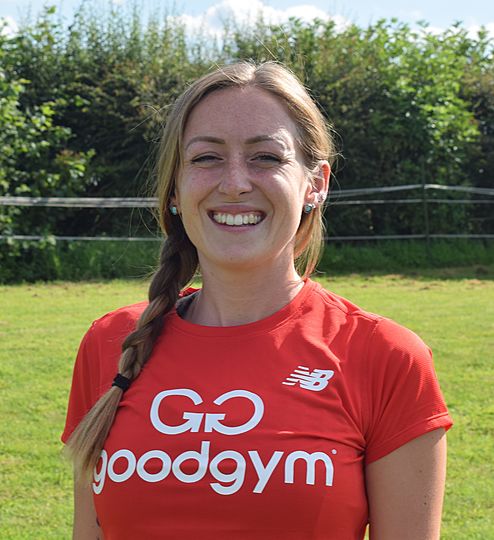 I'm always testing my own boundaries & exploring my comfort zones, whether I'm trekking in Nepal, trudging through an ultra-marathon or hanging onto the climbing wall looking to make that next move. That feeling you get after you've done something that you are afraid of & you know that next time you're going to be even stronger & more confident at that activity - whatever it is - is so empowering.
She believes the benefits of exploring your comfort zones combined with running can translate into to the rest of your life too.
Life is for living (& running), so let's go run it together!
You can find Dani online on the following links