August 16, 2018
Featuring
Meet Lisa: She's a fitness instructor, yoga enthusiast and mum who's passionate about active families and now she's the trainer for GoodGym Stockport.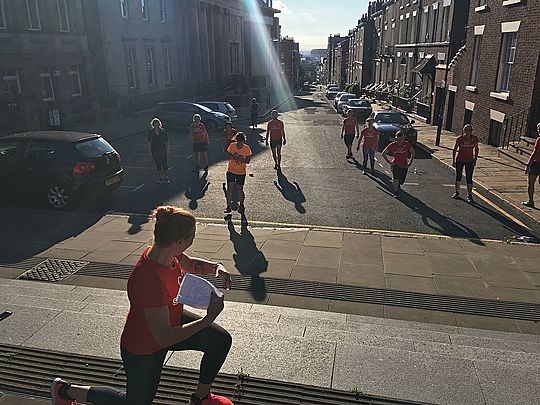 There are many ways into running, when we asked Lisa what pushed her to get jogging, she replied;
"Turning 30 was a big factor, I wanted to improve my fitness but it needed to fit around my life with the kids"
It was some early victories which kept her going. When prompted on the best run of her life, Lisa answers "Probably my first ever 5k training run, I just couldn't believe I had achieved it."
Many kilometres lay between Lisa and that first experience-- she's collected a number of places to run from Reddish Vale, by the river and Woodbank park, as "they're all really stunning green spaces really local to central Stockport."
"But the best thing about running here, is the people. Stockport has a wonderful running community"
In her day to day life--it's this mix of people she teaches, other runners and her children who motivate her to get out and about. Though, Lisa was still a bit star-struck and inspired when she met Chrissie Wellington.
"I met her once at a conference and she was a true inspiration, it was her captivating enthusiasm that inspired me and the fact she was just a real down to earth person who knows its possible for everyone to get fit."
This is the kind of laidback positive vibes Lisa brings to her sessions. One thing which sets her apart from the running crowd is her constant talking during a run. Regardless of pace, distance or incline Lisa can still have a chat making her great for motivation along the way.
It's my superpower"
From chatting about holidays and what is for tea, Lisa can also dish out plenty of motivation and enthusiasm to keep any runner going. She is truly passionate about running, and says "Passion combined with chattiness is a winning combination"
When Lisa was asked how she contributes to Stockport's community she responded by saying:
Just by trying to be a kind and considerate person and encouraging others to do the same"
---
GoodGym Stockport is launching on Tuesday 28th August: sign up for the launch run here
From then on, you can run with Lisa every Tuesday at 18:30 from life Leisure Grand Central
Stay posted on all things GoodGym Stockport at @GGStockport on Twitter