Mark Barun
Meet the trainer for GoodGym Kingston
Personal fitness coach, martial arts teacher, run leader, Mark Barun is the trainer for GoodGym Richmond and GoodGym Kingston
Mark's passion for fitness in karate got him running. At first he found it boring and painful but over his love for it and the many benefits it gave him developed.
"I've had so many great fun, tragic, challenging, inspiring runs, it's hard to choose a favourite."
Since he began running, there have been many highs and lows. Upon reminiscing, Mark settled on the London Marathon 2017. Having over-egged training in the past, Mark was left in the rare position of trying to pass his place on "To my surprise I had no takers. I decided to put some fears aside and train 'sensibly this time' to make sure I made it, and what a great day it was…"
Mark's motivation matured over the years, from chasing wins and striving to be the best he could be, he now finds purpose through "sharing knowledge, helping others and watching them grow but also the great characters and their journeys that I meet along the way." He adds--
" I really respect those that just keep trying. Some of my heroes run with me every time I put a GoodGym shirt on."
As a trainer, Mark brings a lot of experience to the table: "Having been obsessed with everything physical and tried and tested most of it myself, I help people find what works and identify what could potentially be better."
While he is known for his strict stance on warming up, stretching and occasional hill runs-- Mark's philosophy is that 'we're all unique and that everyone grows and excels when they feel motivated, so I strive to cater to everyone's individuality so they can perform to their best"
Already a trainer for GoodGym Richmond Mark will be bringing GoodGym to Kingston. As a trainer he loves the combination of "linking good people to good communities and helping runners get fit".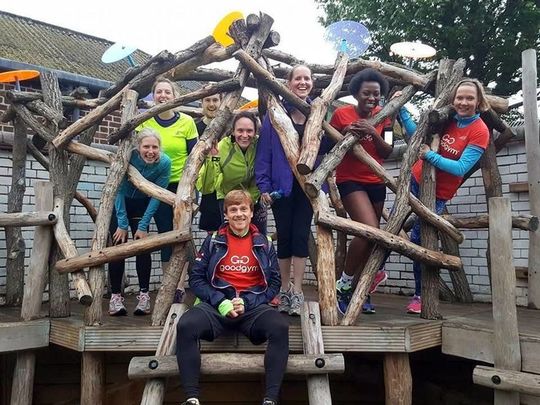 "If you want a slice of that feel good factor simply lace up and come for a run"
With lovely scenery, great people and brilliant local community organisations. Mark is keen for people to come and get involved:
"There's being fit and there's doing something with it, GoodGym gives you the chance to do both. It is like an extra shot in your cappuccino where others benefit from your great work, so you get a runner's high with an extra dose of feel good endorphins. There's already so many great organisations in Kingston and now we get the chance to help make them run even better."
---
You can run with Mark every week, twice a week!
GoodGym Kingston is launching on 15th May! Sign up for the launch run here
On Mondays, you can run with GoodGym Richmond. We meet at Whole Foods Richmond at 18:45
For all the latest updates, you can follow Mark @ptbarun and follow the areas he leads @ggRichmon and @GoodGymKingston