Forming fast friendships
Joining a GoodGym session for the first time
If you're new to GoodGym, it's normal to experience first-time nerves. Whether that's uncertainty about getting into running for the first time, or nerves about meeting a large group of people on your own, most people experience these emotions before attending their first session.
When GoodGym Windsor and Maidenhead launched last week, Leonie Boissaud-Cooke went along for her first GoodGym session and joined a walking group. As part of this month's theme on GoodGym women, Leonie writes about her experience here.
I'd known and heard of GoodGym prior to signing myself up. I discovered it after I kept seeing someone wearing the GoodGym red t-shirt working out at my gym. Out of curiosity, I looked it up online and immediately loved the idea of it- being active and doing good to the world, what's not to like? I ended up talking to the person at the gym about it and they told me that they were part of the group further away as there was not one locally…yet.
Then, a few weeks ago, I saw advertised at the town hall a notice that there was going to be a GoodGym Launch event. I admit, I was apprehensive at first, as I have never been a runner, never enjoyed it and I'm not great with cardio. But I like to be active outdoors, meet new people and try to do good where I can, so GoodGym seemed like a great community that I wanted to be part of.
The wonderful trainer, Amy, put me at ease and assured me before the event that there were opportunities to walk on tasks so I signed myself up. It was great to be welcomed openly with my uncertainty of running.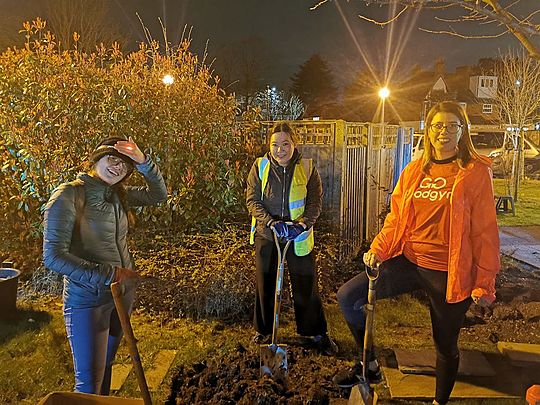 Leonie, pictured left, helping to dig up the turf at Windsor's first group run
At the launch, there was a small group of 4 walkers that set off before the runners had warmed up. Fast friendships were formed from chatting away and it instantly felt like I'd known these people much longer than half an hour. I was nervous that I'd be mocked to be walking but I was never made to feel embarrassed and was given so much support.
Fast friendships were formed from chatting away
Overtaken by the runners, we arrived at the community allotment where our task consisted of digging and turning over soil in raised flower beds, digging up old turf and planting trees ready for the Spring season. Everyone got stuck in with helping hands and there were smiles plastered on everyone's faces, all you could hear was laughter in a group of 40+ people.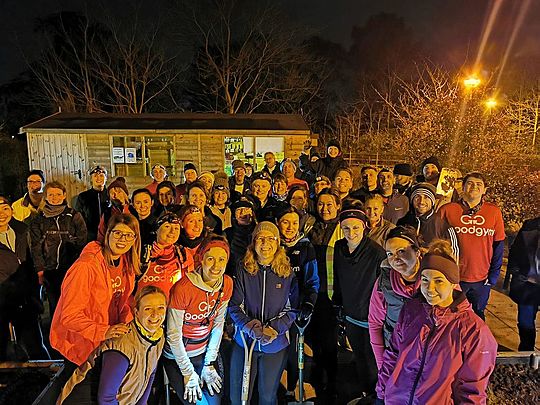 As a walker, we had to depart early; I was reluctant to leave as I was enjoying myself so much though we must have been walking at a fast pace as we beat the runners back to the park. At the end during the fitness session, named "the cones of doom" by the trainer, the speed circuits had me running around in circles. It came as a bit of a surprise but I enjoyed the running part!
I was reluctant to leave as I was enjoying myself so much
It felt great to be making an impact in the town I call home, to be able to build something better for the community here. Before GoodGym, I'm not sure how I would have found opportunities to volunteer locally. I'll definitely get my documents signed and look to do some coach runs. I've got my t-shirt now and spreading the word. I'm not sure that I'll be running any 10K's soon but I'll certainly be back again and running to do good.
---
Get involved: