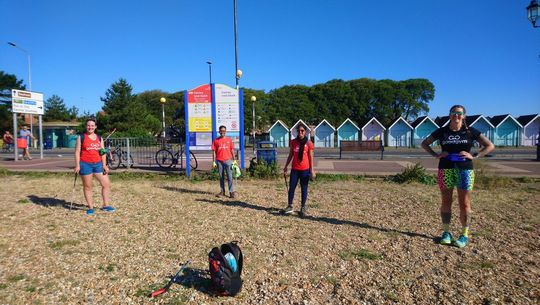 Keeping your community connected
How GoodGym Portsmouth has been going the extra mile with community missions
GoodGym Portsmouth has been going from strength to strength with community missions since lockdown has started to ease across the UK.
Rebecca Clarke, GoodGym's Communications and Marketing manager spoke with Judy and Catherine, members of Portsmouth's TaskForce.
Judy, 57, has been doing GoodGym for 2 years, having joined the community in Portsmouth in August 2018. Seeing an article about the group there in the Flagship Magazine, a quarterly that goes through peoples door, she cut the article out and held onto it until she felt she had the confidence to attend.
Catherine, 33, has been a member of GoodGym for just a year, but has already made an impression onto the TaskForce. She heard about GoodGym through her doctor, who recommended her joining the group as a way of combining her love of fitness with helping others, as a way of alleviating symptoms of anxiety and depression.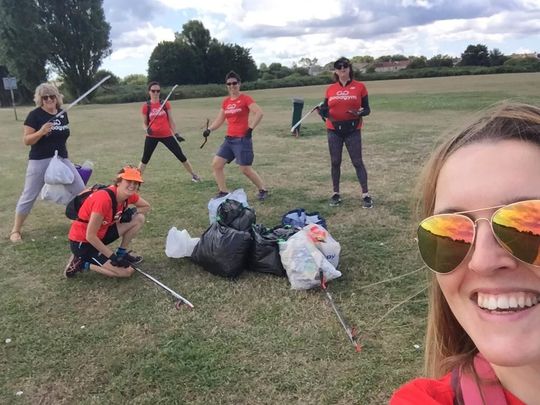 "It all sounded great, apart from the running. Running isn't my favourite form of exercise, so I was nervous about joining. I had a look on the website and decided I could always just go back if I didn't enjoy it, I even got my boyfriend to drop me off.I needn't have worried though as I was smitten after my first mission. I still remember the task and the first people I was introduced to," Catherine said.
Judy and Catherine are two of the large group of 17 TaskForce members at GoodGym Portsmouth, who regularly organise extra community missions in the area.
Both runners agree that their favourite things that motivate them to attend regular community missions are the people and the tasks, not just the running.
"I'm 57 I started running late in life, I'm never going to be fast but it's good for my mental health. Everyone has such a positive attitude and gets stuck straight in," says Judy.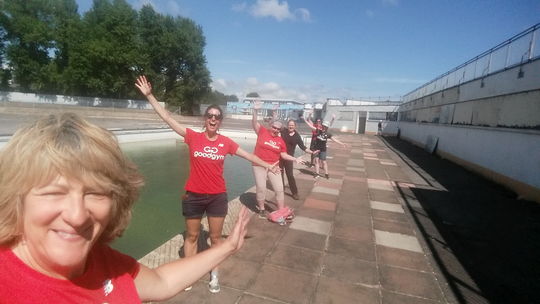 Both runners regularly set up community missions in their area.
"In setting up new and regular community missions I find I have a closer connection to the community, the task owners not only build a relationship with GoodGym but also with us as individuals, we get to hear about what motivates them, and have a chat and laugh", Judy says.
"At LifeHouse (a community-ran organisation which aims to tackle issues surrounding homelessness and addiction in the area), we were interacting directly with people who were low income or homeless, or both. This sort of face-to-face impact is really positive. You can see how much you are helping people just by providing basic aid and having a chat. I've seen a few of the beneficiaries walking around Portsmouth since, and they give you a bit of a smile when you are walking past," Catherine adds.
"When at a different task, helping a Samaritans charity shop to sort through clothes, I learnt that the shop owner was paying the rag man to take excess clothes away that they couldn't house in the shop. So I introduced them to LifeHouse, and now we are doing GoodGym community missions to act as a courier between the two. Connecting different communities is amazing."
GoodGym Portsmouth also combines community missions with social events, so that there is always time for people to hang around afterwards if they'd like to spend more time with the friends they have made from the group.
At the weekends, the group have organised a regular beach clean on the Portsmouth seafront. After they have thoroughly litter-picked the area, they go for a dip in the sea afterwards followed by coffee and breakfast.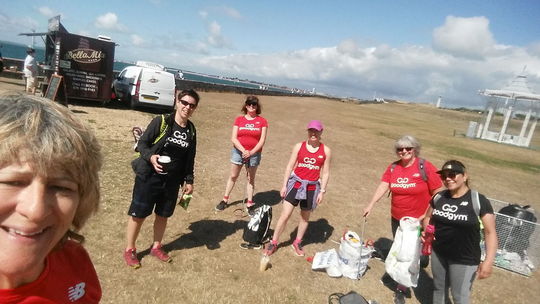 "The dip afterwards feels like such a treat.," says Catherine. "90 percent of the stuff we do isn't tasking, we make it fun by being with each other, but it is nice to have a social aspect afterwards."
Judy has her own advice for other GoodGym TaskForce members across the country.
"In terms of setting up community missions, I don't think there is a magic formula. When I started out I felt quite nervous, I thought 'I don't know quite how to do this, do I have permission to do this?' etc. So I started out talking to my area activator, Katie who advised me to start out small with some local litter picks, before moving onto bigger tasks.
I would also say that being well prepared is important, make sure you bring your gloves, your litter picker, or ever else is necessary for the task.
The most important thing though is to remember that you represent GoodGym and to make sure that everyone else feels part of the group and has a good time and knows what we are doing. I like to remember that I have a leadership responsibility, not just with other GoodGym members but with members of public"
Catherine adds; "If we are already somewhere at a task, then I ask the task owner in person if they'd benefit from regular help. No-one ever says no if you ask them, my advice would be to ask people in person rather than email if they want a regular task."
"Whenever I do anything I am seeing friends, but it's really nice to know that you are making a difference. By physically getting out there and seeing the amount of rubbish we pick up, or seeing the smiles of faces of the people you have helped. If you do love where you live then you need to put into your community," says Catherine.
---
Get involved: