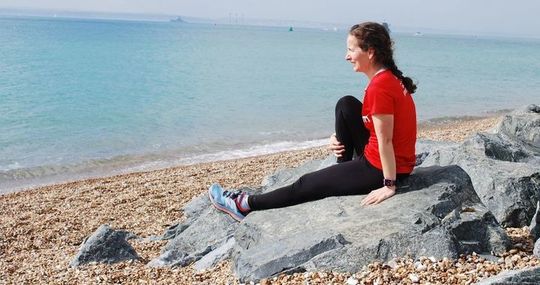 Katie Carew-Robinson
Meet the trainer for GoodGym Portsmouth
With the GoodGym Portsmouth launch on the horizon, here's your chance to get to know Katie. Nutrition Advisor, part-time personal trainer and newly appointed trainer for GoodGym Portsmouth, Katie Carew-Robinson is a woman with many strings to her bow. She is inspired by those "embrace life fully and encourage others to do the same", oh and cake.
It was the 1992 Barcelona Summer Olympics which first inspired Katie to get running. As she watched runners whizz around the track, she thought, "I'd like to have a go at that".
So Katie joined her local athletics club and has been enthralled by running ever since ."It's hard to pick a best run' says Katie as she muses on her most memorable run. While, Katie's first London Marathon in 2004 brought a sense of achievement and winning a silver medal with the veteran's team in the county cross country championships its own measure of pride, Katie says "I'm equally happy on any run where my running feels relaxed and fun, not necessarily measuring it by time, distance or race result." She adds, "I've also run quite a few races abroad which has been great - I do love a holiday!"
With 2 parkruns and the Great Run Local- there is lots of free running in Portsmouth each week. A busy bee who has worn a number of career hats over her time, Katie has had lots of voluntary roles in the community. " I can often be seen at Parkrun brandishing a scanner."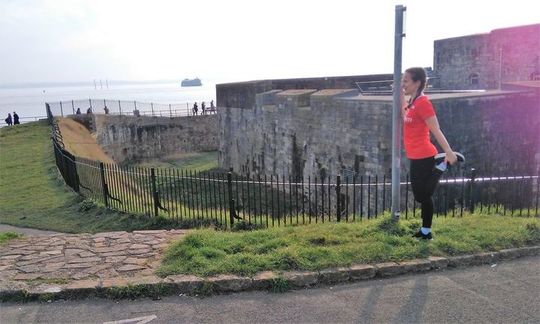 It's so peaceful
We asked Katie the best thing about running in Portsmouth and she answered, "We have the lovely seafront to speed up and down, some great little trails along the shoreline and easy access to the countryside", adding mischievously "via some hill reps up Portsdown Hill!" Katie's very favourite routes loop around Foxes Forest / Hilsea Lines - "it's so peaceful in there and you can do miles round all the paths!"
No matter the distance or terrain, it seems Katie is always on the move, so what motivates her to keep going? " Cake... and variety - I don't want to do the same runs or races all the time so I keep it fresh by trying out new events. I always like to have a race in the diary to make sure I get out of the door to train"
I'm out in all weathers and I'll always be up for a chat
Known for being an enthusiastic and supportive cheerleader of all those who train with her, Katie goes to extreme lengths to help people achieve their goals . In her training sessions she always tries to mix it up and make it as fun as possible, but above all Katie hopes her "enthusiasm and long term love of running is infectious and inspires people to try to reach their best"
"If you tell me you want a PB I will do everything in my power to help you get it, including being a rubbish wind break along the seafront."
You can run with Katie every week with GoodGym Portsmouth, we meet every Wednesday at 18:15 at Fratton Community Centre. You can follow Katie keep up to date with all things GoodGym Portsmouth @GGPortsmouth on Twitter.