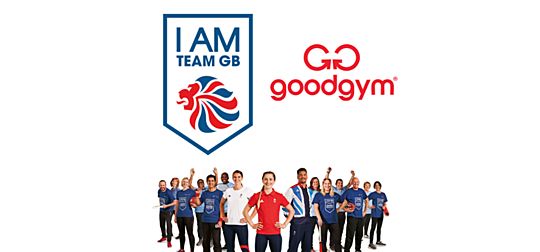 Inspiring a nation
GoodGym partners with I Am Team GB for National Sports Day
This month, GoodGym is partnering with I Am Team GB to encourage more people to get involved in community sport
I Am Team GB is an annual campaign, created by Team GB to get more people physically active, inspired by Team GB. As a partner of the campaign, GoodGym is hosting a number of activities to help inspire people to live healthier lives and support their local community.
The activities will occur on the August Bank Holiday weekend on The Nation's Biggest Sports Day, when thousands of free and fun activities will be put on across the country by community champions, known as I Am Team GB Games Makers.
The activities are open to all and are not about being competitive, but about being part of a team. I Am Team GB's ambition is to encourage as many people as possible to get involved and be active. More people are becoming aware of the importance and benefits of physical activity and I Am Team GB is supporting local volunteers who play an important role in encouraging people in their communities to find activities they enjoy.
As a key I Am Team GB partner, GoodGym is running 16 activities on the 26th August, which will be listed on both the I am Team GB and GoodGym websites.
We will also be hosting a special event, which will all be attended by National Lottery- funded Team GB athletes, and like all our other activities, is free of charge.
This will be held in Bristol on the 24th August, and will be a huge task to improve the river space for the local community, environment and wildlife.
We will be gathering together for a group run or walk to support the Bristol River Avon Trust with transforming their river side space to do a giant litter pick/sprucing up of the banks of the River Avon near Bristol's suspension bridge.
GoodGym will also be taking part in an activity in London on the 24th August, which will include multiple sporting activities at Westfield in White City.
"Goodgym are a great partner for I Am Team GB, providing fantastic opportunities for people to be active while helping in their local communities", said Tim Ellerton, Commercial Director of Team GB. "I Am Team GB will shine a light on these innovative activities and help more people to take part on The Nation's Biggest Sports Day over the bank holiday weekend."
In keeping with the sports and community theme this month, 120 plus GoodGym runners and walkers are assembling in the West in Bristol for the Bath Two Tunnels race and more than a 100 runners will be taking part in the GoodGym Olympics this weekend in London.
---
Get involved:
*Sign up to an I Am Team GB event here.
*Sign up to the special event on 24th August in Bristol
*Find out more about the GoodGym Olympics
*Sign up to the Bath Two Tunnels Race and GoodGym West Party