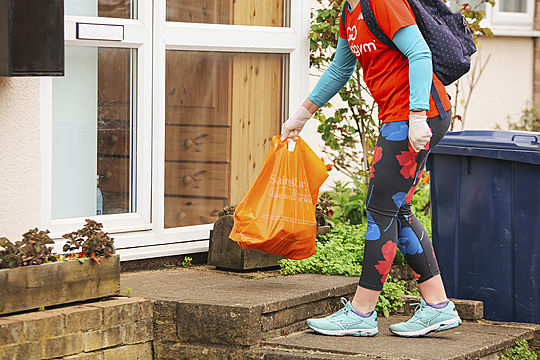 Using lockdown exercise for pandemic support
How we've been stepping up to support those in need during the Coronavirus outbreak
Due to the pandemic, simple tasks such as nipping to the shops for essential bread or milk, or picking up a much-needed asthma prescription are not possible for those who have been told by the government to self-isolate. We have been helping to provide essential support to these people alongside partners such as the Red Cross and Hospital Discharge Teams.
Get involved in missions
In this story, we hear from GoodGym runners who have been doing regular missions on what this means to them.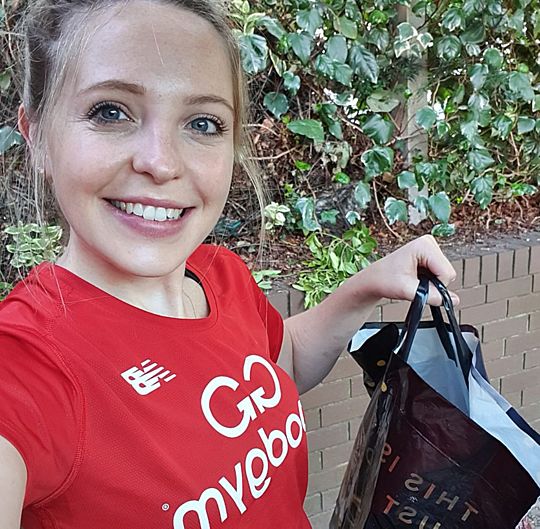 Hannah, GoodGym Bournemouth.
For Hannah, volunteering with GoodGym is not just about completing the 'mission'.
"It's more than that. Especially at times like these. It's taking the time to ask our beneficiaries 'how are you' and being genuinely interested in their reply. It's picking up the free magazine at Tesco and popping one in the bag knowing that the person I'm delivering to probably hasn't had fresh reading material for many weeks. It's popping a bunch of £1 daffodils in their shopping bags (at my own cost of course!) to brighten their day. You leave a mission knowing you have genuinely made a positive difference to someone's day."
"Being a part of GoodGym has changed my life too. It's a reason to get out of my flat with no garden. To put on my running shoes when I don't feel like exercising. And of course to wear my bright red t-shirt feeling super proud to be part of such a wonderful family. It's made Bournemouth feel like home for me."
Hannah's most impactful mission so far was to help Mrs E with some food shopping. Hannah spent nearly 2 hours chatting with Mrs E from an appropriate social distance about her life and how she was feeling during this time.
"Mrs E told me that she doesn't hear from anyone from one week to the next, hence wanting to chat so much. She was vulnerable with me and shared details of her life that perhaps she has rarely shared before. The least I could do was give her my time. It costs nothing and means everything."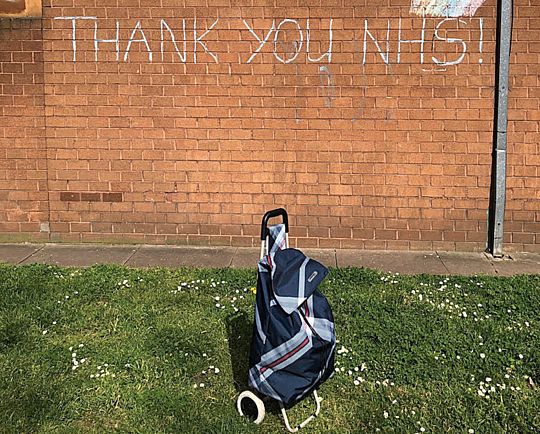 Nick Moore, GoodGym Tower Hamlets
Nick says that doing missions helps him to keep things in perspective, seeing those whose normal support networks have had to be suspended.
"Older isolated people are all so immensely grateful when you return with their shopping (even when you've failed in finding those one or two items on their list!) or their prescription medicines and as a result you can't help but run or cycle home feeling a lot better about things once a mission is completed."
He also enjoys having a reason to motivate himself to do some daily exercise and keep healthy.
"I'm not a natural exerciser for the sake of it and generally always need a target (goal, race, competition etc) to motivate me to put the trainers on, so knowing that you do have to run to the shop, pharmacy, home etc. for a mission is a real bonus at the moment on that side of things."
Nick's favourite mission was to help Mrs E in Hackney. It was only Nick's second shopping mission, but he says Mrs E was so organised and understanding of the risks (wiping everything down), and at the end so appreciative, as well as having an essential shopping trolley.
"I really felt I was doing something really positive to assist her - especially when she explained the background to her isolation. She'd also written Good Jim at the top of her shopping list, which made me smile."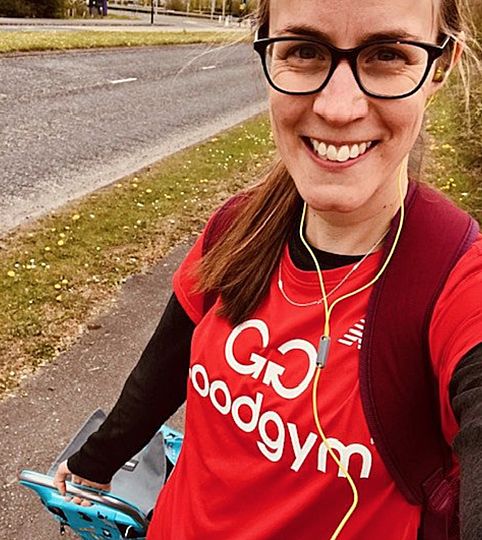 Nikki, GoodGym York
Before going out on a mission, Nikki imagines herself in the position of the person she is helping and what it would mean to her to have someone to call on for basic supplies.
"I think it's important to look out for the vulnerable people in society, those who are not able to go to the shops. I am lucky enough to be able to shop and get out and about myself, but many people can't do that. I think in today's society there is lots of emphasis on money and material objects. Volunteering for GoodGym shows that with exercise and doing a good deed for someone else you can boost your mood, completely free!"
Nikki found her first shopping mission to help Ms P the most rewarding.
She explains that her and Ms P spent a long time chatting and that Ms P couldn't believe that she was giving up time on a Saturday to get her shopping.
"Ms P was 92 and didn't have any family close by. She was also nervous about having someone else do her shopping for her so I think this task showed her that it was ok and there were people to call on to help."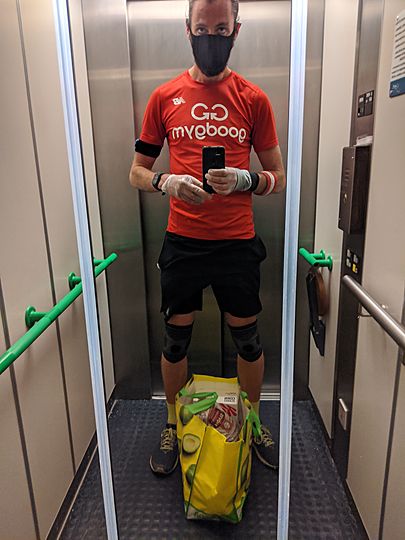 Dave Ewens, GoodGym Southwark
For Dave, doing missions during the outbreak have been a great way to help out since hes been out of work.
"The positive thing about completing missions is that you're helping someone in need, it gets you out running, it's something great to do in my now vast free time and it's generally just really rewarding that you can make an impact to someone what ever the size."
Dave says the mission he believes had the biggest impact was for Mr V in Wandsworth. Mr V had been without the food he needs for around weeks, relying on food bank donations, which aren't fully able to cater to his needs as he is pescetarian and is allergic to dairy. Dave was able to pick up the food that he needed and GoodGym donations meant we were able to help out with his current difficult financial situation.
"I also remember his reaction when I delivered his shopping, I couldn't get a word in as he was full of emotion and repeating that his "prayers were answered" and "God bless you". It clearly and obviously meant so much to Mr V."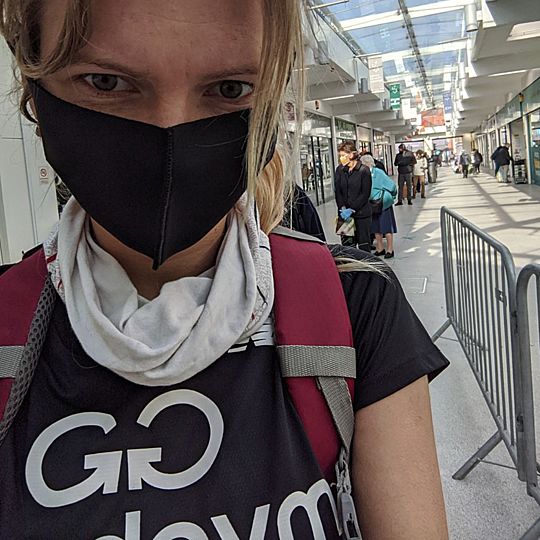 Lenka, GoodGym Richmond
Similarly to Dave, Lenka is also currently out of work and found having something productive to do in order help someone in isolation appealing. Lenka's stand out mission is a last minute mission she did for Ms D in Southwark.
"Ms D is a sweet lovely woman, has a tough history and is struggling by not feeling supported. She is a single mother with two sons, one is autistic and the other only eats certain brands of food. So she is finding it hard to find the brands especially now that she has to self isolate."
Lenka was able to collect a detailed list of branded food plus some basic essentials and drop it off safely for Ms D and her family.
"She was incredibly grateful, you could tell by her expression and that really warmed my heart up and we have GoodGym to thank for all that."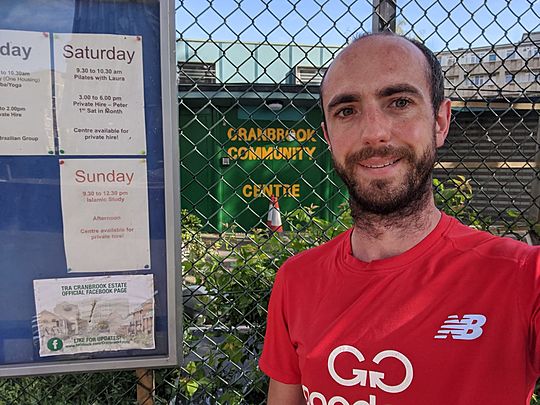 Leo, GoodGym Tower Hamlets.
For Leo, as soon as the missions for safe food delivery started, he was keen to get involved by helping out with those in running or cycling distance of his home.
"The beauty of these missions means that I am able to combine my daily exercise with a most meaningful endeavour, giving me real purpose and a delightful sense of fulfilment."
Leo says that whilst he is helping those in need in these unprecedented times, it has also done wonders for my own well-being.
"It's always the highlight of my day when I have an evening mission. It gives me a clearly defined end time to the working day and a superb reason to get my trainers on to help out someone that would otherwise struggle with tasks that many of us had taken for granted in the past."
Leo's favourite mission was to help Ms V in Newham, where he was lucky enough to find all the items of Ms V's list.
"Ms V was full of life and coping admirably despite her 91 years, and her appreciation at my assistance was touching and certainly inspired me to carry on doing similar missions."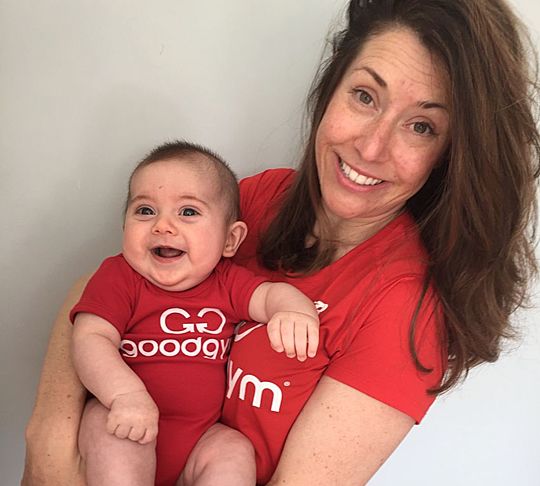 Michelle Scott, GoodGym Ealing
Like many, Michelle felt a keen desire to help during an unprecedented global challenge.
"For me - Missions give me a sense of purpose and increases the spirit of community - we are all in this together. I do feel a sense of pride wearing my GoodGym T-shirt and what it represents to me. I believe GoodGym is also easing the possible mental health crisis in addition to the important work of delivering essentials.
"Often I find missions eye opening experiences and underline to me how very lucky I am - which drives me to do more. I have been moved by the level of gratitude and appreciation but also struck by how anxious and lonely many people are feeling in our very own community. It is heartening to see the positive impact volunteers make not just by providing essentials but by showing someone cares about them."
Michelle found helping Ms A in Ealing by picking up a medical prescription the most moving. Ms A was evidently eager to speak with someone when I called ahead on the phone.
"She (Ms A) shared how she suffers from anxiety and depression and is feeling confused and alone during the lockdown - the sense of being disconnected and isolated she described as overwhelming. Ms A seemed so grateful for the delivery but also heartened to know someone cared and had taken the time to listen."
---
Get involved: